The best new Android apps of August 2014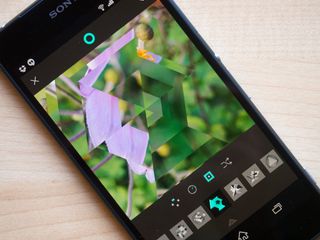 If you're itching for some fresh downloads this Labor Day weekend, we've gathered together the five best app releases this month in the Google Play Store. This go-around we've got a bit of photography, some productivity, and a little something from HTC and Google.
Be sure to check out our round up of the best Android games released this month if you're hankering for more.
TapPath
TapPath is a simple and refreshingly useful app for offering multiple actions for how many times you tap a web link. For example, one tap can launch LinkBubble, two can launch into Chrome, or three can launch it to the share menu, although all of those defaults can be changed around within the app.
If you weren't entirely sold on Link Bubble, or you just want more flexibility with your mobile web browsing, TapPath has what you need.
HTC Zoe
The beta for HTC's video highlight creation and sharing app was released in the Google Play Store this month. As before, users could plop in short video clips and still images to create themed videos, and there's a baked-in social network so you can follow friends and they can follow you. Now friends can remix one anothers' creations, adding their own shots and making something even awesomererer. Though it's still early, now anyone with something other than an HTC handset can check out what's happening with Zoe.
We've got a closer look at the new Zoe app here if you want more info.
SuperBetter
SuperBetter is part task management, part game. Users plop in their personal goals, be it kicking bad habits, getting in shape, or otherwise getting stuff done. Those tasks are then framed as quests which you must complete in order to gain rewards like mental resilience and physical resilience points. Identify Bad Guys that are slowing down your progress and team up with other friends using the game for some social reinforcement. 25 expert-designed Power Packs can help you work on certain parts of your life, or you can go ahead and design your own challenges.
SuperBetter was made by Jane McGonigal, a game designer that has long advocated for using gamification to improve everyday life. If you're having trouble meeting your goals, this may be a fun way to tackling them.
Google News & Weather
Google released a new app that combines reading the daily headlines with local forecasts. Google News & Weather pulls in stories from thousands of sources and lets you hop between them for individual stories. There are a handful of widgets to pick from that let you look at news, weather, or a bit of both. The app was a preload on devices ages ago, but the latest version revamps the UI to get it up to L standard and offers wider device compatibility with a Google Play Store review.
Fragment
Fragment is a fresh photo editor with a particularly neat trick. A wide range of shaped filters distort your photo along clean, sharp lines, lending a kaleidoscopic skew to your shots. You can move and resize the fragment filter, change how it tweaks your image (such as by adding a hue, changing brightness, cranking saturation, or inverting colors). Once that's done, export the final product out to any major destination or feed it back into the app to apply another fragment on top.
If you're in the market for a new twist to your photos, Fragment will deliver.
Your favourite new Android apps?
There were a lot of Android apps released in the Google Play Store this month. Hit us up in the comments with your favourite fresh downloads.
Simon has been covering mobile since before the first iPhone came out. After producing news articles, podcasts, review videos, and everything in between, he's now helping industry partners get the word about their latest products. Get in touch with him at simon@futurenet.com.
Foursome? Somebody's dictating their copy!

And your instead of you're...someone needs to proof read before submitting articles. Posted via the Android Central App

Month calendar widget... Free and one of the best I have used recently. https://www.androidcentral.com/e?link=https2F2F... Posted via the Android Central App

Jorte blows it away. i need my events in my monthly widget to be listed in TEXT not dots.

Yeah text instead of dots would have been good, but that would have defeated the purpose of the widget. This is just a month widget and not sure how he can fit in text there. But I love the view when you click on the day and navigation across the days. Posted via the Android Central App

see middle widget - http://www.dancingdroid.com/wp-content/uploads/2011/02/jorte1.jpg Jorte Calendar & Organizer
Jorte Inc. - August 25, 2014 https://www.androidcentral.com/e?link=https2F2F...

Wizz widgets. The calendar widget is by far the best I've ever used (I tried Jorte). Completely customisable - colours, size, transparency, agenda view with one click, multiple calendars, displays text, choice of calendar app to launch, instantaneous update from google calendar, never crashed, never failed. https://www.androidcentral.com/e?link=https2F2F...

Jorte is far better IMO. and free.

i like solcalendar
https://www.androidcentral.com/e?link=https2F2F...

But that takes up the whole screen. What's the purpose of a Widget that takes up the entire screen? Plus, Jorte is kind of ugly... Posted via Android Central App

From the UK, Three have released "three in touch", free wifi calling and text but no support for mms , bugger. But all is working well and has a good colour indicator in the information bar for connectivity info. Posted via Android Central App

I gotta get back into Google News & Weather, its looking good.

I found out about this app called Timejot from redditt. I think it's pretty nifty.

This is Great Blog, I like it..........Thanks Android User Can Use AppBucket, this is really interesting app.........love it.
https://www.androidcentral.com/e?link=https2F2F...

Enrich your world with WOWSOME, it augments your reality. Make you as heroic characters or tease your friends. It's an alternate for your Photoshop. http://wowsomeapp.com/

You can just check with this app its called basefolder in which you can save unlimited number of files and access it from anywhere,
https://www.androidcentral.com/e?link=https2F2F...

Hello, Coloring Book for Kids is a great new app for Kids. It's free on Google Play Store : https://www.androidcentral.com/e?link=https2F2F...

The most viral app is PhotoMath that solve math problems on your smartphone. you can try it on your android smartphone. App that become viral all over the world. You can Download PhotoMath http://www.photomathdownload.com/get-photomath-for-android/

The Amazing Part of PhotoMath is it is available for FREE ... It has great feature and functionality .... you can check out my complete review of PhotoMath on www.PhotoMathDownload.com ....

Hey guys I just started Youtube and uploaded a Top 5 android app video. Feel free to check it out and leave a comment on if you found any of the apps useful. I'll be posting a couple of videos weekly. http://www.youtube.com/watch?v=8YSk6-tzlbM

Really informative posts that you have shared with us!! Well I have an amazing app for you https://www.androidcentral.com/e?link=https2F2F... where you can watch all the latest Hollywood movies at a glance!!

hi guys, i found a new app name instafusion image blender app. check out : https://www.androidcentral.com/e?link=https2F2F...

Good apps. Here is another good app developed by me https://www.androidcentral.com/e?link=https2F2F...

There's this awesome app called GrabPoints. In a nutshell they pay you for trying out new apps and answering a couple of surveys. I love using it because they are always active on social media giving out points and the rewards are always fair. Like just for signing up you already get $1 then if you use a friend's invite code you get 500 PTS and easy AND your friend gets points in return too! See even simply inviting people earns you money. If you ever happen to try GRABPOINTS please use my invite code: S6FMAC Hope this helps!
Android Central Newsletter
Get the best of Android Central in in your inbox, every day!
Thank you for signing up to Android Central. You will receive a verification email shortly.
There was a problem. Please refresh the page and try again.