Best live events in VR January 2019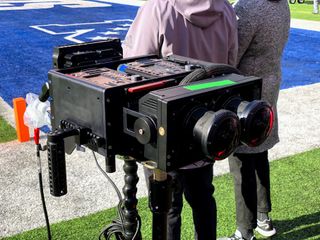 Between the International Champions Cup or your favorite sporting team having a match, watching live events in VR can be quite rewarding. We all wish we could make it out to the stadiums and fields our favorite performers are in, but sometimes that's just not in the cards. But, don't you worry, the other option you have is to watch your favorite shows and sports in VR. Here you can feel like you're actually in the crowd without having to spend hundreds of dollars on tickets.
Check out the live events coming to your PlayStation VR and Oculus Go in January!
Update January 17: Live show from Hikaru Utada!
Why you can trust Android Central Our expert reviewers spend hours testing and comparing products and services so you can choose the best for you. Find out more about how we test.
You know her best as the singer of the opening theme songs to Kingdom Hearts. She's got an amazing voice, mesmerizing stage presence, and the purest of hearts. Now get hype because she's coming to your PlayStation VR for a live concert!
Hikaru Utada will be performing "Hikari" and "Chikai" from her Laughter in the Dark 2018 tour and you've got front row seats! You'll even get a sneak peek at some of her rehearsals where she sings "Simple and Clean" and "Don't Think Twice".
This experience goes live tomorrow, January 18. Get ready for the goosebumps.
Available on PlayStation VR and Oculus Go
All of the options listed below can be found on the store for both the PlayStation VR and the Oculus Go. These universal services provide you with live entertainment for a great price. Be sure to check them out!
Next VR
You can find the Next VR app on your PlayStation VR or Oculus Go. It offers countless wonders when it comes to watching live events in VR. You can also find a few comedy skits. Outside of the live events listed below, you can also check out their line up for live sports. NextVR offers VR viewing for WWE, NFL, NBA, Boxing and even live concerts! You can see all of the channels they offer by clicking here.
January 10 @ 7PM PST - Live From Gotham Comedy
January 11 @ 8 PM PST - SketchFest 2018: Playing Games with Jimmy Pardo
January 22 @ 10:30pm PST - SketchFest 2018: Filipino AF
January 12 @ 12:30PM PST - Detroit Pistons at Los Angeles Clippers
January 12 @ 4:20PM PST - SketchFest 2018: Doug Loves Movies
January 15 @ 4:30PM PST - Oklahoma City Thunder at Atlanta Hawks
January 17 @ 7:00PM PST - Live From Gotham Comedy
January 27 @ 4:30PM PST - Miami Heat at New York Knicks
January 29 @ 4:30PM PST - Chicago Bulls at Brooklyn Nets
YouTube live events
Another option you have for live events on both the PlayStation VR and your Oculus Go is on YouTube. For PlayStation VR you'll want to download the app to watch your videos. For the Oculus Go all you need to do is go to the browser.
To can find amazing live content at any time all you have to do is type "Live Stream" in the search bar. Make sure you subscribe to your favorite live streamers so you'LL be notified the next time they're live!
PlayStation VR
Besides NextVR or Youtube, which is available to both PSVR and Oculus Go, there are a few exclusives to PlayStation that are worth checking out. Here's all the information you'll need to find the best live events that are exclusive to your PlayStation VR.
PlayStation Vue
Did you know that PlayStation Vue is compatible with your PSVR? Aside from the normal TV channels Vue also offers a variety of live sports. It's got everything you could need, including ESPN, ESPN2, Showtime (sports), FOX Soccer Plus, CBS Sports Network, ESPN channels, NFL Network, MLB Network, NBA TV, Big Ten Network (BTN), and Eleven Sports.
While PlayStation Vue doesn't have custom content like NextVR you can still find quite a bit of great things to watch. If you're already subscribed to Vue for your PlayStation make sure you take advantage of its full potential by using it with your VR headset!
Oculus Go
Here's all the information on the exclusive apps for Oculus Go when it comes to watching live events. Over at Oculus they seem to be taking a priority in bringing the community together. One of the fears when it comes to VR is that you'll wrap yourself in this new world and forget the people outside. Now you don't need to worry about that. Oculus Venues is an absolute game changer when it comes to live streaming events in VR.
Oculus Venues
Oculus Venues is the most fun you'll have watching live events in VR. This app puts you in the crowd with other viewers using the same app so you don't have to watch alone (there are options for that if you want to). That means you'll have a seat in a stadium with other people for you to give commentary, cheer, and chat during the events. People across the world are watching the same shows as you, so why not watch together?
Oculus Venues January 2019 Schedule
January 4 @ 7:30PM PT - NBA: New York Knicks @ Los Angeles Lakers, Produced in VR by NextVR
January 12 @ 12:30PM PT - NBA: Detroit Pistons @ Los Angeles Clippers, Produced in VR by NextVR
January 15 @ 4:30PM PT - NBA: Oklahoma City Thunder @ Atlanta Hawks, Produced in VR by NextVR
January 27 @ 4:30PM PT - NBA: Miami Heat @ New York Knicks, Produced in VR by NextVR
January 28 @ 4:30PM PT - NBA: Brooklyn Nets @ Boston Celtics, Produced in VR by NextVR
What will you be watching?
Tell us in the comment section below, or shoot me a tweet telling me which live events you'll be checking out. Already watched a few? Let us know what your favorites are!
Update January 18, 2019: We've updated this article to tell you all about Hikaru Utada's live performance in VR, coming tomorrow!
Sign up for Black Friday email alerts!
Get the hottest deals available in your inbox plus news, reviews, opinion, analysis and more from the Android Central team.
Essa Kidwell is an expert in all things VR and mobile devices who can always be found with an Oculus Go, a Pixel 2, and an iPhone 7+. They've been taking things apart just to put them back together for quite some time. If you've got a troubleshooting issue with any of your tech, they're the one you want to go to! Find them on Twitter @OriginalSluggo or Instagram @CosmeticChronus.