Best Home Automation Gifts: Get started with these essential gadgets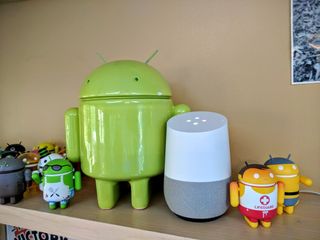 Most folks don't realize how much better life is with home automation tech at their fingertips. All the time, even in the comments here, you see folks talk about how silly it is that there's an app to control lightbulbs or thermostats when you can just walk up and touch the thing. It's not like that's hard, and it only takes a few seconds, right? Meanwhile, those of us who know better see these people running to check the thermostat once an hour when there's 20 people in the house and they're trying to get Thanksgiving dinner on the table, with three different lightbulbs at three different color temperatures in the same room.
Save these people from themselves with the gift of home automation this year. Here's a good place to get started!
Philips Hue Starter Kit
Why you can trust Android Central Our expert reviewers spend hours testing and comparing products and services so you can choose the best for you. Find out more about how we test.
Most folks don't know this, but the best way to get someone interested in home automation is with smart lighting. These smart LED bulbs are expensive when compared to what they'll find on the shelf at the hardware store, but show off what these bulbs are capable of and you'll have an instant fan ready to fill out the whole house in the perfect lighting. Color temperature control and bulb scheduling is a great way to save power, set a mood, and even adjust your frame of mind. Plus, making your whole house glow red is occasionally hilarious.
Philips Hue bulbs are the best place to start, and you can choose between the shades of white Lux bulbs or the full color Hue bulbs depending on how much fun the person you're buying for is.
Logitech Harmony Hub
Wait, you mean your remote control only handles your television? Welcome to the future, where Logitech has made it possible for your remote to control just about everything and you can use your phone when you don't want a plastic thing with buttons. Harmony lets you control everything a standard universal remote can control, as well as all of the popular smart home gadgets like Hue bulbs and the Nest Thermostat. It's a great all-in-one solution for anyone who spends most of their time in the living room.
Logitech Harmony Hub comes in many different options, including smart switches you can program to activate whatever you can control through Harmony and even paired with an Echo Dot.
Nest Thermostat
Adjusting your thermostat is one of those things that generally seems like no big deal. You walk up and twist the knob when you're warm or cold, and don't think about that little bump on your wall again for a while. It's simple, straightforward, and arguably one of the most inefficient gadgets in your home. Regular thermostats don't adjust for increased or decreased airflow based on whether there are people moving in the house, or if there's someone at home at all. There's no tech in your average thermostat to monitor how much energy you're consuming or if it's being consumed efficiently. Nest not only saves you more than you're likely to spend on it over the lifetime of the thermostat, it's smart enough that you eventually stop needing to check on it at all.
This is a great gift for people who want their house to be a little smarter and a lot more efficient, and it's the kind of thing no one really thinks about until something like Nest has been installed and is improving their lives.
Google Home
Getting someone started with Home Automation can be as simple as showing them how much easier things are when you don't need to constantly adjust manually, or as silly as shouting shut up at a little speaker sitting on you shelf in order to get it to stop playing music. Google Home does a whole lot more than play music, especially after you've taken the time to set it up and learned all of its tricks, but automating your music can be a powerful experience all on its own.
This particular connected home gadget has a lot of growing to do, but you can do a lot to work with that experience as you show your friend how much fun this little speaker can be!
Amazon Echo Dot
If you're not looking to spend quite so much but still want to see someone you know grow into a connected home, start them off with the Echo Dot from Amazon. The Alexa service takes some getting used to, and doesn't connect to Google's services quite as well as Google Home, but this is a powerful little assistant that can become a center point in any connected home.
Amazon's Echo Dot comes in glossy white or black, and can be connected to any larger speaker to become a more capable music player as well. This is a great starting point for just about anyone!
Your turn
What are your favorite home automation gifts? Let us know in the comments below!
Be an expert in 5 minutes
Get the latest news from Android Central, your trusted companion in the world of Android