Best Home Automation Gifts: Get started with these essential gadgets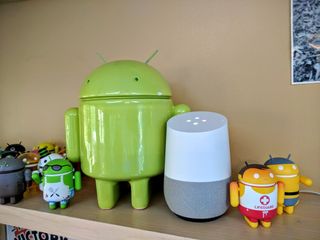 Most folks don't realize how much better life is with home automation tech at their fingertips. All the time, even in the comments here, you see folks talk about how silly it is that there's an app to control lightbulbs or thermostats when you can just walk up and touch the thing. It's not like that's hard, and it only takes a few seconds, right? Meanwhile, those of us who know better see these people running to check the thermostat once an hour when there's 20 people in the house and they're trying to get Thanksgiving dinner on the table, with three different lightbulbs at three different color temperatures in the same room.
Save these people from themselves with the gift of home automation this year. Here's a good place to get started!
Philips Hue Starter Kit
Why you can trust Android Central Our expert reviewers spend hours testing and comparing products and services so you can choose the best for you. Find out more about how we test.
Most folks don't know this, but the best way to get someone interested in home automation is with smart lighting. These smart LED bulbs are expensive when compared to what they'll find on the shelf at the hardware store, but show off what these bulbs are capable of and you'll have an instant fan ready to fill out the whole house in the perfect lighting. Color temperature control and bulb scheduling is a great way to save power, set a mood, and even adjust your frame of mind. Plus, making your whole house glow red is occasionally hilarious.
Philips Hue bulbs are the best place to start, and you can choose between the shades of white Lux bulbs or the full color Hue bulbs depending on how much fun the person you're buying for is.
See on Amazon (opens in new tab)
Logitech Harmony Hub
Wait, you mean your remote control only handles your television? Welcome to the future, where Logitech has made it possible for your remote to control just about everything and you can use your phone when you don't want a plastic thing with buttons. Harmony lets you control everything a standard universal remote can control, as well as all of the popular smart home gadgets like Hue bulbs and the Nest Thermostat. It's a great all-in-one solution for anyone who spends most of their time in the living room.
Logitech Harmony Hub comes in many different options, including smart switches you can program to activate whatever you can control through Harmony and even paired with an Echo Dot.
See at Amazon (opens in new tab)
Nest Thermostat
Adjusting your thermostat is one of those things that generally seems like no big deal. You walk up and twist the knob when you're warm or cold, and don't think about that little bump on your wall again for a while. It's simple, straightforward, and arguably one of the most inefficient gadgets in your home. Regular thermostats don't adjust for increased or decreased airflow based on whether there are people moving in the house, or if there's someone at home at all. There's no tech in your average thermostat to monitor how much energy you're consuming or if it's being consumed efficiently. Nest not only saves you more than you're likely to spend on it over the lifetime of the thermostat, it's smart enough that you eventually stop needing to check on it at all.
This is a great gift for people who want their house to be a little smarter and a lot more efficient, and it's the kind of thing no one really thinks about until something like Nest has been installed and is improving their lives.
See on Amazon (opens in new tab)
Google Home
Getting someone started with Home Automation can be as simple as showing them how much easier things are when you don't need to constantly adjust manually, or as silly as shouting shut up at a little speaker sitting on you shelf in order to get it to stop playing music. Google Home does a whole lot more than play music, especially after you've taken the time to set it up and learned all of its tricks, but automating your music can be a powerful experience all on its own.
This particular connected home gadget has a lot of growing to do, but you can do a lot to work with that experience as you show your friend how much fun this little speaker can be!
See on Amazon (opens in new tab)
Amazon Echo Dot
If you're not looking to spend quite so much but still want to see someone you know grow into a connected home, start them off with the Echo Dot from Amazon. The Alexa service takes some getting used to, and doesn't connect to Google's services quite as well as Google Home, but this is a powerful little assistant that can become a center point in any connected home.
Amazon's Echo Dot comes in glossy white or black, and can be connected to any larger speaker to become a more capable music player as well. This is a great starting point for just about anyone!
See on Amazon (opens in new tab)
Your turn
What are your favorite home automation gifts? Let us know in the comments below!
Android Central Newsletter
Get instant access to breaking news, the hottest reviews, great deals and helpful tips
Three words: Harmony Home Hub. It's awesome for controlling anything that comes with a remote and can even work with IFTTT for such nifty recipes as: If it passes X degrees outside, turn on the aircon :)

Do you use an Echo or Echo Dot paired with your Harmony Hub to control your TV?

No, since the Echo (or its app) are not available where I live. But the macros work very well for controlling my entire home theater.

I have my Echo connected to my hub. I can turn on/off the TV and change channels. The echo takes existing Harmony tasks and converts them in to voice commands. I don't have any automation devices currently connected.

Can anyone comment on the reliability and overall performance of the nest thermostat? I have heard people having issues with those.

I've had mine now for 2 years without any problems so reliability isn't of concern for me. You do though however, check googles site for compatible a/c units. Performance wise, we never have to touch it and works as advertised. Overall I'd say it saves us 10 to 15% a month depending on how hot it gets....I'm in Florida if that matters!!

You've documented a 10 - 15 percent reduction in your electric bill, or you just hope it's saving you money?

Documented. When we leave the house for work, the nest automatically ups the temp inside to 80 instead of 76. It stays that way till 4pm then changes back to 76 before we get home. In Florida, that's a good chunk of change.

A $20 programmable thermostat can do that. Why do I need a $250 Nest?

Ah, but the nest knows when your home or away and adjusts accordingly automatically....heat or a/c. No need to reprogram it. It also keeps humidity levels down automatically by adjusting your compressor to run or stop saving energy while keeping you comfortable. It does much more than adjust the temp....

those thermostat cant detect when u r away from home and kick in eco mode.
My bill was around $70 and ever since nest my bill slowly dropped to $50 then now at $35

2 ways they can. One, it detects if anyone walks in front of it over a period of time and two, if you use the app, it knows your gone because your phone is out of range. Both kick on eco mode.

I live in Washington state where we do not have A/C, only gas heat. I'm seeing just about 15% savings on our gas bill after installing a Nest thermostat a couple of years ago.

I'll definitely check out if the unit I have is compatible. I live in Florida as well.

I've had Nest for about 2.5 years. I have 4 of them because I have 4 independent HVAC units (yes, you can connect them to HVACs). They've definitely saved me money and the temperature in my home is more uniform since the devices communicate with each other. I've never had to repair any of them. I'd definitely recommend them.

I think it's a question of whether people trust the Nest (or any smart thermostat) enough to let it work. I know people who haven't allowed their Nests to learn their behaviours, in which case the only advantage is the ability to control it remotely.

A friend who owns his own AC business explained it to me so this is from my interpretation of what he described. The Nest leaches its power from the heating and cooling system to charge its rechargeable battery. Some systems simply cannot provide enough power on their own and require a dedicated or "common" wire for this purpose. You can wire a Nest to just use the AC unit's power and things may work without a hitch but if they don't you'll need to connect to the common and have one run if you don't already have it. https://nest.com/support/article/When-Nest-needs-a-common-C-wire

Also at Geekbuying they have some cool gadgets that are pretty cheap.

I'd recommend LiFX bulbs. Easy to use and no Hub required.

I'd like to get nest but not sure if it's what I need.
To heat the house I turn the heat on or off. The thermostat is fixed at a set temperature.
I'd like nest to turn off/on our gas boiler.
Is this possible?
I have Echo dot...

Vera, one of the best home automation systems that now had a skill with Alexa to allow full voice control over your home through her!

Like many people, I hate a love/hate relationship with my Belkin Wemo switches. I hate that the app is terrible, the firmware updating process is a joke, and every once in awhile they just stop working until you reset everything. Also, by the time a rule goes out to the cloud and comes back into my network to issue a command, I've crossed the room to flick the switch. I love that I found the Automation Manager app, which I run on an old Android phone as a rules server. Now my Wemos are super fast to respond to commands and don't rely on Internet access. I just ordered a Wemo Maker so that I can control my gas fireplace.

I'm against having too much home automation that qualifies as "Internet of Things". IP routable devices require maintenance. I have almost two dozen sensors and switches in my house and I do not want to worry about updating them or monitoring their outbound traffic. . I heavily recommend using as many Zwave devices as you can. Zwave is the USB of the home automation world as almost everything supports it. Vera, Smartthings, wink, Iris, HomeSeer, Zipato, and the defunct Revolv. If you replace your hub you don't have to swap out your whole house. It's 900Mhz, so doesn't mess with your wifi and then you only have to worry about your hub being attacked. I'm generally against cloud-based solutions. I don't want to worry that my thermostat or pipe heater is going to go stupid because my internet is down or a DDOS is attacking Nest's DNS servers. If you want voice control you probably need to have some cloud support but it's one thing to lose voice control and another thing for your door locks to fail to lock like they should. Home automation should be ...automated in your home. And once you get big into HA your hub becomes the least pricey part of your system. Door sensors, locks, switches, thermostats, exterior sensors, and outlets are not things you want to swap out because IFFTT no longer supports WeMo.

Smartthings Hub --->Z-Wave switches--->Honeywell WiFi Thermostats--->Echo Dot(s).

I use wink with Ge Link Led bulbs, and Sylvania Osram lightify RGBW Leds, as well as GoControl motion, door and window sensors and I just added an Ecobee3 Smart connected thermostat which uses different temp sensors through out the house to control my HVAC, and I'm installing a leaksmart auto shut off valve for my water line in the house

I got Google Home a few weeks ago, and we use it much more than we ever thought. I have a Belkin WeMo wifi light switch, and with IFTTT, have connected it through Google Home. I also have 2 Belkin WiFi plugs that I use for Christmas Tree control. Got a Nest thermostat in the mail yesterday (Thanks Kohl's). Waiting until after our Christmas party to install, because I need to do some touch up painting. My question about Nest... Does anyone just attach it to the wall, or do you buy some sort of wall plate (square or round)?

If you go on to the Nest website, they have a link that will show you local installers to come and do it for you, professionally. They are registered with Nest as authorized installers. That is what I did, as I did not want to mess up the wiring.

The Nest thermostat comes with a wall plate that will likely cover any mounting holes and paint trim from the old thermostat if desired. I chose to patch the old mounting holes and touch up the pain instead of using the wall plate.

No responsible article about home automation is now complete without reference to securability. Can these be subverted into bots and used nefariously?

Some great picks here. One thing I'd mention too is the Ecobee smart thermostat. Definitely worth checking out if you're looking at the Nest.

Yep, totally agree with getting an Ecobee3, Best Buy Canada had a deal where you get 2 extra room sensors for free, and just installed my Ecobee3 over the weekend and wasn't too difficult (under 3 hours of install time including troubleshooting) Also Ecobee3 works with Amazon Echo, IFTTT, and Apple HomeKit (which Nest does not)

I also agree. I did a LOT of research between nest and Ecobee. In the end, I went with the Ecobee for features and more granular control. Of course, in order to control it with my new Google Home, I had to pick up a SmartThings hub as well (on sale for $50).

Hue is ok. The Hue App looks nothing like the youtube videos show you. The Geo Fencing works sometimes and after updating our router and cell phones, we can't really do much. When you use IFTTT with hue, you can do thinks like changing the color when the temp drops. The hardest thing is setting the colors back, when the temp rises. It's fun to have, but not needed. Wished I would of gotten Smart Things.

Honeywell is on the scene too in terms of thermostats. Also. Any world on when Google home is coming to Canada?

I've been told by Google Canada in early 2017, so that could be anywhere from January to April 2017 (hopefully sooner rather than later)

Why isnt insteon listed at all? insteon works with amazon alexa, logitech harmony,and nest. Even works with apples homekit also. Unlike zwave it wil lalso work through your homes electric wiring for the control aspects. You can even st the remotes to the outlets with out the hub or cell phone needed. There is even a 3rd party hub that includes zwave control. Insteon has a lot of wire in products for those high and low voltage appliances that do not have standard plugs like fans and other things.
Android Central Newsletter
Get instant access to breaking news, the hottest reviews, great deals and helpful tips
Thank you for signing up to Android Central. You will receive a verification email shortly.
There was a problem. Please refresh the page and try again.