The best Android apps and games of the week: FIFA 15 Ultimate Team and more!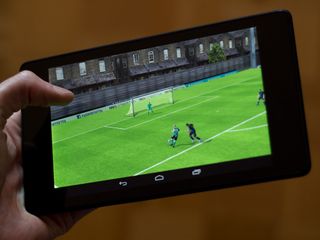 The Google Play Store has been busy churning out some solid Android apps and games this week. Soccer, errr, football fans have an updated FIFA game to dig into, there's a great new strategy games from the Anomaly guys, and a smattering of utility apps to top it all off.
As always, we're eager to hear what you've found in the Play Store, but in the meantime, here are our top ten new Android apps and games of the week.
Asphalt Overdrive
Why you can trust Android Central Our expert reviewers spend hours testing and comparing products and services so you can choose the best for you. Find out more about how we test.
Though there are cars on roads, and they're often doing the unlikeliest of barrel rolls after launching off ramps, this isn't quite an Asphalt game you'd expect. Instead of a full-bore racing game, Asphalt Overdrive is more of an endless runner, which has players quickly swiping to steer between lanes, trash competitors, and dodge obstacles. Asphalt Overdrive follows a distinct 80s vibe in the game's background music and the cars available to unlock and upgrade. Many brand-name cars are available, and cosmetic customizations like paint jobs and decals will be available on top of more performance-based upgrades. Individual stages will require players smash other racers or get as far as possible in a limited amount of time, for example. Though Gameloft has dropped in-app purchases for the next Modern Combat game, they're alive and well in Asphalt Overdrive for accelerated progress. For a fast, light, and retro-styled racer, Asphalt Overdrive does very well.
Just Dance Now
Players in Just Dance Now use their smartphone as a motion controller, and any screen with browser access as the primary game display. You need to match up with the movements of the dancer on the TV, laptop, or tablet, and are scored based on how closely you mimic the movements. If you're feeling brave, you can share video clips of your sweet, sweet dance moves to social media. Every day there are five new songs free to play, but if you want access to the full library, you can pay for playtime as short as an hour or as long as a year.
Just Dance Now is innovating mobile gameplay in a number of ways, and it will be interesting to see how the title pans out.
Anomaly Defenders
Anomaly Defenders brings to a close what is arguably the best tower defense series on Android. Mankind has finally pushed the alien menace back to their homeworld, and now players are tasked with repelling the counter-invasion. Like usual, you need to upgrade towers, expand research to improve their efficacy, and make split-second decisions based on how attacks change and environmental effects. The graphics are still gorgeous, and a rich campaign to chew through.
Strategy fans will have a ton of fun with Anomaly Defenders. If you're looking for more, Anomaly Korea (opens in new tab), Anomaly Warzone (opens in new tab), and Anomaly 2 (opens in new tab) are fantastic predecessors.
Daddy Long Legs
Daddy Long Legs is actually a little over a week old, but it's too good to not share. This is a free game similar to the awkward long-distance runner QWOP. Players have to delicately maneuver a giant two-legged spider-type creature for as long a distance as possible. Every tap of the screen switches which legs are moving, but make sure to time it right, because Daddy Long Legs has an awful sense of balance and it's a long way down. Best (worst?) of all, the game keeps tabs on how many falls you make over the course of the app.
Daddy Long Legs has quick replay value, a sharp art style, and a high difficulty curve.
FIFA 15 Ultimate Team
FIFA 15 Ultimate Team is the latest game in the widely-known football franchise. Players pick their team from a current, real-world roster, set up formations, then hit the pitch. Bluetooth controller support is there for those that want to take the experience seriously, or you can opt for simplified touch controls if you want to take it easy. The freemium influence is strong here, with in-app purchases employed to help you build up a squad with your favorite players.
Footie fans will have a hard time resisting FIFA 15 Ultimate Team.
Wayfare
Wayfare is a kind of week-long penpal social network. You're paired up with someone from another country, and you're prompted to share photos back and forth as part of daily missions. This can provide all sorts of insights on what life is like at the other side of the planet. Though the partnerships only last a week, you could potentially make lasting friendships with an app like this.
Give Wayfare a shot if you've got a bit of wanderlust, but not much of a travel budget.
Centrallo
Centrallo is a polished note-taking app. Create lists and lists within lists, attach multimedia, and set reminders that sync to calendars and help you manage tasks. Lists can be shared with colleagues, friends, and family, and managed from your PC thanks to a strong web client. The app is free to use, but limited to 100 MB of cloud storage. $4.99/month gets you 1 GB.
Folks looking to crank up their productivity with a well-made list and task app should give Centrallo a shot.
AutoApps
AutoApps is a new plug-in hub for anybody using the fantastic automation app Tasker. From here you can find Tasker-friendly apps and download and apply useful profiles and tasks. If you're a serious power user, you can subscribe to a new $1.35/month service which gives you access to all of the apps and early access to Auto-apps that are still a work in progress.
Tasker is great but it can get complicated and sprawling, so it's really handy to have an app that aids in discovery.
HeadsUp
HeadsUp is a promising new open source project that lets you enable pop-up notifications for specific apps. This is great for keeping tabs on anything important while you're enjoying, say, a movie in immersive mode and don't have a clear view of incoming notifications. Pop-ups are fully interactive with light and dark themes available. The developer also works on AcDisplay (opens in new tab), which offers great-looking lock screen notifications.
Grab HeadsUp if you find yourself sometimes missing important notifications.
Commute
The guys behind MapQuest have made an app tailored for helping you around your daily commute to and from work. Set the time you usually want to head out and get notifications about needing to go early due to traffic issues along your route. Travel time is estimated based on real-time traffic conditions, which can help you re-schedule if things are getting hairy on the roads. A tie-in with MapQuest helps you jump into full turn-by-turn directions.
Google Now already does this sort of thing, but it's nice to have an alternative.
Your favorite new Android apps from this week?
Plenty more has landed in the Google Play Store this week, so hit us up in the comments with your favorite latest Android apps.
Get the Android Central Newsletter
Instant access to breaking news, the hottest reviews, great deals and helpful tips.
Simon has been covering mobile since before the first iPhone came out. After producing news articles, podcasts, review videos, and everything in between, he's now helping industry partners get the word about their latest products. Get in touch with him at simon@futurenet.com.
Is there a way to tell if an app in Google play will allow a refund after purchase? I've bought a few icon packs recently and there were two icon packs that didn't give me a choice to get a refund after I made the purchase. What gives? Why do some apps allow you a refund and others don't? Is there a way to tell which apps you can get refund?

I thought every app in the Play Store was subject to the "refund within 15 minutes of purchase" policy? You might want to email the developer. Posted via Android Central App

When did you make those purchases? You should be able to get a refund up to 2 hours after purchase. Although if you bought an app once and refunded it, you can't refund it again. You can go to the my orders page and choose the option to report a problem to submit a refund request to the dev after 2 hours.

I have found that you can only get a refund the first time you buy an app. If you tried it out before and then got a refund, then you buy it again...no refund is available. Posted via Android Central App

I've never purchased this app before. I emailed the developer three times and didn't get the refund. Its not about $1.50, I just thought we had that choice. Is there a way to complain to google about this?

I've been playing Colorun
https://www.androidcentral.com/e?link=https2F2F...

Fifa 15 is awesome but they dropped Origin for Facebook which sucks. Posted via Android Central App

Yeah fifa 15 its good, no great step from 14. but still a long way off what it should be. Now supports moga, but they've taken skill moves away....with controller support no reason to not have full console replication of controls, big chance wasted there. Online only play, not good if you wanna play on wifi only tablet and/or don't have data connection away from home etc. And the big one.....no multiplayer. Given it is now an online only game this is stupid. This has been present for ios since fifa 14 I think? EA just can't be arsed trying to sort it, and are missing a big trick. I would pay for this feature. Posted via Android Central App

FWIW....... Amazon has mucho premium apps for free and discounted. Posted via the Android Central App with my OnePlus One.

Just unfortunate that you have to have their battery eating app store installed to use them. Posted via Ash William's Boomstick

Except I have never seen it in my battery stats, so it obviously doesn't eat the battery as it doesn't even use ~1% Posted with my Nexus 4 running L

I have the amazon appstore, I force close it everyday, and with 12-24 hours, it turns itself back on again along with all the other amazon apps I have installed like music and prime video app

Daddy Long Legs is a good time killer. I'm enjoying it so far.

Albeit a bit maddening! Posted via a Republic Wireless Moto X using the Android Central App

Wayfare sounds like a unique concept. I can see using it to with kids (and much moderation) to learn about another culture. Would be cool to pair kids with kids.

is hacking fifa coins true because I tried but didn't work for me.

Don't try to hack coins!!!

I've been playing Deported Iguana https://www.androidcentral.com/e?link=https2F2F...

hey not keith..i saw videos in youtube and looked so easy and fun how you can buy any player of your wish

hi i just was playing fifa 15, and i found a cool guide for fifa 15. You should check out the app. https://www.androidcentral.com/e?link=https2F2F...

Now we can play FIFA 15 on Android, it is much convenience than before. You can read more about it from http://fifa15buycoinyy03.wordpress.com/2014/11/12/fifa-15-ultimate-team-...