Best 3D Blu-Ray movies to watch on your PlayStation VR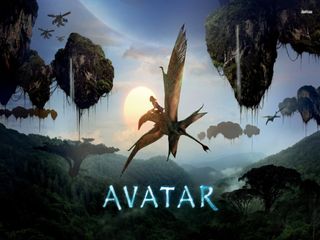 With your PlayStation VR (PSVR) you have the option to immerse yourself in your favorites shows and movies, and this time with better equipment. So get your popcorn ready, plug in your PSVR and get ready to experience these amazing titles like you never have before! I'm talking about 3D Blu-Ray, a high definition experience to make you feel like you're actually inside some of your favorite titles.
If you're not sure where to get started check out our line-up for the best titles to start with!
The line-up
Why you can trust Android Central Our expert reviewers spend hours testing and comparing products and services so you can choose the best for you. Find out more about how we test.
Avatar
No, we're not talking about the Last Airbender (and how disappointed we are with it), we're talking about Pandora from Alpha Centauri star system. Words can not describe the emotions that ran through me watching this movie in theaters, let alone how star-struck and speechless I was experiencing it in #D Blu-Ray. There will not be a movie that will break my heart as much as Avatar did when we see the screams of the Na'vi people as their village is threatened by the humans attempting to inhabit it.
You can find this title as a combo deal with Titanic for $31.22. Prepare yourself for a whirlwind of emotions from the joy of flying, the pain of loss, and the pride of triumph as you experience Pandora from a first-person perspective. Keep your tissues ready, it's gonna be a wild ride.
Star Wars: The Force Awakens
"Chewie... we're home." Well, you most certainly won't need a garbage chute or a trash compactor for this title. For $29.96 you can find Star Wars: The Force Awakens on Amazon and get your midichlorian count ready for some serious action because you're gonna need as much of the Force as possible.
Follow this epic story of a battle far, far away and you'll get to experience the adventures of Rey, Po, and Fin on their mission to defeat Kylo. Then, when you get to the part where Leia comes out... pause the movie and give Karrie Fisher one last salute. Most things will pale in comparison to putting yourself in the stars.
Ghostbusters (2016)
For $29.63 you can find the 2016 remake of the Ghostbusters on Amazon and really show people that you ain't afraid of no ghost! So strap on your PSVR headset and watch the new team get together in iconic scenes like watching the new crew test their brand new weapons.
Besides, seeing them jump into action against the ghosts is truly a remarkable experience up close and personal. This all-female crew of Ghostbusters took the world by storm showing anything you can do, we can do just the same. So when you're ready to jump into the Ecto One, go on Amazon and prepare yourself for one of the most empowering movies of 2016.
Guardians of the Galaxy
Get your groove on with Star Lord Peter Quil as he rocks out in space with his new companions: Groot, Rocket, Gamora, and Drax. For $49.95 on Amazon, you too can prove that your reflexes are too fast to allow something this awesome to go over your head.
Watch as some of your favorite heroes take on the Power Stone and stow it away for the betterment of mankind. Or, you know, take this time to swoon over baby Groot dancing up close and in your face. You can also pop this movie on to get yourself MAJORLY HYPE for Marvel's Inifinity Wars movie coming out.
Coraline 3D
"They say even the proudest spirit can be broken, with love." Get to see everything the Other Mother has to offer without having to make the decision of sewing buttons into your eyes. Instead, the only thing you have to put on your eyes is your PSVR headset! Tag along with Coraline in her epic adventures from a side-show circus to a forever growing garden.
Here you'll get to experience all the colorful and illuminating adventures of the world through the little doorway and fully realize just how amazing all the graphics of this movie really is. Find this title on Amazon for $14.21 and get ready to start running. (Cause what's more terrifying than a giant spider Mother?!)
Honorable mentions
These titles are also pretty awesome! From amazing horror to silly and fun, you should totally check these titles out! Click on the links below to find them on Amazon and get your 3D Blu-Ray adventures going!
What do you think?
What are your favorite movies in 3D Blu Ray? What would you like to experience? Let us know in the comment section below!
Sign up for Black Friday email alerts!
Get the hottest deals available in your inbox plus news, reviews, opinion, analysis and more from the Android Central team.
Essa Kidwell is an expert in all things VR and mobile devices who can always be found with an Oculus Go, a Pixel 2, and an iPhone 7+. They've been taking things apart just to put them back together for quite some time. If you've got a troubleshooting issue with any of your tech, they're the one you want to go to! Find them on Twitter @OriginalSluggo or Instagram @CosmeticChronus.