Best of 2018 Awards — The Best Android Phone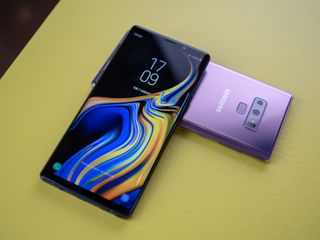 2018 was a great year for Android phones. Prices went up, but we got a proportionate improvement in design, performance, features and cameras. As is usually the case, though, a few phones truly stand out from the rest. In 2018, the best phone, at any price, is the Samsung Galaxy Note 9. It provides across-the-board wins in design, display quality, specs, features, photography, battery life and so much more.
The Best Android Phone
An all-around amazing phone with both power and elegance.
Samsung offers an all-in-one package you can't find anywhere else. It's beautiful from any angle and accented by the best display you can find on any phone. It's also filled with the highest-end specs, excellent battery life, and nice-to-have features like a headphone jack, wireless charging, stereo speakers and the unique S Pen stylus. Its cameras are fast and simple to use, yet produce exceptional photos. Anyone will be happy with the Galaxy Note 9.
Why we picked the Galaxy Note 9 as the Best Android Phone of 2018
Why you can trust Android Central Our expert reviewers spend hours testing and comparing products and services so you can choose the best for you. Find out more about how we test.
The Galaxy Note 9 has something for everyone. Actually, it has everything for everyone. Samsung manages to bring just about any feature in hardware or software you could ask for, and puts it together in a single package without introducing massive compromises or gaps in the experience. The hardware is excellent, packing a big and beautiful display on the front and top-notch specs inside. There's a large battery for effortless all-day battery life, even though a good amount of space is reserved for the S Pen stylus.
Samsung's software takes a bit to get used to, but is filled with great features and doesn't face slowdowns or hiccups. It's also getting even better with the pending Android 9 Pie update. And though its cameras aren't quite on the level of the Pixel 3 when it comes to straight photo quality, Samsung continues to be the best at having cameras that open quickly, capture quickly, and are incredibly consistent from shot to shot no matter the scene. And with the S pen in your hand, you can remotely trigger the cameras for even more unique shooting opportunities.
The Note 9 is the complete package from top to bottom. You pay an increased price for the privilege, but it's entirely worth it. It's our pick for the best Android phone of 2018.
Runners Up
The Best Camera
The best software experience you can buy, attached to the best cameras of the year.
Whether you like the compact Pixel 3 or Pixel 3 XL, our conclusion is the same: this is a fantastic phone. Google's software experience is unrivaled, and this generation fixed many of the little issues we complained about last year. The hardware is exquisitely designed, and the whole experience is just simple and easy to use no matter your skill level. It also has what we consider the best Android camera of the year. Unfortunately, lackluster battery life and a less-than-amazing screen slot it in underneath the Galaxy Note 9.
Best Outside the U.S.
Features and specs as far as the eye can see, with an extensive camera setup.
The Huawei Mate 20 Pro would have a decent shot for being our best overall phone, but it's simply not available in the U.S. and that's a huge stumbling point. But outside the U.S., it's a force to be reckoned with. The hardware, specs and display all rival the Note 9, and its camera setup offers even more flexibility and capabilities in a variety of conditions. The battery life is spectacular, as is its charging speed. It's software is arguably its only weak point, lacking the polish of the competition.
Amazing value
Everything the Note 9 offers (minus the S Pen) in two different sizes for hundreds less.
Like the Pixel 3, this pick is a stand-in for both the Galaxy S9 and larger Galaxy S9+. And both deserve a nod for providing everything the Note 9 does, minus the S Pen, for hundreds of dollars less. The same fantastic hardware, specs, cameras and features, in a choice of sizes that are easier to manage. It's tough to beat the total package of a Galaxy S9 or S9+, giving you the same day-to-day experience as our top pick for less money.
Bottom line
Of all the fantastic Android phones launched in 2018, the Samsung Galaxy Note 9 stands at the top of the list. Its sleek and beautiful design is well-accented by an industry-leading display, high-end hardware, great battery life and superb cameras. Plus, it has a truly unique S Pen stylus and just about any feature you could ask for in both hardware and software. The Note 9 is a phone that does it all, and doesn't introduce annoying compromises that detract from the experience.
The Galaxy Note 9 isn't the only phone in 2018 that we recommend, though. The Google Pixel 3 and 3 XL, Huawei Mate 20 Pro, and Galaxy S9 and S9+ all have their place in our Best of 2018 Awards for how they execute on their own approach to a high-end Android phone. Google has the best possible software and camera, Huawei has amazing features and battery life, and Samsung offers a Note 9-level experience in a smaller size and lower price. You'll be happy with any of these phones, but each one has something that keeps it from reaching the same heights as the Note 9.
Anyone will be happy with what a Galaxy Note 9 offers across all aspects of the modern smartphone experience, and it doesn't turn away any potential buyer with show-stopping problems or issues. That's why it's our best Android phone of 2018.
Be an expert in 5 minutes
Get the latest news from Android Central, your trusted companion in the world of Android
Andrew was an Executive Editor, U.S. at Android Central between 2012 and 2020.