Belkin's WeMo Smart LED Bulbs now on sale in US and Canada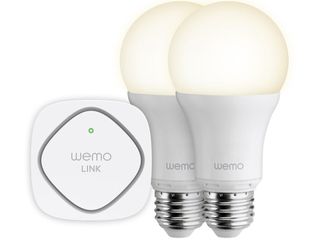 Belkin has announced that its WeMo Smart LED Bulbs, which can be controlled by its Android app, are now on sale in the US and Canada, both as individual bulbs as well as in a Starter Kit that includes a WeMo Link which can control up to 50 of those lights.
Belkin states:
The WeMo app can be used to create custom lighting schedules for the Smart LED Bulbs, along with many other features. The individual bulbs are priced at $29.99 while the Starter Kit, with two bulbs and the WeMo Link, is on sale for $99.99. What do you think of this latest smart home product?
Source: Belkin (opens in new tab)
Get the Android Central Newsletter
Instant access to breaking news, the hottest reviews, great deals and helpful tips.
TCP Connected Smart lights are much more affordable!

I would purchase this. It makes turning off the lights much more enjoyable

Too expensive for my blood.

Love the idea, but it's just too expensive for what at this point is really just a novelty item. Posted via Android Central App

Just outfitted my home with the GE Link bulbs, which are half the price of these per bulb. $15 for a smart LED bulb is easier to swallow than $30. Posted via the Android Central App

How much is the hub, though?

Works with the Wink hub. Looks like $50. I was curious as well. I am going on a vacation soon and am looking into a solution for when i am away.

I'm going to have to look into this...

Yup, it usually runs $50 but can sometimes be found on sale with other items. The benefit of the Wink hub is that it works with a decent amount of other smart products. I did a small review about the bulbs in you're interested:
http://www.cshadle.com/blog/2014/9/3/review-ge-link-lightbulbs

Wow. Thanks for that. It looks like exactly what I need and not for a whole lot of money comparatively.

Not a problem! Glad I could help someone. If you have any questions, feel free to shoot me a PM here!

Picking up the hub on eBay for $40 today. I will probably hit you up next week if I have questions. Thanks again!

What award did they win for the app? Most ugly and buggy? I own three WeMo wall switches which I like, but the app is horrendous. Thank goodness for IFTTT to make it usable. Posted via Android Central App

Not really the price for me when talking this stuff. Personally I would weather pay double for Phillips hue and get all the features ,color bulbs, and all the different setting, just seems better Posted via the Android Central App

Do you need the hub or can you simply buy the bulbs and use the app to control the bulbs?

When they drop below 5$ a bulb I will gladly hop on. As it stands now, I am still waiting for LED bulbs to drop below 5 :)

Yep, same here. There is a lot more competition now though and that's been driving the prices down. I'd say within 2 years we should see <$10 buibs. Edit: Apparently there are already bulbs in the $15 range. GE Link bulbs. We might get bulbs in the $5 sooner than I thought.

If I owned a home I would totally do this in several rooms. Part of the reason is I am really bad at turning off lights when I go to bed so I could just handle it all from my phone.

One way to justify the cost of a LED bulb would be, it is an energy saving bulb, and is lasts for 23 years. ~ Regular incandescent bulbs cost 10 times the cost to run, as LED lights.
~ LED lights last about 10 times as long as incandescent.
~ The CFLs we use now as energy efficient bulbs are toxic to dispose of. LEDs are not. LEDs will be the future of lighting, for many reasons. The U.S. is already working on building codes requiring energy efficient appliances and lighting, on newer construction. Only a matter of time, that LEDs will be mandatory. Will you pay the difference when it comes to entertainment? The new LED back-lit TVs are already making their way into homes. And the picture quality will be noticeable. OLEDs will be next, think bendable screens and lighting.

So replace 22 light bulbs at my house for $660?
yeah too rich for my blood. Gonna wait for prices to drop.

Apparently GE has smart bulbs for $15. They're called GE Link bulbs if you're interested. I'll wait till I can get a set with like 5 bulbs for less than $50.

Wow, I seriously need to get from under this rock... This is awesome! njo¡! acApp

Instead of going this route, I get the $4 Cree LED's at Home Depot(When on sale) and use $50 Belkin Wifi switches. http://www.amazon.com/WeMo-Control-Anywhere-Automation-Smartphones/dp/B0...

ahhah! finally .. Posted via the Android Central App

My biggest issue with LED bulbs is that most of them are not "approved" for use in enclosed fixtures, which means every overhead light in my house.