ASUS ZenFone Max Pro M1 vs. Xiaomi Redmi Note 5 Pro: Battle of the budget beasts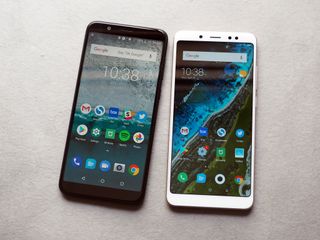 Over the course of the last three years, Xiaomi went from a relatively unknown Chinese brand to India's largest smartphone manufacturer. It did so by introducing budget phones that offered great value for money, and eliminating common pain points. For instance, one of the areas Xiaomi focused on last year was battery life — it started rolling out phones with larger batteries and offering optimizations within MIUI to eke out the maximum battery life.
As a result, Xiaomi's phones consistently lead the charts when it comes to battery life. The mixture of two-day battery life and decent specs allowed the Redmi Note 4 to become the best-selling phone in India last year, and the Redmi Note 5 Pro builds on that by offering beefier hardware and a better camera — while retaining the same great battery life.
Xiaomi's ability to undercut its rivals is unmatched in the industry, and it does so not only in the phone segment, but also with its lifestyle products. That's why the launch of the ZenFone Max Pro M1 is such a momentous occasion — ASUS is effectively beating Xiaomi at its own game, and that should be worrisome to India's leading smartphone brand.
The ZenFone Max Pro M1 offers the same Snapdragon 636 chipset as the Redmi Note 5 Pro, but it comes with pure Android and retails at a lower price point. It's time to find out if ASUS' latest budget phone has what it takes to dethrone the Redmi Note 5 Pro.
ASUS ZenFone Max Pro M1 vs. Xiaomi Redmi Note 5 Pro: Specs
Category
ASUS ZenFone Max Pro M1
Xiaomi Redmi Note 5 Pro
Operating System
Android 8.1 Oreo
MIUI 9.2 based on Android 7.1.2 Nougat
Display
5.99-inch 18:9 FHD+
(2160x1080) IPS LCD panel
403ppi pixel density
450 nits brightness
5.99-inch 18:9 FHD+
(2160x1080) IPS LCD panel
403ppi pixel density
Gorilla Glass
SoC
Octa-core Qualcomm Snapdragon 636
Eight Kryo 260 cores up to 1.8GHz
14nm
Octa-core Qualcomm Snapdragon 636
Eight Kryo 260 cores up to 1.8GHz
14nm
GPU
Adreno 509
Adreno 509
RAM
3GB/4GB/6GB
4GB/6GB
Storage
32GB/64GB/64GB
microSD slot up to 2TB
64GB/64GB
microSD slot up to 128GB
Rear camera
13MP Omnivision 16880 f/2.2 lens + 5MP f/2.4 lens
PDAF, LED flash
4K video recording
12MP f/2.2 lens + 5MP f/2.0 lens
PDAF, LED flash
1080p video recording
Front shooter
8MP f/2.0
1080p video recording
20MP f/2.2 lens
LED Selfie light
1080p video recording
Beautify 4.0
Connectivity
LTE with VoLTE
Wi-Fi 802.11 b/g/n, Bluetooth 4.2 with AptX
GPS, GLONASS
Micro-USB, 3.5mm audio jack
LTE with VoLTE
Wi-Fi 802.11 ac, Bluetooth 5.0
GPS, GLONASS
Micro-USB, 3.5mm jack, IR blaster
Networks
LTE: 1/3/5/7/8/20/40
LTE: 1/3/5/40/41
Battery
5000mAh battery
Fast charging (5V/2A)
4000mAh battery
5V/2A over MicroUSB
Fingerprint
Rear fingerprint sensor
Rear fingerprint sensor
Dimensions
159 x 76 x 8.46mm
158.6 × 75.4 × 8.05mm
Weight
180g
181g
Colors
Meteor Silver, Deepsea Black
Gold, Rose Gold, Blue, Black
Where they're both equal
Both phones offer robust hardware in the form of a Snapdragon 636 chipset, along with 4GB of RAM and 64GB of storage. Xiaomi also sells a version with 6GB of RAM and 64GB of storage, and ASUS has mentioned that it will also offer a similar configuration of the M1 at a later date.
Where ASUS has an advantage, though, is with the base variant of the Max Pro M1, which has 3GB of RAM and 32GB of storage. The base version costs just ₹10,999 ($165), which is an absolute steal when you consider the specs on offer. The only device that Xiaomi has at that price point is the standard Redmi Note 5, which is powered by the Snapdragon 625.
Both devices also sport 5.99-inch IPS LCD displays with a resolution of 2160x1080, and the panels are identical. Both offer vibrant colors and great viewing angles, and although I faced issues with the ambient light sensor on the M1 initially, that particular issue was alleviated in a recent software update.
Both the ZenFone Max Pro M1 and the Redmi Note 5 Pro have 3.5mm jacks, and Xiaomi does one better by including an IR blaster — a mainstay on its phones for some years now.
What the Redmi Note 5 Pro does better
Xiaomi hasn't really altered the design of its Redmi Note series for a few generations, instead opting to refine the aesthetic to differentiate the latest phones from their predecessors. That said, the Redmi Note 5 Pro is one of the most sturdily-built phones in this segment, and the fit and finish is top-notch.
Image 1 of 3
Image 2 of 3
Image 3 of 3
You don't necessarily get the same feeling when you're using the ZenFone Max Pro M1. Although the device has a 5000mAh battery — 1000mAh more than the Redmi Note 5 Pro — it is 1g lighter than Xiaomi's phone, and that's likely due to the quality of the metals used in its construction. It certainly doesn't feel as sturdy, and there isn't a whole lot to get excited about on the design front in general.
Furthermore, the 5.99-inch screen on the M1 is devoid of any protection, so you'll have to pick up a screen protector. Xiaomi doesn't necessarily specify what version of Gorilla Glass it is using on the Redmi Note 5 Pro, but there's some sort of protection against tumbles.
There isn't much to separate either phone in terms of the camera. The ZenFone Max Pro M1 has a slight edge when it comes to outdoor shots, and the Redmi Note 5 Pro wins out indoors. As for low-light shots, you get to see more details on the Redmi Note 5 Pro, but the colors are washed out.
ZenFone Max Pro M1 on the left, Redmi Note 5 Pro on the right.
I couldn't get the portrait mode to work reliably on the ZenFone Max Pro M1, and in this area the Redmi Note 5 Pro does better. Right now, the Redmi Note 5 Pro has the edge when it comes to the camera side of things.
That said, my Max Pro M1 is running a non-final software build, and ASUS has stated that it will significantly alter the camera quality in the coming weeks. The stable build for the device is set to go live on April 29, and I'll revisit this section after the Max Pro M1 goes on sale to see if there's a tangible difference.
What the ZenFone Max Pro M1 does better
There are three areas where the ZenFone Max Pro M1 wins out over the Redmi Note 5 Pro: software, battery life, and value for money. ASUS said that it decided to go with pure Android in lieu of ZenUI following feedback from the Indian community, and the move is a welcome one. For one thing, the M1 comes with Android 8.1 Oreo out of the box, whereas Xiaomi hasn't detailed a timeline yet for when the Redmi Note 5 Pro will be updated to Oreo.
The software experience on the M1 still needs some polish, and ASUS has mentioned that it will have a public build ready in time for the phone's release on May 3. For what it's worth, the company has done a decent job in terms of rolling out stability updates over the last week, and it feels much better optimized than when I got my hands on it earlier this month.
With a 5000mAh battery under the hood, the ZenFone Max Pro M1 could just turn out to be the battery champion in this category. The Redmi Note 5 Pro also delivers two days' worth of use from a full charge, but the M1 edges it out.
Then there's the pricing: ASUS is clearly going after the Redmi Note 5 Pro by pricing the Max Pro M1 at just ₹10,999, making it one of the best deals in the budget segment today. Xiaomi doesn't have the same brand cachet as Samsung or even Nokia, and the main reason it was able to edge out other manufacturers in this category was because of its ability to undercut its rivals.
That was the main draw for millions of customers picking up Xiaomi hardware, and now that ASUS is offering a similar package, it isn't hard not to see buyers switching allegiances. Furthermore, ASUS' decision to offer pure Android is a masterstroke.
Xiaomi didn't make matters any easier for itself by selling the Redmi Note 5 Pro in weekly flash sales, which meant that a majority of buyers that were interested in picking up the device weren't able to do so.
It's been over two months since the Redmi Note 5 Pro went on sale, and the fact that it still isn't available on open sale speaks volumes of Xiaomi's predicament. The flash sales strategy worked fine for the vendor when it was an underdog trying to out-maneuver the likes of Samsung, but by relying on the same tactics even now, Xiaomi is showing that it doesn't have the necessary experience to operate at this level.
Which should you buy? ZenFone Max Pro M1
Xiaomi's entire business model is built on the fact that its phones are the most affordable in a particular segment. That's no longer the case thanks to the arrival of the ZenFone Max Pro M1, and that should worry Xiaomi considerably.
It'll be interesting to see if ASUS has adequate units of the M1 available during launch, because that ultimately is the factor that will seal the phone's fate. But if the Taiwanese manufacturer manages to sort out supply issues, it has a potential winner on its hands. The ZenFone Max Pro M1 will go on sale exclusively on Flipkart starting May 3.
Harish Jonnalagadda is a Senior Editor covering Asia at Android Central. He leads the site's coverage of Chinese phone manufacturers, and writes about the semiconductor industry, storage servers, and audio products. Contact him on Twitter at @chunkynerd.
The max pro M1 doe $230 is almost too good to be true. I'm seriously going to consider going and picking one up this week at Best Buy just to have one. Best part about it is the switch to stalk and away from zen ui or whatever the hell it was called

For sub $200, you can get the slightly better Xiaomi M1 A1 on Amazon which runs Android One. The camera is equally competitive but mostly better than the Asus.

The M1 A1 has a smaller display. 6 inch 2 :1 is where it's at these days

But snapdragon 636 is way better than 625. Yep Android One would have made this phone PERFECT, however the A1 still hasn't gotten Android 8.1 which only makes me trust Xiaomi and this whole Android One = faster updates prophecy less.

lol where did you see one in BestBuy? u're probably thinking `max plus M1` with garbage MTk cpu.
pro M1 only been released in India so far - might be awhile before it hits US.

Yep. It'll be nice when they finally get it over here

If not for the smaller camera assembly, these phones look very similar.

Looks like no NFC with the full metal backs. I know the HTC M8 had a metal back with NFC, but they did that surrounding the enlarged camera opening with the antenna. I don't see anything similar on these.

NFC isn't available to keep the price down, or because the main countries that buy these phones don't have widespread tap to pay. A phone can have a metal back and have NFC, my Nokia 6 has it and has an aluminum body

Targeted market of these phones use Ali pay, Wechat Pay, PayTm etc which use QR code/id of sender-receiver. Don't really see any reason to include NFC at this price. /shrug

Remarkable effort by Asus and especially that pricing since 14k (matching Xiaomi) would have been no problem for them too as Xiaomi is NEVER in stock and all its customers are eternally frustrated. I hope this phone is a huge success and they keep refreshing it every year. Stock Android over MIUI (or any other skin) alone settles 80% of the decision for me. And I say this as a current Redmi Note 4 user.

would be nice if you mentioned if these work in the US?

Do they work on US LTE bands ?
Android Central Newsletter
Get the best of Android Central in in your inbox, every day!
Thank you for signing up to Android Central. You will receive a verification email shortly.
There was a problem. Please refresh the page and try again.