Are you sad that BlackBerry Mobile is no longer making phones?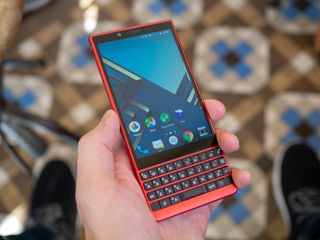 (Image credit: Android Central)
If you are a BlackBerry fan, this likely hasn't been the best week for you. On February 3, TCL Communication announced that it no longer had the rights to create/sell Android phones with the BlackBerry Mobile branding.
In other words, BlackBerry smartphones are dead...again.
The TCL-led BlackBerry resulted in some pretty interesting phones, namely the KEYone and KEY2. Unfortunately, while they were certainly cool from a nostalgia point of view, they apparently didn't perform well enough to warrant additional handsets. Commenting on this news, here's what some of our AC forum members said.
What about you? Are you sad that BlackBerry Mobile is no longer making phones?
Joe Maring was a Senior Editor for Android Central between 2017 and 2021. You can reach him on Twitter at @JoeMaring1.
Nope. Not really. In truth they haven't been making devices since 2016. TCL and BlackBerry Mobile were just cheap pretenders. And it showed.

A little bit, even though I never warmed up to the software.

As far as I'm concerned Blackberry died with BB10's demise. They counted on bringing the PKB back with devices that had just average specs and were overpriced. I didn't see them going on for that long and I was right. My favorite device of all time was my Passport SE. I still have it but don't use it. I moved on to Android and vowed to avoid BB. Very happy with my 3a XL but I do miss that Passport as my daily driver.

Nah, I never used one. I supposed if I cared about a physical keyboard I would be upset. There are several other manufacturers who could stop making phones as well and I wouldn't care.

In the words of that famous American philosopher, Rhett Butler, "Frankly, my dear, I don't give a damn."

Yes and No. They haven't made official phones for a few years since BB10. The TCL versions were cheap knock offs. I still had hope that maybe an official BlackBerry made phone would eventually be made available. Like an Anniversary Bold device.

Not all KEYBerry's are equal The initial silver KEYone and some KEY2's have had their fair share of issues, but others like the Red KEY2 and the LE are pretty solid built, no inherent issues. Remember that BlackBerry Ltd's own devices also weren't perfect, remember the passport screen lift or "emergency calls only" disease? Or the Q10's double typing? Or the Priv's overheating?

Yes. However, BB is now a software/services company. I wonde how much longer they will be supporting their current mobile software apps. I may have to use a different app for email. I have already switched to Bitwarden from BB password keeper. I use inbox. How much longer will that be supported?

Yes I am sad, love the look and feel of the BlackBerry brand and the physical keyboard... Have ordered a Unihertz Titan so that I still have a pkb option going forward... I need to got work done on my phone and cannot stand touch keyboards... I didn't keep my Atari 400 for long for the same reason... Had to upgrade to the Atari 800 with a real keyboard...

Definitely sad. The KEY2 - with 6 GB RAM - was the closest to perfect (sans a BB OS) a keyboarded Android phone could be. Oh well, the mass market has spoken. :P

The mass market was never gonna buy this device anyways. We needed more BlackBerry/keyboard fans to buy it in order for TCL to see it as profitable and keep making them. But I guess people all preferred their shiny glass slabs

It's not just about "being sad" What just happened is disastrous for those who want to keep on typing on physical keys. Sure, the existing KEY devices will definitely be serviceable for a few more years, but then what? Who's gonna cater to us that want to type on plastic instead on glass? Why is it that slabbers have hundreds of phones to choose from, but those who just want a QWERTY have like 4-5 options on the entire market?
Android Central Newsletter
Thank you for signing up to Android Central. You will receive a verification email shortly.
There was a problem. Please refresh the page and try again.