Are you ready for some football? Essential apps for the 2011 season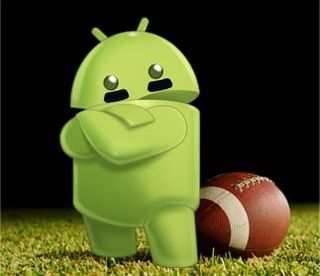 Whether you're a college fan, a pro fan or both, football season is finally just around the corner. That means you'll be wanting to know what Android apps can accompany you to keep you updated during the season. This list should help you whether you want to manage your fantasy teams or just want live scoring updates from your favorite team. Let's get started:
Fantasy apps
For all you fantasy players out there, the good news is that whichever site you choose to play on, they likely have an app for Android. I have highlighted the big three below:
ESPN Fantasy Football 2011
ESPN's official fantasy app is a must for anyone who plays on their site. It's a free app that allows you to manage your ESPN teams on-the-go. Users can manage rosters, receive real-time scoring updates, get push notifications for injuries and view ESPN's fantasy analysis. [Market link]
NFL.com Fantasy Football
The official app from the National Football League that allows you to manage your fantasy football roster anywhere you are. With the NFL.com Fantasy Football app, you can create or join leagues, manage your rosters, monitor live scores, get up-to-the minute news and juggle trades. [Market link]
Yahoo Fantasy Football '11
Yahoo Fantasy Football '11 is a fantasy app for those who choose to play over on Yahoo. Like its counterparts, it's free and allows Yahoo users to access their teams wherever they are to make adjustments as need be. Users can manage rosters, view live scores, track matchups and view player news. [Market link]
News, videos, and live scoring apps
Sportstap
Sportstap remains one of my favorite scoring apps because of its ease of use and simple UI. It provides scores for all major sports, college football and the NFL included. It also gives users news, stats, schedules, standings and alerts for your favorite teams. It also includes a widget that keeps you up-to-date on the scores from your favorite teams. [Market link]
ESPN ScoreCenter:
ESPN ScoreCenter is a fully featured live scoring app that will keep you up-to-date on all the games. There are a lot of scoring apps out there but one way this stands out is the UI. I mentioned above that I enjoy SportsTap because of how it looks but the recent update that ESPN ScoreCenter received makes this is a viable contender. It comes with 2 widgets (one for scores and one for videos) that allow you to see how your favorite teams are doing without having to open the app. [Market link]
NFL Football News:
The NFL Football News app is a great app that excels at doing one thing really well: providing me
with info about the NFL and the teams. The home screen of the app has five tabs at the top: News, AFC, NFC, Live and Favourite. The first tab is an aggregated list of the most recent news stories from a variety of sources. The AFC and NFC tabs allow you to narrow the news search by team, so if you would like to find quick headlines about your favorite team, that's the easiest way. The Live tab brings you to a list of options and sources to choose from. You can view current standings, live scores and the current homepage from the likes of ESPN, Fox, Yahoo and NBC. Favourite displays the articles that you have marked as Favourite. As mentioned above, it's a great app for reading and finding news articles, but not necessarily for tracking live scores. [Market link]
ESPN Bowl Bound:
For the devoted college fans, ESPN Bowl Bound is a must-have app. It's a fantastic aggregation of
everything you will want to know about the NCAA. The app has a variety of options along the top: Home, News, Video, Twitter, Rankings, Bown Central, Scores, Teams, College Pick'em and Settings. News lists the most up-to-date headlines about the college game. In the Video tab, consumers can watch analysts predicting the remainder of the season, highlights of games already completed and some other videos including interviews. Twitter gives you a list of all relevant ESPN college analysts and their collective Tweets. The rest of the tabs are pretty self explanatory and will be much more important once the season starts and there are rankings to be debated. [Market link]
NFL Sunday Ticket:
If you're a Sunday Ticket subscriber on DirecTV, you'll want to get this app. It gives you access to the Sunday Ticket on-the-go right from your Android device. So if you're out and about but don't want to miss any of the action, make sure to sign up for the app, which costs either $9.99 a month if you sign up for five months, or $49.95 a month for just one, so it's a much better deal to sign up for longer. [Market link]
NFL Mobile (Verizon exclusive):
NFL Mobile is a Verizon-exclusive app. It gives you access to live game feeds for Thursday and Sunday night matchups as well as Live Red Zone and NFL Network feeds, in-game highlights and video on-demand. [Market link]
Are you ready for some football!?
Android Central Newsletter
Get instant access to breaking news, the hottest reviews, great deals and helpful tips
This is my first year playing fantasy football with the guys. The ESPN app has made something that I wasn't sure about very fun.

The NFL does have a official non-Verizon app, NFL '11. It was just updated.

Yep - the official NFL app (NFL '11) is pretty sweet. Unfortunately not available on VZW because of the VZW NFL app :( (but if you can find it somewhere to side load it - its pretty awesome) https://market.android.com/details?id=com.gotv.nflgamecenter.us.lite&hl=en

As much as I need the ESPN FFL app...it sucks cuz it forece closes over and over and over again. Even when its not being used

They updated it a few days ago, and for me it has eliminated the FC issue.

The NFL fantasy football app is pointless. All it does it load their mobile site in a self-contained browser. You're better off just bookmarking the site.

I'd add, the Sportacular app is very good. On par with SportsTap. Maybe a little better.

+1 Its been my go to sport score app for a while.

How bout a Fox Sports fantasy app

It looks like Lloyd has a mustache.

If anyone is looking for a last minute fantasy league I set one up...draft is at 11:45pm est http://games.espn.go.com/ffl/tools/join?leagueId=1063584 password is pizza

There is also a CBS Sportsline Fantasy App for people who are in their leagues.

I was going to write that but saw that you beat me to it. We use CBS Sportsline for our league. They just pushed out a GREAT update to the app the other day. Now it is actually better than going to the website to change lineups & check scores!

What about the official Nfl '11 app??? seems like that would be the go to app

ScoreMobile is my favorite sports app

Great app, and the alerts are almost instant.

very good app Best Android Apps 2011

Rival Junkie just released their nfl application today. I have been using the ncaa version for a week. Great app. Schedules, scores, point speads, vote for your favorite team.

We have a fantasy NHL League if anyone is interested. We need 5 more teams (we have 11 but we need 16). The League is for all of the Mobile Nation (Smart Phone Experts Network). http://hockey.fantasysports.yahoo.com/hockey/register/joinleague?.scrumb= League ID 18845 Password MB30

I have to agree about the ESPN FFL App. It's horrible. I first downloaded it back with AC promoed it and I love it, but the force closing problems were way too much to overcome. It's such a app to, especially with all of the available features on it, to make roster moves on the fly without using the ESPN website. If they ever fix it, I would suggest using it, but until then don't waste your time.

Its a Sprint exclusive but Sprint Football Live is currently my favorite.
Android Central Newsletter
Get instant access to breaking news, the hottest reviews, great deals and helpful tips
Thank you for signing up to Android Central. You will receive a verification email shortly.
There was a problem. Please refresh the page and try again.