Are you excited for the Galaxy Note 20?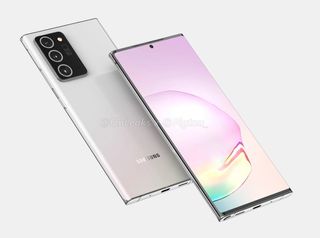 (Image credit: @OnLeaks / Pigtou)
As we make our way further and further into 2020, we quickly inch closer to the launch of Samsung's Galaxy Note 20 family. The new Note is often one of the more exciting phone releases of the year, and for 2020, rumor has it that Samsung will launch a Note 20, Note 20+, and Note 20 Ultra.
A few of our AC forum members recently got to talking about the Note 20, with there being a bit of apprehension as to whether or not this year's Note will be worth getting.
Here's how some of that conversation went:
Now, we want to hear from you — Are you excited for the Galaxy Note 20?
Get the Android Central Newsletter
Instant access to breaking news, the hottest reviews, great deals and helpful tips.
Joe Maring was a Senior Editor for Android Central between 2017 and 2021. You can reach him on Twitter at @JoeMaring1.
Not at all excited about the Note 20, the Note 10+ has been an excellent phone very happy with it. Would have to be a heck of a trade-in deal from Samsung for me to go to the Note 20.

Why would I be excited about the Galaxy Note 20? Samsung phones don't interest me, with their heavily modified version of Android, no thanks. I'm returning to iPhone as my daily driver on a permanent basis in August.

So long. Holla at us from the "dark" side lol

Really beno? you've never mentioned it? we know you don't like Samsung so I'm surprised you've posted here. Excited not really cause I traded my Note 10 Plus in towards the S20 Ultra but will see what it's like when it arrives

Not feeling excited about the N20 at all. I wish the z flip had an spen, that would be the perfect phone for me. Till then I'm sticking to my N10, nothing else looks interesting so far.

Note fatigue already set in with me a few generations ago. Had a Note 9 briefly and broomed it even quicker. Carrying a gigantic phallus around isn't what it used to be.

No, zero Note 20 interest. I have a Note 8, and 2022 is the earliest I'll consider an upgrade (5 years). Perhaps Samsung's recent patent of a 6 lens camera will show up in devices by then.... It seems interesting. When I do upgrade, it will be due to significant changes. My Note 8 does everything very well. I consider marginal year over year changes as just that, marginal.... Something manufacturers do because, well, the entire industry does it. Only a vocal minority go about constantly upgrading tech like laptops and phones. I've had various cell phones for over 25 years, and obviously the rate of significant change has slowed dramatically over the years.

No, I am not! I have to wait to post ANOTHER COMMENT? I haven't even posted one yet!!!

Not interested in the Note 20 at all. The S10+ will be fine for a few years.

...and this one will only cost $2,000 USD.

I have the Note 10+ and it is, without a doubt, the best phone I have ever owned. Although the Note 20 looks like a great upgrade with a lot of nice features, it's not anywhere near enough for me to even consider it. I love everything about the Note 10+ (except the lack of a headphone jack..) and the fact that our economy is so ravaged today, the last thing a lot of people are thinking of is an expensive flagship phone.

They could have pushed the date out a month and given us the new camera sensor, but no. I can keep my Note 8 another year.

I've got a note 9...i will get the note 20 when the note 89 comes out... Maybe the price will be a bit more affordable then.

Yes. I am so excited about this new monolithic slab design that is so revolutionary from all the other monolithic slab designs that I literally have a boner. Well, come to think of it....the boner gives me more enjoyment than a $900 cell phone. You all enjoy your S20. I'll stick with my used iPhone 8 plus and my used Note 8. ;-)

No. This phone is feature packed but for me it's a little too many features. I'd be better off with the S series that doesn't have the stylus. The stylus seems neat but in reality I simply do not use it so it's a waste of money.