Are the new crystal Playstation controllers worth it? Not if you make your own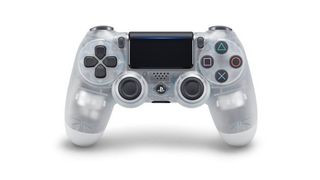 Sony announced in a recent blog post that the set of new clear, blue and red controllers - dubbed "crystal" controllers - would hit the shelves a little later this month. The poppy see-through colors are reminiscent of those available for the original Playstation, and it's apparent that Sony is attempting to cash in on the recent warm and fuzzy wave of 90's nostalgia. Adding to their collectibility, each color variant is exclusive to a certain retailer. "Crystal" will only be sold at [GameStop](/e?link=https%3A%2F%2Fclick.linksynergy.com%2Fdeeplink%3Fid%3DkXQk6%252AivFEQ%26mid%3D24348%26u1%3DUUacUdUnU62668%26murl%3Dhttp%253A%252F%252Fwww.gamestop.com%252Fps4%252Faccessories%252Fnew-dualshock-4-wireless-controller-crystal-only-at-gamestop%252F152807&token=3Wm1_gLA "Red Crystal" at Best Buy (opens in new tab), and "Blue Crystal" at Walmart (opens in new tab). However, the price will remain the same across all stores: $64.99.
See at Best Buy (opens in new tab)
You can make your own translucent PS4 controllers
If you think that seems too steep a price to pay for the #aesthetic, you're sort of right. If you're up for a bit of a do-it-yourself project, you can actually buy a translucent shell for the DualShock PS4 controller(s) you already own for approximately $10 or less and install it with little difficulty by following one of numerous online tutorials. And if saving all that sweet, sweet cash wasn't enough, PS4 shells come in a much wider variety of colors. You can pretty much get your hands on any hue - sites like Amazon (opens in new tab) and AliExpress (opens in new tab) have shells in pink, orange, green and more.
Because the changes made to the new controllers are purely cosmetic, gamers can be certain that whether they decide to customize the controller they already have or treat themselves to a brand new one, they won't be missing out on any tech features. The crystal controllers will still have the light bar, touch pad, and both USB and bluetooth connectivity.
See at AliExpress (opens in new tab)
Thoughts?
How do you feel about the new crystal controllers? Will you try to D.I.Y., or will you splurge on the certified limited edition colors? Let us know in the comments!
Android Central Newsletter
Get instant access to breaking news, the hottest reviews, great deals and helpful tips
Sweet. I'm going to have to look for these for Xbox One. Both my controllers are black, and now that my son's and my accounts are auto logged in by controller, it gets confusing. Don't feel like buying a new one, though it would be nice to have spares.

Looks good. Target has the Silver controller for $40. It would be hard to justify $65 just for a clearish shell.

Good look.wanted to get another controller before d2 dropped. 60 bucks is steep..grabbing the silver one now lol

The newer PS4 controllers have better blutooth capabilities. Look for the led light on the black square across the top .

Honestly, I will probably buy the blue one from Walmart. It looks awesome. Maybe things have changed in the last few years (since I've done something like this) but the aftermarket stuff never has as good fit and finish as the OEM stuff (not to mention OEM has a warranty too).

I have done a D.I.Y. job on one of my older controllers, I converted a black controller into a clear one. I also added glow-in-the-dark buttons, sticks and touchpad.

They BEEN available by sony on amazon for sometime now.. bought one in march.

I miss the "clear case" obsession everyone had in the 80's and the 90's... And if I could find someone that does "clear" cases for the PlayStation 4 Pro, I'd get that in a heartbeat! But, it would seem that controllers are the popular choice - I'm yet to find anyone that does replacement housings for the entire console!

Posting this a month too late, but I think it is important to say that one should be careful when ordering clear/coloured shells online. Most of the replacements linked in this article are for Gen 1 & 2 controllers and will not work with the newer DS4 which is from Gen 3. Found this out the hard way when the new replacement I ordered wouldn't fit.
Android Central Newsletter
Get instant access to breaking news, the hottest reviews, great deals and helpful tips
Thank you for signing up to Android Central. You will receive a verification email shortly.
There was a problem. Please refresh the page and try again.