Are the new crystal Playstation controllers worth it? Not if you make your own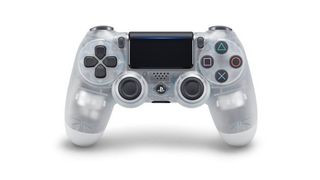 Sony announced in a recent blog post that the set of new clear, blue and red controllers - dubbed "crystal" controllers - would hit the shelves a little later this month. The poppy see-through colors are reminiscent of those available for the original Playstation, and it's apparent that Sony is attempting to cash in on the recent warm and fuzzy wave of 90's nostalgia. Adding to their collectibility, each color variant is exclusive to a certain retailer. "Crystal" will only be sold at [GameStop](/e?link=https%3A%2F%2Fclick.linksynergy.com%2Fdeeplink%3Fid%3DkXQk6%252AivFEQ%26mid%3D24348%26u1%3DUUacUdUnU62668%26murl%3Dhttp%253A%252F%252Fwww.gamestop.com%252Fps4%252Faccessories%252Fnew-dualshock-4-wireless-controller-crystal-only-at-gamestop%252F152807&token=3Wm1_gLA "Red Crystal" at Best Buy, and "Blue Crystal" at Walmart. However, the price will remain the same across all stores: $64.99.
You can make your own translucent PS4 controllers
If you think that seems too steep a price to pay for the #aesthetic, you're sort of right. If you're up for a bit of a do-it-yourself project, you can actually buy a translucent shell for the DualShock PS4 controller(s) you already own for approximately $10 or less and install it with little difficulty by following one of numerous online tutorials. And if saving all that sweet, sweet cash wasn't enough, PS4 shells come in a much wider variety of colors. You can pretty much get your hands on any hue - sites like Amazon and AliExpress have shells in pink, orange, green and more.
Because the changes made to the new controllers are purely cosmetic, gamers can be certain that whether they decide to customize the controller they already have or treat themselves to a brand new one, they won't be missing out on any tech features. The crystal controllers will still have the light bar, touch pad, and both USB and bluetooth connectivity.
Thoughts?
How do you feel about the new crystal controllers? Will you try to D.I.Y., or will you splurge on the certified limited edition colors? Let us know in the comments!
Sign up for Black Friday email alerts!
Get the hottest deals available in your inbox plus news, reviews, opinion, analysis and more from the Android Central team.