Ara's favorite Android apps of 2014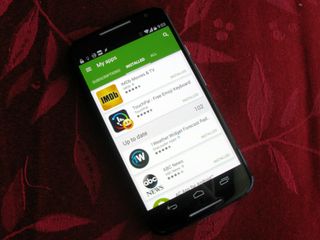 It's been a big year for me. I got a job at a TV station, I started writing on Google+, I got noticed and hired by Phil, and I've been cutting my teeth here writing about Tasker, social media, and Google.
A year ago, I thought Chromebooks were a joke, and now it's my second favorite computer — after my Moto X, of course — so it's safe to say a lot's changed for me tech-wise over the course of the year. Nowhere is this more true than in my favorite apps for the year, which have expanded the ways I use my phone and the aspects I appreciate.
And here they are.
Moto — The little things that make my phone AWESOME
The Moto App combines most of the features I love about the Moto X — Moto Assist, Moto Voice, Moto Display, and Moto Actions, which I love far more than I thought I would — into one easy-to-find and easy-to-use place. But more importantly, due to the way that these features are implemented, it's an app that I'm not seeking out much, since for the most part it just works.
The Moto App is also one of the things I sorely underestimated about this device. When the Moto X 2014 was announced, I thought the inclusion of the IR sensors just made the white face look like a pimply teenager, but Moto Actions is one of my favorite additions to the Moto X, right after being able to pick your own phrase in Moto Voice, which is ironically the feature I underestimated on last year's model. Touchless Controls were kind of cool, but they didn't seem to be capable of very much beyond Google searches and placing phone calls in the car. Moto Voice is now something I use everyday, but I'll admit, Moto had a bit of help with that...
AutoApps — Making Tasker do everything
AutoApps — actually AutoVoice — is why I actually use Moto Voice. It's how I was able to get so confident talking to my phone before I got a Moto 360 and started talking into my wrist, Dick Tracy-style. AutoVoice is one of the the AutoApps that Joao Dias has tirelessly developed to help make Tasker better and better for us users. AutoVoice can take the commands that Moto Voice sends to Google Now and act upon them. My phone can be locked, in my pocket, and it'll still respond to these commands. That may not be entirely secure, but it is entirely awesome.
Another way Moto features and AutoApps come together is when I'm driving. AutoNotification can intercept the notification that Moto Assist spits out when Driving is activated and trigger a more full-featured Driving mode, allowing me the energy-efficient mode detection that Motorola has developed but the powerful options of Tasker once that mode kicks in.
I'm still feeling out the other services in AutoApps, especially AutoCast and the rest of AutoInput, but so long as I can turn to the Google+ communities around AutoApps — and the developer himself, when I get really stumped — I know there's tons of fun things I'll be doing with it for years to come.
TouchPal — My keyboard brings all the emoji to the post
I'm a prolific girl. I've been known to post comments double the length of the original post, or even triple if I get really wordy. And when you're in the middle of a debate, you don't have time for a lot of missed keys, and you have even less time for deleting phrases when you think of better ones. That's where TouchPal comes in. One of my favorite TouchPal features is their backspace, a simple swipe from which can delete the previous word.
One of my other favorite parts of TouchPal actually just vanished in the last few weeks as TouchPal has undergone a major design change. See, up until the beginning of December, emoji were accessed by swiping up from the bottom of the keyboard. This was a quick, fluid gesture that made emoji to insert, especially once they allowed you to ditch the tepid 'classic' set for 'system'.
They replaced this sliding gesture with an emoji toggle in prediction bar, and we're still debating it in the TouchPal Google+ community. The G+ community for TouchPal is actually where we're still debating a lot of things, from both the new design and in general. The addition of system emoji was something we beta testers fought over for weeks.
Google+ — Part news, part social, part work, part fandom, all fun
Google+ is an app that I spend a lot of time in, so much so that when you hit the home button on my home screen it takes you into Google+. I started posting my articles in Google+, and that's where they were found by Phil and the others. Google+ is also a huge asset for me, as a way to reach developers (like Joao Dias and Valiant Pixels and other users alike. The communities on Google+, be they beta communities or device communities or other hobby/fandom communities — The Art of Bread and Supernatural are two I can't seem to stay away from — make Google+ a social network that anyone can enjoy, even if you don't know a single person there.
Granted, the Google+ app is far from perfect. If you're in it for a sizable amount of time, you end up doing a lot of scrolling since there's no easy buttons back to the top or back to where you left off, though there is in the desktop version. I personally wish they'd adapt the two-finger drag method from Carbon for Twitter and a dark mode — but to be fair, I wish every app had a dark mode.
Nova Launcher
Nova Launcher may seem like fairly standard fare when it comes to Android customization, but nevertheless Nova is surprising me with each update and feature I start using. In particular, I've noticed that since upgrading to the 2014 Moto X, gesture controls have been far more consistent on the larger screen, especially the two-finger pulls, which I use to control connections to my bedroom's bluetooth adapter.
Nova's proven itself as a worthy investment this year, bringing a taste of Lollipop users before even some Nexus devices had received their updates. Nova's continued expansions have made it the best quarter I ever spent — I paid for Prime back during the 25-cent sale Google put on in 2012, and I look forward to seeing how my personal layout continues to evolve with my continued experiences here at Android Central.
Hulu — For the love of time-shifting and binge-watching
Netflix may have the most subscribers, but as someone who works during primetime, Hulu (opens in new tab) has my money and business because I would never catch up on my shows without it. While Netflix may have cornered the market on movies, and even legacy TV shows (or at older seasons of current TV shows), if you want to watch something current, you can either spend all your time traipsing around the internet to find shows on their own individual sites, or you can find (most of) them all on Hulu — with better playback controls and Chromecast functionality to boot.
Hulu was one of the first apps to add Chromecast capability after the initial launch, and while most of the time you need a Hulu Plus subscription — which I've gladly done for years — right now certain shows are free for American Android users to watch as well during the holidays.
I'm looking forward to trying new apps and seeing how these apps progress. Above all, my one hope for apps remains the same as ever: I wish every app could have a dark theme available. And if there was only one app I could force a dark theme on, it'd be my most-used app: Google Play Music (opens in new tab), which was only kept off the list because of the bugs and scandals the service has had in previous months.
Ara Wagoner was a staff writer at Android Central. She themes phones and pokes YouTube Music with a stick. When she's not writing about cases, Chromebooks, or customization, she's wandering around Walt Disney World. If you see her without headphones, RUN. You can follow her on Twitter at @arawagco.
#DARKHOLOYOLO
At least someone agrees with me. "I'm da Blur boys!" - Me with 1200 ping. Yes. My Internet got worse.

*high five* Wubba lubba dub dub!

Dark materiolo FOREVER!!!! Posted via the Android Central App

*scoffs at material design* I'm not a fan of the whole bright color thing, but I like the animations a bit. Eh. I'm really undecided, but that has a lot to do with me thinking about fully leaving Android. "I'm da Blur boys!" - Me with 1200 ping. Yes. My Internet got worse.

A darker material design will look great, although it may not be from Google. Instead an aftermarket Rom will have done it in a few months. And maybe HTC with their lollipop update or sense 7 which is due later. Their ui has been dark-ish so far. Posted via the Android Central App

Black play music and black Google now would be nice, I was using the team black out apps before lollipop, and it's a hard pill to swallow. I should really look at that black music widget you mentioned a while ago, the play music widget looks terrible. It's not related, but I'm also irritated that I can no longer control media from the lock screen. Stupid broken lollipop locker... Grumble grumble... Wubba lubba dub dub!

That would be Jack's Music Widget, and I still love it! Right now it's on a translucent theme for my holiday setup, but I still love me my darkness! Posted via the Android Central App

Congratulations on such an awesome year Ara! I hope to one day have a year as fruitful as this. :-) Posted via Android Central App

Merry Christmas Everybody! Posted via Android Central App

What "scandal" are you talking about with Google Play Music? Posted via the Android Central App

Everyone sorta kinda flipped their shit about Google reimplementing its device limit on Play Music. Especially for people who go through lots of devices, like reviewers. Posted via the Android Central App

It's surprising to see someone listing Google+ as one of their favorite apps actually. U WOT M8

It's one of my favorite apps too. It gets a lot of use here. Posted via the Android Central App

Go back and read her first paragraph.

READ?! Bah! Never Posted via Android Central App

Well I use google+photos, good to know all my photos are backed up and accessible from any computer. Much better than photo stream on my iPhone Posted via Android Central App on 1+1

Not really a surprise, I knew Google+ and something with tasker would be in her favorite apps, before I even read through it. That's pretty much all she writes about on here. :)

Well, they're useful apps, and that's what I'm assigned. There's more to me than just G+ and Tasker, but I'm about the only one here who wants to write up the projects for it. I really wanna write a little more about Chromebooks. Posted via the Android Central App

If you are interested, I made around 100 videos and tutorials for Tasker (where also a lot of the AutoApps are explained) and I have my own community, that counts over 3000 members....
You can find it here: https://plus.google.com/communities/113095841059192172811
you're welcome to join my community as well, and you said in your article that you know a ton of funny things to do with it. Don't hesistate to let me know. You can also checkout my youtube channel...

So glad someone gives touchpad some credit, best keyboard so far.

They just need to bring back the swipe up for emoji and go back to the old style of voice dictation. But yeah, I love TouchPal. Posted via the Android Central App

+100 for dark theme request. For me it's more than a nicety, but rather a necessity due to vision issues that prevent me from reading text on white backgrounds. I really wish developers would take other's needs into account, rather than push their marketing department's idea of a good color scheme. If I can't read it, all the marketing in the world won't help. Posted via Android Central App

Yeah, I'm probably one of the few people who will be actually using that invert colors toggle in Lollipop, once my Moto X gets it, anyway. Posted via the Android Central App

Won't that throw off every thing else? I remember I used to do that when I was an iOS user, but it got annoying after awhile. "I'm da Blur boys!" - Me with 1200 ping. Yes. My Internet got worse.

The overall versions of this sort of option generally do mess up things like pictures, or take your cool looking home screen and make it ghastly, but I think I read there was an option for only inverting text in Lollipop? That would be awesome (if done well) and about the first thing I would set.

well, if you only inverted the text then it'd be white text on the white background. I'll take an easy to use toggle for the times it'll come in handy over nothing at all, but I do wish there was an option to have it be a greyscale inverted. Wait, that might actually be in there.

What's that icon pack? :) and Wallpaper Posted via the Android Central App

Icon pack is Moonshine, the designer custom-made the red icons for me, and the wallpaper I found on Google while looking for 'Disney Christmas wallpapers'. Posted via the Android Central App

Ah I see :) Thanks a lot for reply :) Posted via the Android Central App

>"In my house, anyone who uses one word when they could have used 10 just isn't trying hard." LOL! :)

Always try to sneak in a reference when I can. I'm a fangirl like that. Posted via the Android Central App

Thank you for introducing me to touchpal. I love being able to substitute the word for an emoticon. I needed a break from swiftkey and this is the only other app that does that. (that I am aware of) Mindy Presti

That was added in a few month back I think. But yeah, TouchPal was the perfect app for heavy emoji users up until the slide-up was taken out and replaced with the button. We're still lobbying to have it put back since the reason it was taken out was new users were having trouble finding it.

Nova Launcher? Not Lightning Launcher eXtreme? Tasker integration... I use that to switch to a different desktop (a 2×4 grid with giant icons for vehicular use) and switch back. Posted via Android Central App on my HP TouchPad (Schizoid PAC-ROM 4.2.2)

I don't switch layouts that often since I have a layout I'm comfortable with. I go with Nova so I can make it look pretty. I wouldn't want to tempt myself by making a "car-friendly" layout since I try not to use my phone while driving apart from music.
Android Central Newsletter
Get the best of Android Central in in your inbox, every day!
Thank you for signing up to Android Central. You will receive a verification email shortly.
There was a problem. Please refresh the page and try again.