More than 100 new emoji are on the way with Unicode 15.1
These new emoji concepts are all actually based on pre-existing emoji.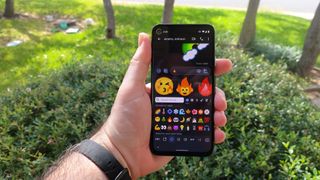 (Image credit: Jeramy Johnson / Android Central)
What you need to know
The Unicode Consortium just released its 15.1 standard, which includes the introduction of 118 new emoji.
The latest emoji designs include shaking and nodding heads, a phoenix, a lime, an edible brown mushroom and a broken chain.
We can expect to see tech brands provide new emoji support throughout the remainder of the year and during the first half of next year.
Emoji have long been a fun way to express yourself online. And soon, users will have more symbols to choose from.
The Unicode Consortium just released version 15.1 of the Unicode standard. Although the encoding standard is used to display characters in languages worldwide, the notable change is that it means the addition of over 100 — 118, to be precise — new emoji, which, according to Emojipedia, will land on "our digital devices in the next year or so."
As the version number indicates, 15.1 is merely a minor update to last year's 15.0 release with no changes to the core specification. Nevertheless, the update does bring with it an array of brand-new emoji concepts and new variations on existing emoji.
The new emoji, Emojipedia says, introduce "six completely new concepts, four new gender-neutral family emoji combinations, and 108 new direction-specifying versions of six pre-existing people emojis."
New concepts introduced in the 15.1 release include shaking and nodding heads, as well as a phoenix, a lime, an edible brown mushroom and a broken chain.
Further, new additions to the library of people emojis — with different variations of directions — include a person walking, running and kneeling. There also seem to be more disability-focused iterations, for greater accessibility, such as a person with a white cane, someone who uses a manual wheelchair and a power wheelchair user.
What is noteworthy about these new emoji designs — if you're interested in the nitty gritty of emoji development — is that they're all technically modifications of pre-existing emoji. Basically, they consist of two more pre-existing emoji joined together by special characters, called zero-width joiner (ZWJ) sequences to form completely new emoji concepts. Typically, ZWJ sequences are used for hair, skin color or gender modifications on people emoji, but in this case, they're used to create brand new emoji.
Unicode Version 15.1 will include 118 new RGI #emoji ZWJ sequences, 108 of which are directional variants of existing emoji, and are expected to start showing up on 📱s, 💻s, and other platforms sometime early next year → https://t.co/ooTcjrayiF #絵文字 #Unicode15_1 pic.twitter.com/b2OgM5StR1September 6, 2023
Just like previous versions, the 15.1 release doesn't mean users will have immediate access to the new emoji on their devices, as tech brands like Google, Apple, Samsung, and Microsoft still need to release updates to their operating systems that incorporate the new designs. However, the consortium's release of the new version is the first step in making new emoji available for everyone to use.
Emojipedia says that we can "expect to see some companies come out with early emoji support throughout the remainder of 2023, and the majority of updates to take place in the first half of 2024."
Get the Android Central Newsletter
Instant access to breaking news, the hottest reviews, great deals and helpful tips.