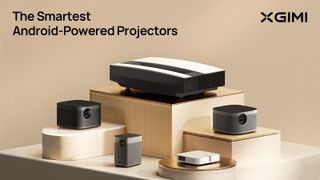 (Image credit: XGIMI)
When you think about Android products, you probably think first about phones and then maybe tablets. But XGIMI has been making waves with an entire fleet of Android-powered projectors that combine the perks of Android with exceptional proprietary technology and stunning esthetics for a winning formula that's worth a peek.
By featuring Android TV as their operating system, XGIMI's many projectors provide extreme convenience for your viewing pleasure, whether you want to stream content from your favorite creators on YouTube or tune into the latest series on HBO. You can quickly go from viewing your favorite show on your phone to watching it on the big-screen in your home, easily picking up right where you left off. You can even take advantage of the built-in Chromecast to send whatever you're viewing directly to the projector.
With thousands of apps, it's easy to keep your viewings synced between your devices. Using recent Android TV versions, XGIMI has also made it easy to get your projector set up. You can use the same Google account as you have installed on your phone, and even use Google Assistant on your phone to begin the setup process, helping log you in on the projector, find the apps you want installed, and grab Wi-Fi credentials so you can get set up and connected in a snap.
Android TV is just the start of the technology XGIMI puts at your fingertips to make your viewing experience as simple and impactful as possible anywhere around the house.
XGIMI has a whole suite of tools in its Intelligent Screen Adaption (ISA) technology. It offers the basics, like automatic keystone and focus to adjust the picture to compensate for the distance and any angle between the projector and projection surface, ensuring a picture that's always sharp and neatly squared against the wall. But it can take things even further, automatically framing the picture within the available space on the wall and intelligently avoiding obstacles that might interfere with the image.
These technologies make for a simpler setup that allows you to quickly plop the projector just about anywhere you like in your home and create a cinematic, big-screen experience. With portable models like the XGIMI Halo+ and MoGo Pro (an Android Central pick for best Android-powered projectors), you can really take advantage of that technology, too, as they're battery-powered, so you can bring them all over the place and make for an instant theater wherever you go.
To see all of these technologies on full display, the XGIMI HORIZON Pro serves as the pinnacle of XGIMI's lineup. It puts all of the Android TV and ISA tech to work as it shines a 4K picture at 2,200 ANSI lumens that's able to stretch up 200 inches for a truly stunning theater. XGIMI's first ultra-short-throw projector, the AURA Laser TV, pulls off similar feats making a simple-to-setup home theater that's matched with an impactful image. It even earned a prestigious Best Product award from the Expert Imaging and Sound Association (EISA). And they aren't the only people who think the AURA is stellar. From the portable Halo+ and MoGo Pro to the compact Elfin and stunning HORIZON Pro, XGIMI has earned a strong reputation for excellence and ease-of-use.
Many outlets have raved about the quality of XGIMI's projectors, Android Central included. Like the AURA, the HORIZON Pro, Elfin, and Halo+ have proved simply great products.
If you're ready to learn more about XGIMI's products and how it's constantly striving to provide the smartest Android-powered projectors on the market, you can find all of its offerings here. You can also see Android Central's take in the reviews linked above.
From November 7 to November 11, Android Central's exclusive discount code allows users to get 10% off HORIZON Pro, Halo+ and AURA with code "XGIMIAC10" on top of a $200 price drop on HORIZON Pro and a $300 price drop on AURA.

Sign up for Black Friday email alerts!
Get the hottest deals available in your inbox plus news, reviews, opinion, analysis and more from the Android Central team.