Apple Music coming soon to Google Home and other Assistant speakers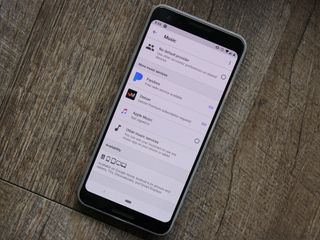 Google Home/Assistant speakers already have access to a solid selection of integrated music streaming services, including the likes of Spotify, Pandora, YouTube Music, Google Play Music, and Deezer.
Now, it looks like Apple Music will soon be joining the ranks.
Initially spotted by MacRumors and later confirmed by myself and Phil Nickinson, there's now an option for Apple Music in the Music section of the Google Home app.
Apple Music shows up on both my Pixel 3 and iPhone XS, but it doesn't actually do anything just yet. Tapping on it in the Android app shows a pop-up box with an option to link your account, but tapping the Link Account button does nothing.
Google's yet to make an official announcement about Apple Music joining its Home and other Assistant speakers, but I'd imagine we get one sooner rather than later seeing as how it's already popping up for so many people.
What about you? Do you have an option for Apple Music in your Google Home app? Let us know in the comments below!
The Galaxy Watch Active could be one of 2019's best smartwatches
Joe Maring was a Senior Editor for Android Central between 2017 and 2021. You can reach him on Twitter at @JoeMaring1.
Does this mean any GooAss speaker will just randomly start playing U2? Seriously, i don't care but it is nice to see the megacorps play nice for the people that do.

I will never understand why Google doesn't push gpm or YouTube music like all the other streaming services push their service... All the others be partnering with other companies and be plastered everywhere from sponsoring things but I rarely see Google. At least they've stepped it up a little with YouTube music promotion it just isn't on the level of the other streaming services

Probably because its a money pit. No one, maybe only Apple is making money on music streaming. Spotify is a decade old company and have yet to make a dime. They have lost money every year. Apple decide to not offer a free option and therefore only serve paying users. While Google, Amazon and Apple can run their music streaming as a lost leader, spotify can't do so long term. I think Google's issue is their inability to create a cohesive message and service between all their properties (Youtube, GPM and Youtube Red, Youtube Music). They are all over the place and everyone can see it on the outside. If they ever get their stuff together, they can give both Spotify and Apple a good scare.

But that's the thing they are different apps but they all use the same service. Which is why you only pay for 1 but get them all... YouTube music is nothing more than YouTube with the ability to not have a video playing... In all actuality if you pay for the service you could only use the actual YouTube app and be ok. People still don't really know what gpm or YouTube music is they just know it asks you to pay am so they pay it no mind lol

I'll pass. Apple gets no money from me.

March 5 now, and still haven't seen Apple Music show up on my Google Home (iPad or iPhone X). They scrap it already?
Android Central Newsletter
Get the best of Android Central in in your inbox, every day!
Thank you for signing up to Android Central. You will receive a verification email shortly.
There was a problem. Please refresh the page and try again.