Apex Launcher hits v2.0 with new features, improved settings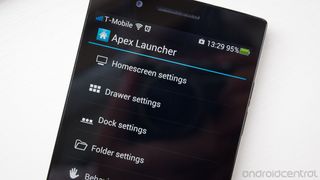 Several new "Pro" features and even more tweaks now available in the settings
One of the most well-known names in third party launchers, Apex Launcher, has just made the jump up to version 2.0 with several new features and improvements across the app. The biggest improvements come if you've paid for the "Pro" version of the app, where you'll now get folders in the app drawer, integration with Apex Notifier and notification badge support. If you've yet to spring for the paid version, you'll still see some big changes. The free version has added support for changing vibration duration, update translations, improved the activity and wallpaper pickers and made important changes to the settings menu layout.
If you haven't taken a look at Apex in a while, now may be the time to do it. You can download the free version from the Play Store link at the top of the post, and if you want some more advanced features pick up the $3.99 paid version right here (opens in new tab) as well.
Andrew was an Executive Editor, U.S. at Android Central between 2012 and 2020.
Nice, but unfortunately still no GLOBAL Badge Notifications *sigh*
It's one of the only features I like from iOS & just wish more Launchers supported it for more than just SMS, Calls, GMail, Voice & a few others they choose to support.
Currently only Nova supports them globally - yeah it requires another App called "MissedIt!" but still achieves it. Here's how Nova does it:
http://forums.androidcentral.com/android-applications/199709-how-guide-g...

Agreed, though its probably only Whatsapp I care about. Apex currently say they won't provide anything more than the api to do it. Just takes another 3rd party to do the same as Nova. If these 3rd party solutions exist for Nova and dash clock, surely it can be done for Apex?

Yes, this and the do not disturb mode from iOS, and I'll be all set :) (Seen about a dozen apps that let you do this on a schedule, but not on a toggle.)

"Do not disturb" is just good old profiles (introduced already in 1998 with the Nokia 6110). If you want sophisticated profile handling, there are a couple of apps for that. The same applies to call management. So I don't see anything that "Do not disturb" offers that is missed on other platforms and I have used profiles since many years on Symbian, Windows Mobile and Android. The Symbian implementation that Nokia had was very elegant with a profile list when the power button was touched and the ability to add very sophisticated managers like Best Profile and call management to the mix. If you want to toggle silent mode on and off, there are many solutions for that including integrated toggles or apps like Power Toggles. Unfortunately, Interactive Voice Call Master isn't ported to Android (it is a Symbian app). It is very advanced and supports control through IVR/touch tones. It is therefore possible to put a system where people can be routed to different mailboxes depending on what they select etc.

Give credit to where credit is due, that feature was a blackberry feature that was copy by Apple.

What is global badge notification? Forum link you posted is dead?

Forum link works but try this one instead--> http://forums.androidcentral.com/android-apps/199709-how-guide-global-ba... Global Badge Notifications are those little #'s on App icons themselves indicating that App has a new Notification like on iOS.
Several Launchers like Apex & GO support it though only for a few Apps like SMS, Calls, EMail, Voice but Nova (when combined with "MissedIt!") supports Badge Notifications for ALL Apps not just those few.

Thanks for that, now I understand! Nifty feature, but with good notification drawer I don't think I'll need it. Can see people do though.

Don't need it. The notification screen handles this just fine. You IOS folks have to start thinking beyond the backward way Apple does everything.

I'm an Android guy through & through but I can still recognize a useful feature from other platforms. Personally I need GLOBAL Badge Notifications because I hate how cluttered Android's StatusBar gets so I hide all that clutter with "StatusBar+". So because mine only displays the time, battery & network connections, I rely on Badge Notifications so I don't need to constantly access the Notification Shade.

Its not backwards. Its different and anyway I'll use global notifications whether or not you think it's "backwards"

Its not backwards. Its different and anyway I'll use global notifications whether or not you think it's "backwards"

Doesn't Nova have all this already from way back?

Still missing the ability to fit any size widget in the dock(it's perfect looking for power toggles) & the folder customizations(swipe/tap settings & ability to cover a folder with an app icon). Still feels clunky when compared to Nova.

I don't use an Android phone, but I have many friends who know little about phones and use varying android phones. I always have then install Apex, at least just to try it out. Great launcher.

This is the only launcher for me. I've always jumped to the paid version too which says a lot since I go for free on most things. I always pass over any phone reviews that talk about Touchwiz or Sense (recently with the HTC One & Samsung S4) because I know the first thing I'm doing is installing Apex. IMHO, can't beat it.

I have tried Apex over and over again but I find Nova to be faster and more fluid. I don't get why most Roms come pre-installed with this and not Nova?

Which is better? Apex or Nova?
Android Central Newsletter
Get the best of Android Central in in your inbox, every day!
Thank you for signing up to Android Central. You will receive a verification email shortly.
There was a problem. Please refresh the page and try again.