Android A to Z: What is GSM?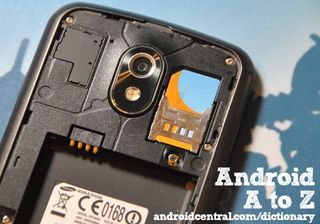 What is GSM? When it comes to Android devices, especially for us here in the U.S., there are two major differentiators that really have nothing to do with Android and everything to do with the carrier you plan on using the device on. When you're talking about a mobile device, you're either talking about a GSM device, or a CDMA device. GSM stands for Global System for Mobile Communications and is the network standard for much of the world.
Of the four major carriers here in the United States, T-Mobile and AT&T use GSM technology. In Europe, you'll be hard-pressed to find something other than GSM. In Asia, you'll still find some CDMA carriers.
A major advantage, at least from an end-user perspective, of GSM is the ability to easily swap devices, thanks to the SIM card. That's the little card (like what you see in the picture above) that contains are information that allows you to connect to a network, and it also can contain contact information. Pop the card into a new phone, and your phone number and contacts come with you.
There are a couple caveats to that, of course. One is that the phone you're using has to have radios to work on specific frequencies. While T-Mobile and AT&T are both GSM carriers and share the same EDGE radio frequency, they use different 3G frequencies, and most devices released in the United States can only connect to one or the other. (That's not always the case though -- some phones, like the GSM Galaxy Nexus, have the ability to do both) Another hurdle is that carriers usually "lock" the device to only use their own SIM cards. That is, if you put an AT&T SIM card into a T-Mobile phone, it'll ask for an unlock code. You can purchase the codes online, or the carrier may give it to you for free, if your account is in good standing. Outside the U.S., this is less of an issue because phones often are purchased "unlocked," albeit at higher prices than you'll see here.
But, wait. It gets more confusing. The new 4G LTE is a GSM standard. Therefore, Verizon and (soon) Sprint are using GSM technologies on their otherwise-CDMA phones. And both of those carriers have had "world phones" in the past -- traditional CDMA devices with GSM radios tucked in for use outside the United States.
Is GSM preferred over CDMA? For some, it's just a personal thing. For others, it's a perceived technical thing (such as building penetration). For others, it's a business thing, like being able to more easily use your personal device overseas with a prepaid SIM.
Previously on Android A to Z: What is fastboot?; Find more in the Android Dictionary
More from the Android Dictionary
[block:views:article_lister_bespoke-block_13]
Sign up for Black Friday email alerts!
Get the hottest deals available in your inbox plus news, reviews, opinion, analysis and more from the Android Central team.