Android Quick App: Buffer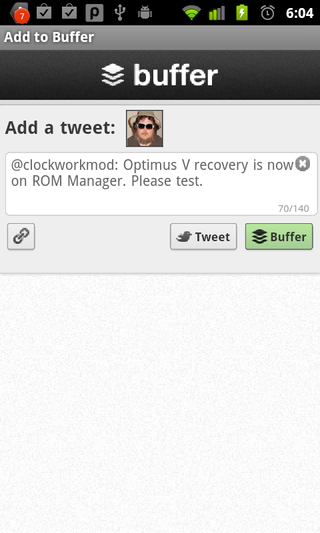 Do you love to use Twitter to share all the cool and interesting things you find on the Internet? Me, too. The problem comes when you start oversharing and flooding all your friends timeline with things that you think are great, but they might not. We've all done it, and until now there was no easy way to meter out those tweets so they aren't so annoying. Or maybe you've just launched the best idea ever on the Internet, and need a way to organize what you send out on Twitter, and how you send it. That's where Buffer comes in to play. Buffer is a web service that stores all the pages, links, and random thoughts you think are important enough to share with the world, then sends them to Twitter at intervals that you set up. It works nicely, and there are Chrome and Firefox plugins to make it seamless. Now, there's an Android app too. It's super simple to use, effective, and makes you a whole lot less spammy on Twitter -- which are all good things. Hit the jump to see how it works and find the download link.
Buffer integrates itself into the "share" menu in your Twitter client and web browser. After you set up your account at the Buffer website, you can use that share menu to send the link to Buffer through the app. Have a look below to see an example, sharing a tweet.
Find a tweet you want to share, in this case it's about the Optimus V recovery being in ROM manager. That's a kickass little phone, and I want to make sure everyone using one knows that hacking it just got a little easier. Do whatever your Twitter client needs you to do to get to the share menu.
Go on and tap the share entry in the menu, where you'll find options about where and how to send it. These depend largely on what you have installed on your phone, so yours may not look like mine.
I'll tap the Add to Buffer entry, which tells my phone to fire up the Buffer app and let it do it's thing, using the information I want to share. You can also open Buffer from the app drawer and compose a normal tweet if you like. this could be useful if you wanted to share something at a certain time, but didn't want to try to remember to do it when you needed to do it. It's a buffer you fill up that gets emptied when you define it. Hence the name.
The Buffer app opens, filled in with the text from the tweet you wanted to share. You can edit or add to it, as long as you keep it at 140 characters or less you're good. Remember, my example is with a tweet, but this works with regular weblinks, too.
You have the choice to send it to Twitter right away by hitting the Tweet button, or sending it to your Buffer, where it follows the set time to pass things along to Twitter.
On the Buffer website, you can set up the exact times and number of tweets you want to send out each day from your dashboard. There's also some analytics about tweets you've sent from Buffer, which give insight about how many people have seen it, clicked on it, or re-tweeted it. It's best to use a computer to set all this up, but it does work on both the Gingerbread and Honeycomb stock Android browser clients. But don't be silly -- use the computer if you can, to make it easier.
Many of you are probably wondering, "why would I need this?" And maybe you're right, you don't. But if you're really into Twitter, whether for just personal goofing-off type reasons, or more serious marketing reasons, its a really nice tool. Everything we've shown you above is free, and so is the Android app. If you are involved in any type of Internet marketing, and need things to be ramped up a notch, Buffer offers a couple levels of paid service that give things like group abilities and direct support. Now that it's available right from your Android phone or tablet, it just got easier to handle on the go as well.
Android Central Newsletter
Get instant access to breaking news, the hottest reviews, great deals and helpful tips
Senior Editor — Google Ecosystem
Jerry is an amateur woodworker and struggling shade tree mechanic. There's nothing he can't take apart, but many things he can't reassemble. You'll find him writing and speaking his loud opinion on Android Central and occasionally on Twitter.
Honestly .... this is a good idea, but something I want to post right now on twitter I may not want to post 2 hours from now. Spam like messages is just how twitter works.

I agree that in most cases Tweeting right away is best, and I don't think it is a good idea to schedule a large proportion of your Tweets. However, I've found when I'm reading my tech news in the morning and want to Tweet lots of good articles I find, it can be better to just Tweet one and add the rest to Buffer rather than flooding my followers with 5-10 Tweets within a few minutes.

Unfortunately this statement: " and until now there was no easy way to meter out those tweets so they aren't so annoying." simply is not true. While it is GREAT to have another option in the arsenal. Hootsuite (with their android app as well) has offered the ability to schedule posts in the future for a while now. You can even post to places other than Twitter so you can schedule posts to Facebook, Twitter, LinkedIn, Myspace, etc etc.

Hi Chewieez, I completely agree that Hootsuite is a fantastic option, especially since it lets you do so much from their single interface. The difference is that with Buffer, when you schedule Tweets you don't need to manually choose the time you want that Tweet to be posted every time. Simply throw the Tweets in your Buffer and we'll make sure they're spread out during the day. People have found that to be quite a time saver. Hope that makes sense :) -Joel (Founder of Buffer)

Jesus -- the procedure for posting a comment here is so 2004. CAPTCHAs, email confirmation, one-time logins...just to post a crappy comment about Android?? Seriously? Anyway, Chewieez is correct -- Hootsuite does the same thing and Buffer seems to have adopted the same fail that Hootsuite does: forcing you through their approved URL shortener. Last time I checked out Hootsuite, all links tweeted through the system were rewritten to be ow.ly links (no thanks). Buffer appears to be using j.mp, but I didn't sign up to verify (but given how they're pushing their analytics and all of the links from Buffer users appear to go through j.mp...) Anyway, anyone actually using this who can confirm whether or not this is the case for Buffer??

Hi Brian, great to hear from you. I'm the Founder of Buffer. You're right, we use j.mp (which is an alias of bit.ly) to shorten all URLs at the moment. We're not building our own URL shortener though, there are plenty of people (like bit.ly) doing a great job of that. We're focused on our core feature which is to make it super simple to publish things on Twitter, whether immediately or at a better time scheduled by Buffer. We have definite plans to offer other URL shorteners, bit.ly is just the first. Hope that helps!

Is this the app congress uses?
Android Central Newsletter
Get instant access to breaking news, the hottest reviews, great deals and helpful tips
Thank you for signing up to Android Central. You will receive a verification email shortly.
There was a problem. Please refresh the page and try again.