Android Pie is finally coming to the LG G7 in the U.S. and Europe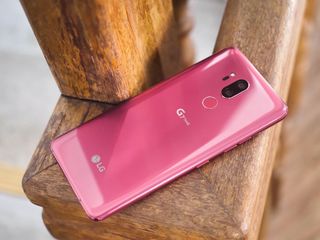 What you need to know
The Android 9 Pie update is rolling out to LG G7 users in Europe and the U.S.
The update includes gesture navigation, adaptive battery, and Cine Shot among other improvements.
Verizon users appear to be the first to receive the update in the U.S.
At long last, LG G7 users outside of South Korea are receiving the Android 9 Pie update. Back in January, the update started rolling out to South Korean users, but it has taken quite some time for LG to release it in other areas.
Verizon users appear to be the first ones to get the update here in the U.S. according to several threads on Reddit (opens in new tab), but hopefully, it will begin rolling out to more carriers soon.
Besides hitting some phones in the U.S., there have been reports of the update rolling out to several European countries including Austria, Belgium, Czech Republic, Germany, Italy, Poland, and the UK.
Some new features coming to the G7 via the Pie update include gesture navigation, App Actions, Cine Shot, Intelligent Gallery Zoom, and more. It's also said to include more colors for the always-on display, adaptive battery, and dual app support.
If you've not already received it then there is no harm in manually checking from the settings menu. The update weighs in at 1.4GB, so you'll want to make sure you're on Wi-Fi before you begin the download.
Sound matters
(opens in new tab)
Smart camera and booming speakers
The LG G7 ThinQ provides you with great booming sound, a snappy processor, and a fantastic camera experience. One of the first phones to offer a super wide angle camera and featuring one of the best camera apps on Android, taking photos and creating content is what the LG G7 was made to do.
Android Central Newsletter
Get instant access to breaking news, the hottest reviews, great deals and helpful tips
This is why most youtubers like MKBHD sh*t on lg phones. Sure they have the best audio, one of the best haptics on android, and the best mobile camera pro mode. But LG fails on basic tasks such as software updates which are much more important to normal consumers than a quad dac headphone jack. F**k LG.

I honestly don't see the big deal with this update. I'm glad to have it but I could have lived without it. My phone was working perfectly, and it still is after the update, so again I say I'm not sure what the big deal is. Maybe I'm missing something so please feel free to sound off. this LG phone is the best phone I've ever had and I've had many of the Samsung flagships.

Same here! Why not downgrade it to Android Froyo? That version worked just perfectly and I don't see what the big deal is with any of these so-called "software features" and "security updates". LOL, right? Imagine the costs we can cut by just firing the entire software team! And then announcing a global upgrade center that doesn't even exist! And still get people like "sushiguy732" to come on the internet and defend our shoddy practices!

Ignorance is bliss. This is precisely the reason why LG can get away with updating to the lastest software 8 months later. Most people don't know what changed.

Too late, my G7 is at the bottom of a lake I threw it in out of sheer frustration with LG and their lies. I hope the fish enjoy their Android 9 features.

What about the G6? I thought it was reported here we were getting the update too.

What about the V30 on Verizon.

Agreed, V30 needs some love too!

They just wanna sell phones

The Android P update isn't really a big deal. The phone will still do all the basics without Android P.

Security updates are a big deal though with new security vulnerabilities pooping up everyday and LG suck at security updates too.

And this is just a number of reasons why I'll never buy an LG phone, their software is ugly and bloated like most skinned Android phones and don't get me started on their terrible update policies, I mean the LG G7 ThinQ is only getting Android 9 Pie NOW? When we're looking forward to Android Q, LG users don't hold your breath about getting Android Q from LG.

On a skinned phone you don't really "need" Android feature updates, although they're nice to have. Security updates are far more important, and while LG lags behind on those as well, at least they exist. My G7 on T-Mobile gets security updates (approximately) quarterly, instead of monthly.

You don't really "need" any software features. You don't really "need" any hardware features either. Our ancestors were doing just fine with rocks and spears. LG was still crap back then though.

My LG G7 ThinQ is still on 8.0. A month and change away from the final release of Android Q, over a year after release of the phone, over a year after they created the scam they called a "global upgrade center", 6 months after they announced the update was going to come out in Q1, and now three weeks after they announce the update is coming to the US. Still on an Android version that's two years old. I do not even know why I expect anything from this company.
Android Central Newsletter
Get instant access to breaking news, the hottest reviews, great deals and helpful tips
Thank you for signing up to Android Central. You will receive a verification email shortly.
There was a problem. Please refresh the page and try again.