Android Pay's biggest expansion yet adds Chase, kicks off mobile web purchases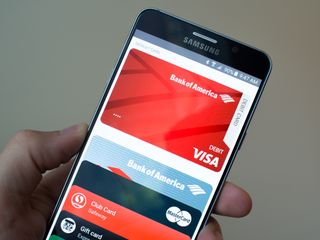 Confident in keeping its expansion going, Google has announced several important updates to the Android Pay experience this week. At the root of it all is adding more banks, with Chase now on board in the U.S. for its most popular cards (Freedom, Slate, Sapphire, etc.), and both Santander and TSB coming on board in the UK. Dozens of banks are now supported, from the big names down to small credit unions.
Not stopping there, Android Pay has also expanded its loyalty card acceptance with specific retailers to let you earn rewards without scanning a separate card — just pay with Android Pay and you'll make a secure payment and get loyalty rewards. Walgreens recently rolled this out for its Balance Rewards program, but now Dunkin' Donuts and Chili's are on board and rolling out the feature in "the coming months." Uber has already launched its Payment Rewards program in Android Pay, and to celebrate is offering 50% off 10 Uber rides just for using Android Pay in the app — no codes or coupons required.
And now after months in limbo, Android Pay is starting its rollout for real on the mobile web. Just like we've done for years with Google Wallet and third-party solutions like PayPal and Amazon Payments, you'll soon be able to use your stored Android Pay cards to make purchases from websites on your phone. Big retailers like Groupon and 1-800-Flowers are launch partners, but just looking at the number of sites (a lot of sites) that used Google Wallet before should give you an idea of how many more to expect soon.
Android Pay has won the support and trust of the people who are currently using it, but the issue right now is keeping the service top of mind week after week and now well over a year after it launched.
We understandably complained when the payment service launched with fewer features than Google Wallet and lots of unfulfilled promises, and that has spoiled its adoption some as people simply tried it and promptly forgot about it. With big launches of new banks, more app integrations, loyalty program features and the rollout of mobile web purchasing, there's enough here to get people to not only try Android Pay for the first time, but far more crucially try it for the second and third times.
Android Central Newsletter
Get instant access to breaking news, the hottest reviews, great deals and helpful tips
Andrew was an Executive Editor, U.S. at Android Central between 2012 and 2020.
I still can use my chipped debit card with Android pay. I can't seem to find any info about it online as to when Google will fix this.

Hm interesting. My chip-enabled Bank of America debit card adds fine.

Which bank do you use? Mine (PNC) works fine.

I'm guessing your bank just doesn't support Android Pay. I just did a quick search, and I didn't see anything indicating that Academy Bank supports Android/Apple Pay at all. If that's the case, you might mention that you want to see this feature on their social media accounts. Smaller regional banks aren't going to adopt this kind of thing unless their customers make noise about it.

I was using Android Pay with my checking account until they mailed me my new card with the chip. I'll make some noise about it

You were probably "grandfathered in" under the old Google Wallet system that worked with any card by creating a virtual MasterCard. Same thing happened to me. Bank sent me a new card, and because my bank never supported Android Pay, I couldn't add it. I ended up switching banks.

Whether your card has a chip or not has absolutely NO bearing on whether the card can be added or not..... Either the bank supports the card or it doesn't

Yes.. It uses another system to process it (another number is given to the vendor etc)... So it bypasses the chip no chip thing entirely

I heard they wanted a Chase Pay app. I was about to change banks haha

Chase is supposed to be releasing there own payment app by the end of the year.

And I was about to abandon and delete Android Pay.

Android pay is better then Chase pay

Web purchase is big... PayPal better step it up. But Google better have your back like PayPal does. I purchase without any concerns with PayPal knowing if **** goes sour, PayPal will cover you. Unless you reach our to your credit card issuer. If that's the case, Amex is even better than PayPal.

I'd move at this point Canadians get nothing

Canada will get Android Pay shortly after getting Google Voice.

Let me know when I can use it with the rooted device. Until then my credit card works fine.

You can understand why they're hesitant to do that.

Uh yeah also you put your info out in the open doing that.

I guess. There are workarounds though that usually work for a couple of weeks until the loopholes get closed and nothing bad happens. Just like nothing bad happens when I input my credit card info into my PC which has root access by default. Not sure why they treat phones any differently than they treat a PC. It's just annoying trying to stay on top of it. And having a rooted device doesn't open a magical window into your credit card info that anyone can look at. Stop fear mongering. It worked for the entire time google wallet worked.

Apparently there is a reason they don't allow it. Liability comes to mind....and you don't swipe your credit card when you purchase on a PC, the site uses a secure connection.

Probably this. And maybe concerned about reverse-engineering of the algorithms used to create virtual numbers and other transaction data. Not sure how Android Pay stores card info and transmits the data when making a purchase, but depending on where the virtual card number is generated (something I'm pretty sure Wallet did not do), I can see why they wouldn't want the app on a rooted phone. Your PC doesn't store your CC info even when entered into websites, and it is only transmitted via an encrypted connection -- honestly, a much less secure method than the system used by Android Pay (and Apple Pay and Samsung Pay, etc) and also the newer chip card reader PoS systems in stores.

Most PC's aren't able to make contactless nfc payments though. GOOGLE wallet was an different implementation of the mobile wallet in comparison to Android Pay. not a good reason.

Not going to happen. Unless you like laying your credit card on a table in a restaurant and walking away.

And co-branded Citi cards still don't work. This is frustrating.

Just added my Southwest Rapid Rewards Chase card and it took. FINALLY!!!

I was finally able to add my Chase debit card. About time. Haven't been able to use Android pay. Now I gotta figure out where I can actually use it. Lol

Where the iPhone apple info? Have I missed it? First time since site Creation you all have ignored apple event. Hope site is ok..

IPhone sucks. There u go.

Think you're mistaking android central with its sister site, imore (where you'll likely find the Apple info). Just sayin'...

There's nothing really groundbreaking to talk about.. Like always

Scroll down the articles, Alex has an excellent write up of it... ;)

If I'm going to make a purchase on the internet why am I going to Route it through Android pay instead of just using whichever card I would be routing through Android pay? As far as utilizing Android pay in the physical world , one of two things need to happen, North America needs a hell of a lot more nfc-compatible payment terminals and/or they need to beg Samsung for the ability to use MST payment technology.

Android pay gives whomever you are making the purchase from a virtual number instead of what is on your credit/debit card, afterwards they charge your actual card. It explains it in the app.

I know what you're saying,I stopped using android pay many months ago because I can actually use Samsung pay in the real world with great ease, without having to hunt and peck for NFC capable terminals(here in the US).

Not true for me i baught into that and got note 7, for samsung pay it failed many times on cc machines that did not have nfc, and at major retailers and shopping (walmart).... I was so disappointed, i tried many different times,

That's funny you're the first person I've heard of with that experience.

The fewer companies that have your credit card information on file, the better, as far as I'm concerned. But from a more practical standpoint, it'll make setting up payments a lot faster., especially for sites that I don't order from very often. Like today, I ordered something from Penzey's as a wedding gift. I'm almost certainly never going to order overpriced baking spices ever again. If I'd been able to use Android Pay to make the purchase, I could've just clicked the button, entered my password, and been done with it. As it was, I had to get out my credit card and enter all of that information.

I have found using Android Pay completes transactions significantly faster than inserting my chip card into the reader.

I'm happy with Samsung Pay

I saw this article today, after trying to get my Chase card working, again, it worked a few weeks ago but a few days ago I kept getting a message the card required setting up. So after looking at the card, it was all there but again, needed me to enter the security code from the back of the card, after doing that, a message said the card wasn't part of the accepted cards. Well that was frustrating for sure. The after seeing this article about Chase now part of AP it pushed me to force stop, disable, restore to factory, force stop again, and uninstall, then I went to Play Store and Enabled AP, it downloaded and after opening, everything was there, all the card info except the security code plus the grocery store cards were still there, so, I entered the Chase security code and now it says the card is activated! Go figure, but AP now works with my Chase/Amazon credit card.

I use Samsung Pay all the time. I would use Android Pay but I don't have a lock on my phone and Android Pay makes me lock my phone. Such a pain in the @$$. If Google were to put a system in place like Samsung Pay, in that if I don't have my phone locked I need to use my fingerprint to open Android Pay, I could actually get behind this and start using it!

All my Chase card info was already there, just had to verify a few things. It's been so long... do we still have the random issue where you have to enter your pin twice and tap three times while the people behind you roll their eyes?

Used for the 1st time today on Uber-the only reason why - been using Samsung Pay and very happy. Still cracks me up when I start to use my phone on an old terminal and the clerk tells me "that doesn't work here", then the holy cow look when it goes through

Go Android Pay! I love my Nexus 6P with Google Project Fi! Love it!

I'm still waiting for USAA to support their debit cards on Android Pay (they say it's coming soon..lol). My USAA credit card works fine, but I don't want to use that as my default payment card. I like AP but I feel the reason why it has struggled along is because of the slowness of financial institutions to get on line with it.

I can't wait to see this on websites . . . I've had too many bad experiences with PayPal to fully trust them.

I had a grandfathered Chase card. I had to remove it and then re-add it to get the full functionality. It works great!!
Android Central Newsletter
Get instant access to breaking news, the hottest reviews, great deals and helpful tips
Thank you for signing up to Android Central. You will receive a verification email shortly.
There was a problem. Please refresh the page and try again.