Android Pay is rolling out starting today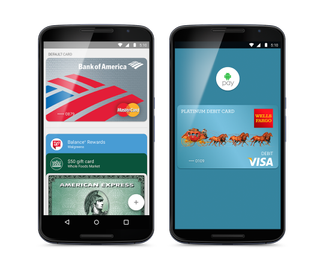 Google has announced that its new mobile payment system, Android Pay, will begin rolling out today. With this, you will be able to make payments using just your Android phone. Over the coming months, additional features, banks and store locations will be adding support for Android Pay.
Android Pay will work on all NFC-enabled Android phones running KitKat and above, on any mobile carrier in the US. Credit and debit cards from American Express, Discover, Visa and Mastercard will all work with Android Pay, and you will be able to use the service at over one million locations. Some of these locations include Panera Bread, Office Depot, Toys R Us, GameStop and many others.
To keep things secure, Google will not be sending your actual credit or debit card number with the payment, but instead it will use a virtual account number. As soon as you make a purchase, you will receive a confirmation that shows where the transaction took place, keeping you informed at all times.
Later this year, Android Pay will be enabled through mobile checkout, allowing you to use the payment service within your favorite apps. Additionally, the service will soon support loyalty cards and special offers with just a tap. Existing Google Wallet users can access Android Pay through an update to the Wallet app. For new users, Android Pay will be available on the Play Store in the next few days, and will come pre-installed on NFC-enabled phones from AT&T, Sprint, T-Mobile and Verizon.
At the same time, Google has also rolled out a new Google Wallet app, which now simply focuses on sending and receiving money, rather than payments (which are now all in Android Pay). The new app, which also features a much needed redesign, will work on both Android and iOS.
You can find the new Google Wallet app in Google Play now, but we're still waiting for Android Pay to go live in the store.
Source: Google, Google Commerce
Jared started off writing about mobile phones back when BlackBerry ruled the market, and Windows Mobile was kinda cool. Now, with a family, mortgage and other responsibilities he has no choice but to look for the best deals, and he's here to share them with you.
US only right? Posted via the Android Central App

Of course. Maybe Canada too, but it seems unlikely. Wubba lubba dub dub!

Maybe ... eventually, we never got Google Wallet, so who knows Posted via the Android Central App on my Nexus 6

Exactly. And this is a big part of why I'm considering the i6S, after being loyal to Nexus since the Nexus One. It's getting ridiculous. I'm tired of waiting for Google to bring new services (like mobile payments) to Canada. Somehow Apple launches something and reaches Canada within a year.

Keeping in mind that the main reason why these services have started off in the US is because their payment system is so insecure and ancient that anything that anything offered that is better than what they have will be instantly adopted. Outside of the US most countries have had paywave/paypass, chip and pin, and local payment solutions such as Semble (New Zealand).

Google Wallet and Android Pay work well. Just remember to tell the attendant you're using a DEBIT CARD before you take out your phone. Small businesses don't train their employees.! And their NFC systems only work when they press the debit button on their terminal screen. I hate dealing with people. Sprint Galaxy Tab 4, because I don't need a Super High-End tablet.

Excuse my ignorance, but is this replacing G Wallet or just integrating it? Posted via the Android Central App

To my understanding, it is replacing the old Google Wallet app, and Google released a new Google Wallet app which is used for peer-to-peer payments and for managing the Google Wallet Card

Thanks. Posted via the Android Central App

I believe you're correct. Because The old wallet app cannot be uninstalled. So I assume it gets upgraded to Android Pay, eventually. Nexus 5, stock.

That is what I'm thinking. Posted via the Android Central App

Hi all, Here is a link to the Google wallet/ Android Pay help page explains the whole thing,all of it. https://www.google.com/wallet/faq/ Here is a quote from that page: Google Wallet & Android Pay Android Pay is the simple and secure way to use your Android phone to pay in stores and within apps. Learn more about Android Pay here. We built the new Google Wallet app from the ground up to give you a fast, free way to send and request money on both Android and iOS devices. All you need is a US debit card or bank account. You can quickly transfer any money you receive to your bank account or spend it in stores using the Google Wallet Card, wherever Debit MasterCard® is accepted. If your device receives automatic updates, your current Google Wallet app will automatically update to Android Pay and you'll just need to set it up. Any loyalty programs, gift cards, or offers that you had in Wallet will show up in Android Pay. If you don't receive automatic updates, you'll need to download the Android Pay app on Google Play. Android Pay will not be available for iOS devices. To continue sending and receiving money, as well as managing the Wallet Card, you'll need to download the new Google Wallet app on Google Play. If you have a Wallet Balance, don't worry—it will appear in the new app and, as always, at wallet.google.com. Hope this is helpful (-: Posted via the Android Central App

Hi all, After deleting my data for Wallet earlier this year when,without warning,Google screwed over hundreds of thousands of users. Then I disabled it for good measure. After reading the above help page,I re-enabled Wallet,and found out that I will be updated to Android Pay. Why I tell you this,about my preinstalled app,is this: I'm on jellybeen 4.1.1 thur article made an error about only kitkat and up, and then I think elsewhere it said 4.3 which is still jellybeen. So for all you jellybeen lovers,( 31% of users still) I imagine that ,if you have the hardware,then you too,should get the update. Posted via the Android Central App

Used Samsung pay with my note 5 yesterday at Wendy's and it worked flawlessly hopefully Google can implement the same ease because I want to use it but was really impressed with Samsung pay and the ease of it all Posted via the Android Central App

I'd like to use Samsung Pay too, but alas it's not supported by Verizon at this point. One of the big reasons I got the S6. Grrr

I thought i signed up but nothing from samsung. How long did it take for you to get? Posted via my S6 Active!

It is still in beta... 18th is the rollout I believe Check out the new Nexus! https://youtu.be/u3uFOavLo_w, not a Rick roll

28th Posted via the Android Central App

Thanks knew it was something like that Check out the new Nexus! https://youtu.be/u3uFOavLo_w, not a Rick roll

Yes I signed up for the beta. When it was announced. Did it again today. Posted via my S6 Active!

Yup, that's one of the reasons I wish I could afford to trade my Note 4 for a Note 5. You can't backport the MST capability. It's hardware.

I'm waiting on Samsung pay also not sure why your worrying about goggles pay . Samsung pay will be more widely used everywhere. Only a few stores us nfc but everyone uses the magnetic field payment Posted via the Android Central App

Using Samsung pay as well on the Note 5. It worked flawlessly at Panera Bread but not as well at both Rite - Aid and Home Depot. I'm waiting to try Android Pay as a comparison. Posted via the Awesome Galaxy Note 5

Sucks to be you One Plus 2 owners. Just kidding... No I'm not. Posted via the Android Central App

Hey... well... Said the OnePlus 2 owners. Posted via the Android Central App

I don't own a Oneplus 2, but if I did it would make zero difference. Hard as it may be to believe, there's actually quite a few people who don't live in the US. Wubba lubba dub dub!

Or care about mobile payment processing... I know I could care less. Posted via the Android Central App

Then that simply means you do care about it, which I believe is the opposite of what you intended to say... Posted via the Android Central App... Running on my Lumia 1520 with Windows 10 Mobile...

Lol. Yes, couldn't*. Thanks. Posted via the Android Central App

Unless you live in a cave you can still use NFC for payments. For example, I don't live in the US, I don't have Crapple/Android/Samsung pay, but still I pay for my groceries and other things with my phone. There are local players in almost every country, doing exactly the same as the big boys. So yes, NFC is a big deal for non-US users as well.

"2016 Flagship Killer" *Can't do the one thing 2012 flagships could*

I have a Note 4, will this be available as a download in the Play Store? Posted via the Android Central App

See last line of article. Wubba lubba dub dub!

That's the new Waller app, not Android Pay.

You're quite correct, looks like the article's been changed to make it clearer that they're not one and the same. My apologies, I didn't actually click the link as I'm not allowed to use the app. Wubba lubba dub dub!

Yes! Can't wait! Posted via the Android Central App

As I read this again, as a security measure Google will use a virtual card exactly how they use the original Google Wallet. My issue with not using it several locations is that I get certain rewards when I use my card, but using Google Wallet I never got the full reward. For example, getting gas I will earn 3% rewards, but using Google Wallet I earned 1% since the transaction is actually taking place with the virtual card. I hope I am wrong and this has changed.

I always thought of the transaction was funded by a particular card then you get that card's rewards? You're still technically using the funding card for the transaction. Posted via the Android Central App

His problem is that if your card issuer gives a bonus ie 3%cash back when you buy fuel, you don't get the reward because your card is being charged by Google, not the petrol station you bought the fuel from. I can't really see a way around it from the users side. Wubba lubba dub dub!

It is not exactly the same as the system used by Google Wallet. It uses a new system adopted by the card associations that creates a virtual card referred to as a "token". These tokens are directly tied to your credit card and will display the correct merchant category code for the transaction, allowing you to receive the correct bonus rewards. Source: I work in the credit card department of a major bank.

"To keep things secure, Google will not be sending your actual credit or debit card number with the payment, but instead it will use a virtual account number." From above, this is what through me off. I hope it really is the case where rewards are still respected.

I tried look for Google Wallet on the Play Store and it isn't there. At least on the UK Play Store. Posted via the Android Central App via My Nexus 6

Yeah, I'd like to know more about this as well. Maybe the author of this article, Jared DiPane, can shed some more light on this.

Hi androidcentralsean, The security issues,and and your other concerns can be found here at the help page: https://www.google.com/wallet/faq/ Covers android pay too. Posted via the Android Central App

Woohooo it works!! I tried it on a vending machine at work. Had to pay $1.25 for a Snickers bar tho. :(
lol verizon Note 5...efffff you verizon for not letting us use Samsung Pay!!

That was quick. But the question is, is Google actually going to make the effort to market Android Pay properly? They can't just rely on tech websites to do the work. People still pay attention to actual marketing. Posted via the Android Central App

I agree Google really needs to push this to the forefront as Apple is being pretty lax on pushing apple pay. This is an opportunity. Posted From my Nexus 6/Nexus 7 2013/Surface pro 3

I've been seeing "Android Pay accepted here" stickers at various POS locations recently. I got lunch at Panera today, and there was a sticker on the register with both the Apple Pay and Android Pay logos on it, which is encouraging.

Same here.. See it all over. Apple Pay & Android Pay accepted here.

I noticed this too. The cc machines at Walgreens used to show the Google Wallet logo, now they say Android Pay. Posted via the Android Central App

Yup all the local Panera stores have logos and are asking if you have it when you pay. Posted via the Android Central App

Samsung pay doesn't need stickers because it works almost every where while apple pay and Android pay wont... both of then suck compared to Samsung pay. Posted via the Android Central App

Very good comment. This is what Google are rubbish at! Also crap at international roll out Posted via the Android Central App

Hi, Google has definitely focused on the partnerships and integration first and foremost this time. Because they bought Softcard last fall,they had a leg up on that,as it was originally started by AT&T, Verizon,and T-MOBILE, plus Sprint has been added. They have agreements with with all the major banks and card companies. They have indeed done it right this time. Google for news stories and see the help page for more details. Here is a start: https://www.google.com/wallet/faq/ Posted via the Android Central App

Any word on Canada? Not to troll or anything but I was able to do this 2yrs ago with my Blackberry z10 at various restaurants and retailers in Canada. Now that I've moved from bb to android, I'm curious to know if I can now start using my phone to pay once again. Posted via the Android Central App

Well you traded paying for some stuff with your phone to actually decent software you can use but ya it'll eventually roll out to other countries. Posted From my Nexus 6/Nexus 7 2013/Surface pro 3

Agreed. Moved to android for the apps but lost the hub and random features like nfc payments. Just odd that it took 2yrs for a similar offer to come to android and potentially another long wait to come to android Canada. Posted via the Android Central App

I've been able to nfc tap to pay on Android, since I switched 3yrs ago, through Google wallet. It was only available in the US, though.

Apple's already negotiating with the banks here. I have a feeling they'll beat Google to the mobile payment market here.

Can't wait for this!! Posted via the Android Central App

So, it is confirmed it'll be an update for the old Google Wallet app or will it be a new app we need to download?

There is a new Google wallet app that came out recently. You need to download it and there will be an update to it. Posted via the Android Central App

I thought that was going to be a separate app. Is that not the case? The new Google Wallet app will become the Android Pay app? That doesn't seem to make sense to me.

Me either...so I got the GW app update this AM..I opened the app and tap to pay is still there and active..I'm lost Posted via the Android Central App

The existing Google Wallet app will magically transform into Android Pay (you won't have to do anything for that part). In order for you to continue to do peer-to-peer money transfers or manage your physical Google Wallet card (if you have one), you'll need to download a brand new Google Wallet app (It has a new "W" logo). That app is in the Play Store right now. So you will end up with two apps:
1. Android Pay for payments, rewards, etc.
2. Google Wallet for money transfers and physical Wallet card.

Looks like the new Google Wallet app doesn't support holding your loyalty cards, will Android Pay do that? Because i really liked that within Wallet.

I was wondering the same thing. I don't want to have to look for my loyalty cards.

yes, AP will now handle loyalty cards, etc Posted via the Android Central App

It's a separate app right now called Google Wallet (New)

Ok... Posted via Android Central App

Any word on when this will work with Android Wear, so that I can pay using my Sony SmartWatch 3 (with NFC) as iOS users can pay with their Apple Watches?

Seriously. This is the one really big selling point for the Apple Watch over Android Wear.

What an awkward twist of the wrist...

Yeah I think that's Gear s2 territory. That had that support like Apple plus going beyond Apples coverage as well. Posted via the Android Central App

Scratch my watch? No thank you

majority of the time the transactions don't go through with Apple watch. not sure if its Apple's app or the card holders card. Posted via the Android Central App

I may use this for vending machines. I didn't think u would use it at all but if it's easy it would be nice at work for vending machines on break. Also, do you have to open the app to pay or can you just place your phone onto the payment pad? I think the more seamless and easier the process the more likely it will get used.

Huh. Who knew? Posted via the Android Central App

This new FAQ site is extremely helpful I think. https://www.google.com/wallet/faq/ Posted via the Android Central App

Wake me when they license Samsung pay. Check out the new Nexus! https://youtu.be/u3uFOavLo_w, not a Rick roll

That's the best of all of them.. No nfc required is def the way to go to get the whole mobile payment movement going.

Exactly leaps over all of that juggling. Posted via the Android Central App

The main reason why I like Samsung Pay is due to MST, meaning that way more retail stores accept Samsung Pay compared to Apple Pay and Android Pay. When MST gets onto all other devices, that will be when mobile payment really starts to take off.

I am fine with that. License it. They bought it and I assume the patents. License it out and charge for the hardware. I don't know what 5$ for the element, 2$ for the license, something like that. Times what, 100m cell phones per year? I wouldn't pass it up. Check out the new Nexus! https://youtu.be/u3uFOavLo_w, not a Rick roll

Google should have bought that. I wouldn't be surprised if Google was eyeing that company before Samsung bought it. (Like AT&T getting DirecTV before Google.. Possibly. They were definitely interested in the spectrum they owned. How nice it would have been for everyone to eventually have a new cell carrier that wouldn't play games.) Not anything against Samsung, but I believe that if it was in Google hands it'd probably have a better chance to succeed, unless Samsung is going to put it across platforms and on more phones than just Samsung phones. I hope they do that. Right now I have a Samsung but I probably won't always. Some years I like a Samsung, other years I like a Nexus. Depends on the mood. Posted via the GS6 Active, aka GS6 M.E. (Manly Edition)

So, what exactly did we just gain over how Google wallet has been working? I've been paying with my NFC enabled phones using Google wallet for quite a while. Sounds like the same exact thing except for maybe more carrier support? Is that is? Posted via the Android Central App

Allegedly security is better, and yes more support considering this is rebranded isis

Now they're calling it ISIL

Improved security, more accurate application of rewards points for third-party cards, more carrier support.

The main improvement won't be with NFC payments, which is actually worse because unlike Google Wallet, which would support any debit or credit card, Android Pay requires that the credit or debit card come from an approved issuer. Instead, the main improvement will be that you will be able to use Android Pay to buy things on the Internet. You will be able to use Android Pay to buy goods on any website that supports it, and Google is also working on a feature where if your search results return an item that it being sold by a vendor that supports Android Pay, you will be able to press a "buy" button that will purchase it immediately and have it shipped to the address that you will have on file with Google. So the main differentiator between Android Pay and Google Wallet (as well as Apple Pay and Samsung Pay) is that it is also an API that can be invoked by websites in addition to being a mobile payments application. While Android Pay will likely never match Apple Pay for in-store purchases, it will probably take Apple years to come up with their own version of a web payments API (unless they acqui-hire someone to do it for them). This will also give them a way to get Samsung device owners to use both Samsung Pay and Android Pay. (Samsung will come up with their own web payments API ... well like never.) Galaxy owners and similar would be able to use Samsung Pay in stores and Android Pay online. It is also a way for them to get this functionality on Apple devices. Even if Apple would list the app in the App Store, Apple blocks Android Pay from access to the NFC chip (for "security" reasons of course.) But Google could release a stripped down version of the app that would still work for online purchases. Again, Apple Pay when for brick and mortar commerce, Android Pay when impulse buying from results served up by Google searches. It is a way to be a differentiator (at least in the short term) but especially to drive more usage of their payments solution, which has been terrible even after all the attention given to mobile payments due to Apple Pay.

I'm very glad they didn't start using the Apple Pay model, where each bank must get on board before their customers can use it. I like my small, local bank. Posted via the Android Central App

Is the technology that allows Samsung Pay to work without NFC owned by Samsung? Could that technology be added to Android Pay? Also, will Samsung pay be available to any phone or is it Samsung phones only? Also, as more and more companies switch to credit card terminals that require you to place a chipped card inside will the Samsung Pay stop working on those terminals since you are required to use the mag stripe reader thing?

Yes Samsung owns the mst technology. They bought loop pay which developed it. Samsung pay works with NFC as well... Posted via the Android Central App

Surely Android Pay is coming to the UK eventually right? Posted via the Android Central App via My Nexus 6

No ....only refugees are coming to the uk... Posted via the Android Central App

Sir, you made me laugh uncontrollably.

Nah we already have those lol. Posted via the Android Central App via My Nexus 6

So I was able to add my Visa card, but I have Chase Bank. Will my transactions work still? They aren't one of the early adopters it seems, still not sure.

Read the article!!!!!!! It explains everything! Posted via the Android Central App

Meh, I'll stick to my chip and PIN credit card in my wallet that's always with me (can't say the same about my phone). IMHO, it's also easier, no need for all the complexities of a smartphone. :)

How is it different from Google wallet that I have Using it for the past 5yrs. Posted via the Android Central App

It isn't by any larger margin. I actually like Google Wallet, but Android Pay is an absolute piece of junk, They made it so bad, I deinstalled it, and Google Wallet. Screw google for screwing over it's loyal customers. First, you separate the actual cards and loyalty cards. So now I have to have two apps(Android Pay and Wallet), instead of one(Wallet). I understand Google had to make some changes at banks behest, but this could have been handled in the back end. Second, if you have a rooted phone, you can't install it while it is rooted. Simple work around, but unneeded when Wallet worked just fine. Third, why MUST my phone have a lock on it to use Android Pay? Wallet worked just fine with asking me for a PIN when I used it. Totally not needed. This is a classic example of fixing something that ain't broke. They have made the payment app intolerable for me, and I will be deinstalling Wallet and if possible Android Pay, or minimum disabling it. It is a terrible app at this point, and its restrictions are deal breakers for me, and IMO render the pointless to the point of being total crap. I can use my credit debit card just like any other normal person.

I don't like where Google is going with this... Why have two apps when one was just fine for both contactless payment and sending/receiving money? It seems Samsung pay will take the cake for me at least, since I don't send money (occasionally use PayPal). The panda has spoken

In Australia, I use my banks app for this function. Trust my bank more than Google when it comes to payments. dreaming of electric sheep

APK is now available. http://www.apkmirror.com/apk/google-inc/wallet/android-pay-1-0-102576552...

I assume everyone reading AC is intelligent enough not to do this.

Ummm that is from Android Police, and signed by Google. Posted via the Android Central App

Don't care. You don't download and install from a site like that. Period. Check out the new Nexus! https://youtu.be/u3uFOavLo_w, not a Rick roll

Yes, you do...when it's a trusted site like AP and they are scanned and signed. Posted via the Android Central App

If you're the impatient type. Otherwise, stick to the Play Store.

Yes anyone can do this. It is only an apk download and install. This needs play services 8.1.13 which can also be downloaded from apk mirror. Posted via the Android Central App

Or how about until it is on a trusted site.. You know the play store, instead of a untrustworthy source? Check out the new Nexus! https://youtu.be/u3uFOavLo_w, not a Rick roll

Untrustworthy source?
Are you joking?

I'm just waiting to get the Android Pay app to replace the old Wallet Icon. My bank is PNC and my credit cards are AMEX and CaptialOne, so I'll be set to start using this and keep my wallet in my pocket!

I wonder if this will EVER come to Australia.. Just like the native Tap and Pay feature introduced in KitKat was (and still is) just a waste of menu space in settings for me.. Sony Xperia Z2
Nvidia Sheild
Xperia Z3 Tablet Compact

So I installed. Android Pay forces me to have a pin, pattern, or password lock screen and will not work with fingerprint on my S5. What gives? I hope Samsung pay will work with all my cards and where I shop, Android Pay will be deleted when Samsung Pay comes out unless they support fingerprints soon. Posted via the Android Central App

The old Google Wallet had a password, but only when you were ready to use it. No need for a password on the device itself. I guess this is a way to make it more secure, but I'm not very thrilled with it. Not sure I'll continue to use. Posted via Android Central App

Fingerprint scanners are not supported until marshmallow.

The Nexus 2015 phones will have fingerprint scanners so in all probability.... On supported Galaxy devices having both Samsung and Android Pay is the way to go for now

I am glad to see that the update is finally hitting some people. I can't friggin' wait for it myself. I've been using Wallet since it came out and I love it when it works. I've had too many credit card number compromised at establishments, and I hate surrendering my card when starting a tab. I now refuse to do it. Hopefully Google will market Android Pay more aggressively, and more merchants will start supporting it. Many merchants have upgraded their POS terminals to support "chip and sign" and they have the NFC reader in them too, but they haven't turned them on. Yes I'm talking to you Best Buy and Kroger. The next step is to get personal finance software to import transactions from the app.

Best Buy, CVS, and a bunch of others have turned it off, will this be any different so that it will work at these places?

Those of you with Samsung devices, how is Samsung pay? Android Pay sucks, I can use fingerprint lock so it erased all my card info. I'm hoping since Samsung started the fingerprints on Android it supports fingerprint unlock. Those in the beta can you confirm? Posted via the Android Central App

Samsung Pay is great since it works almost anywhere. It's great seeing the cashiers saying "We don't take that here, our machine isn't set up for it" and then you put your phone to the card reader and a receipt starts printing. It's priceless, but yeah Android pay will suck. Posted via the Android Central App

I'm excited about this because apple never worked for me plus I loved follicle wallet. Posted via the Android Central App

TL;DR A re-marketing scheme to have Android Pay next to any sign with Apple Pay. Google Wallet is now just an app to handle transfers and maintain the Google Wallet MasterCard, not tap-to-pay.

Let's see if Google recognise other countries. Posted via Moto X Play

I tried download Google Wallet (New) on the Play Store and it says it's not available in my country. How ridiculous. Posted via the Android Central App via My Nexus 6

I am really annoyed by the press on this. The BBC says Google is going to take on Apple... erm... Google has been doing mobile based payments for years.

I hate that. I guess across the pond the media has apple bias as well.

Its not actually rolling out today.. Its "in the coming weeks" according to Google themselves... Posted via the Android Central App

I see the same Google Wallet failure all over again. This time Google can't blame OEMs I was able to use Wallet yesterday on my CM12 phone and now I can't with Android pay. Go figure

Damn it Google! Why do you insist on making everything so complicated. Google Wallet/Google Wallet (NEW)/Android Pay. You need to centralize the movement of money for the end user. What incompetent product manager is making these decisions?

So, I got the Android pay update today. Was excited about it. Then it tells me my debit card isn't supported. How the hell is a huge bank lik3 Chase not supported???? So disappointed right now Posted via the Android Central App

What about the UK! It would be nice if it was introduced to the UK, but I feel that if it is EVER introduced it will be ages till it does happen!!

Sweet! Now I can pay using my OnePlus 2! Oh wait...

I keep getting: "An unexpected error occurred. Please try again later." when I try to add a card. Is anyone else getting this? Posted via the Android Central App

I got this error when I was using the wrong version of the Google Play Services. I began using the Google 8.1....248 instead of the 8.1.....236. It worked like a charm after that. Posted via the Android Central App

Great! Now not only can Google track your every move location wise, every search or thing you're interested in, but they can track your every purchase and sell this information to the NSA. I guess swiping a credit card the "old fashioned way" is just getting too strenuous on the wrists. :-p I also like how some of the local shops give discounts if you pay cash.

Will be worldwide launch same as apple pay Posted via the Android Central App

Splitting wallet into two apps was a bad move. Now I need two apps, to do what a single app would do perfectly. But, android pay won't even let us use our loyalty cards without a lock screen pin/password/pattern lock. Doesn't work with lg knock code, or fingerprint scanners. For something they claim is to simplify usage, they sure are making it more complicated. Let me change my convenient, constant phone access through knock code, just for an app I might use once or twice a week. Ridiculous. They need to pin lock just the app, the way wallet has always been. So, either carry all my cards around again, or find a better app to use.

Does not want to work on my M preview/Nexus 5... Says: Google if unable to verify that your device out software running on it is compatible. Anyone else? Posted via the Android Central App

I like many other had to go back to Android 5.1.1 from the M Preview 3 in order to get Android pay to work on my Nexus 6. I have a few supported credit cards but only added one. After a Play Services update the Android Pay Apk installation went smoothly. Tested Android Pay at Walgreens.The icons have changed from Wallet to Android Pay at the bottom right corner of the Walgeens checkout screen

When will this be coming to the UK? Posted via the Android Central App

Sorry everyone but there is no way I would trust this or another pay app on my droid phone. With all the data mining that goes on with app devs via Android are you kidding me?! I'll get a BlackBerry for that or just use the good old bank card. Posted via the Android Central App

It's interesting how most of your comments here you have a different phone constantly, galaxy s5, note 4, passport, z10...all in only 8 months. But, over on crackberry, you have a z10 in every single comment you make, for over a year. I'm guessing you're just here attempting to troll with your blackberry love, and don't even have an android phone. My friend's and I have all used wallet for over 3yrs, no data mining. Or, as you're attempting to imply, no stolen cards or identity theft. Stop trying to spread lies and your own biased hate.

get big brother to handle your money ..?
Android Central Newsletter
Get the best of Android Central in in your inbox, every day!
Thank you for signing up to Android Central. You will receive a verification email shortly.
There was a problem. Please refresh the page and try again.