When will Android 7.0 Nougat be released?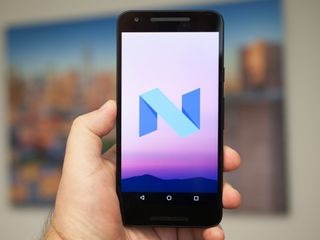 Update: Looking like it's gonna be August 22! Read More
For about as long as Android has existed, a major new platform version has dropped every fall. And starting with 2014's Lollipop release, Google has preceded that with developer preview builds designed to help devs get their apps ready for new Android releases. This year, that process kicked off a couple of months earlier than expected, with an initial Android 7.0 Nougat preview (then just called "Android N") in early March.
That's one of the many signs pointing to a slightly earlier release of Nougat than in years past. So when exactly will the next version be finalized by Google and unleashed as a stable release? And when will we learn the version number of the next version of Android? Well, Google's timetable offers a few clues.
Above is Google's official dev preview timeline for Android Nougat, which it has stuck to in the months since the first Nougat preview. Right now we have Developer Preview 4, with final APIs and the ability to target Nougat on Google Play. Next up is a "near-final" system image for "final testing."
Update: Android N was revealed to be "Nougat" on June 30, 2016. Not Neapolitan. Not Nutella. Not Namey McNameface. As for the version number, it's officially Android 7.0.
Google's roadmap is less specific about when the final "stable" version of Android Nougat will be released to developers and Nexus devices, offering only a vague "Q3" window. That all but guarantees a launch before the end of September, but we wouldn't be surprised if, given the timing of the "near final" dev preview 5 in July, we saw something in mid-to-late August.
As in years past, any new Nexus handsets would likely arrive alongside the final release of Nougat, whether it comes in August or September. This year, rumors are swirling around the possibility of a duo of HTC-made Nexus phones. There's also a strong case for Huawei making a Nexus tablet this year.
When do you think Android Nougat will eventually arrive? What about future Nexus phones and tablets? Shout out in the comments and share your thoughts!
Alex was with Android Central for over a decade, producing written and video content for the site, and served as global Executive Editor from 2016 to 2022.
Hopefully not until it is ready. I'd rather they get it right than release it because they have a date in mind.

Agreed, but the beta is already pretty stable, even more so than the Lollipop and Marshmallow betas were around this time in their schedule.

My Nexus 6 struggle a little bit... I hope a reset will help

My nexus 6 running the latest developer beta doesn't have any trouble its better then I was on 6.0.1 Posted via the Android Central App

I would check if any specific apps are causing issues. Mine ran fine. Posted via the Android Central App

Wakelocks and Memoryleaks incoming

No issues at all here. Over one month on the dev preview. Posted via the AC App on my Nexus 6P

It'll drop, then 6 months later we'll get an article stating that it's on
.001% of all androids Posted via the Android Central App

Sadly, this Posted via the Android Central App

Sir you forgot two 0's it's .00001 in 6 months after release. That's the only thing I hate about Android. Well not the only thing but it's the one that irks me the most. Sent via Tandy Color Computer
-----------------------------------------------
before you see the light, you have to deal with the darkness

If you expect something different then you don't understand how Android works. Get on that Nexus train if it bothers you that much.

Oh i understand "how it works"
Not a nexus fan.... Sent via Tandy Color Computer
-----------------------------------------------
before you see the light, you have to deal with the darkness

Then don't complain about complain to those companies its who can't release the next versions like Samsung and LG because of their bloat ware and excessive amounts t of phones and tablets they have where they dont know how to update their software in a timely manner. NEXUS ALL THE WAY! Posted via the Android Central App

NEXUS ALL THE WAY type of thinking isn't good for Android as a platform. You and me prefer it but OEMS have made Android what it is today. For better or worse depending on who you ask. Posted from my cracked Nexus 6/Nexus 7 2013/Surface Pro 3

It's just that Nexus don't add bloat that causes issues of all kinds. And it gets updates straight from Google very month I believe it is. So runs smooth and reg updates... with others like Samsung you gotta deal with their problem causing bloatwares and beg for updates. If other phones didn't add bloat they'd run alot better so it's kinda like what ya mean??

Why all butthurt if I complain about slow updates to other oems. Other then nexus Sent via Tandy Color Computer
-----------------------------------------------
before you see the light, you have to deal with the darkness

Lol you're barking up the wrong tree. Posted from my cracked Nexus 6/Nexus 7 2013/Surface Pro 3

Thx for the correction Posted via the Android Central App

Hopefully there will be a new Nexus 7 to accompany the N release

I'm not holding my breath, but there have been early rumors of a Huawei Nexus 7P http://www.androidcentral.com/case-nexus-7p

I'll get it when I buy a galaxy S8 next year. Doubt my S7 will have it before then. Posted via the Android Central App

The S7 will start getting N within a month or two of the code being released. Samsung keeps their flagships up to date. It certainly will have it by February or March of next year when the S8 is released.

I am thinking Android N will be in OEM hands (mid August) well before the new Nexus phones are available. Google would really like to shorten the 4-6 month wait for new Android version updates to OEM phones.

The faster Google moves, the more behind ppl and OEMS will be. Posted from my cracked Nexus 6/Nexus 7 2013/Surface Pro 3

What? In the past, the final version of a new Android release was available to OEMs around the same time the new NEXUS phones were available. I suspect OEMs will have Android N possibly a full two months before the new Nexus phones are released. This will give OEMs a head start on getting their phone updates ready NOT put them more behind.

Android 6.0.1. Is very stable. I'm in no rush try something else. Rodeo time, time to get er on down the road.

There better be a sweet sale on the 6P over the Fourth of July, otherwise I'll wait for the 7.. Posted via the Android Central App

This is a good name.. Napoleon Posted via the Android Central App

I prefer that over nutella Posted via the Android Central App

There's no way it'll be Nutella. Google has been blatantly teasing Nutella which all but rules it out if you follow Google. Posted via the Android Central App

I think they need to name it this
"nephelococcygia"... it just rolls off the tongue. Sent via Tandy Color Computer
-----------------------------------------------
before you see the light, you have to deal with the darkness

The bug droid would certainly look better dressed up as Napoleon than as a pile of Nutella with antennae. Or Nutennae!

Nutter Butter, love those things Posted via the Android Central App

I would be a huge fan of Nestlé Posted via some random piece of tech.. (The culprit usually being a Nexus 6P)

7 already? There wasn't even a minor version for 6, except for 6.0.1 ...

Android suggestions I made.. I'm hoping for Nexal Naissance: new development; birth. Naissant: nascent, rising or coming forth. Nidus: place where something originates or develops; nest Nexal: of or pertaining to a nexus :P Noesis: intellectual activity; purely intellectual perception Nupson: simpleton, fool Posted via the Android Central App

Neapolitan should be the name. It fits with the Android logo of, "Be together, not the same." I don't think they would use it because Neapolitan would refer back to ice cream. Posted via the Android Central App

I'm so stoked it's earlier this year, I'm jonesning for a new phone bigtime

Running Developer Preview 4 on my Nexus 6p. (I'm not a developer, just a basic user.) On my device it's running almost perfectly. As has been the case, Microsoft apps won't install or update, but that's for Microsoft to fix. If I was able to pick the name I'd probably go with Nerds. I'm especially loving the enhanced Doze and replies from notifications. The reply feature is something that should've been a native features several versions ago. For Nexus owners at least I doubt there will be any major glitches.

Is it 'nuget' or 'nooget'? I say nooget! LOL
Android Central Newsletter
Get the best of Android Central in in your inbox, every day!
Thank you for signing up to Android Central. You will receive a verification email shortly.
There was a problem. Please refresh the page and try again.