Android Messages is now getting Allo-style Google Assistant integration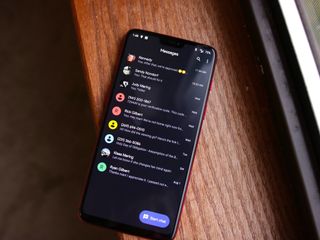 (Image credit: Android Central)
Allo is going away early next month, but Google is looking to preserve some of its core features. At Mobile World Congress the search giant announced that its RCS-enabled messaging client Android Messages is picking up Google Assistant integration.
Assistant will start showing suggested recommendations around movies, restaurants, and the weather in one-on-one or group chats.
Google was quick to point out that Messages will rely on on-device AI to offer contextual suggestions, with information going out to Google's servers only when you hit a link within the recommendations. Even then, the company will only see information pertinent to the suggestion, and not the conversation itself. You'll also be able to call up Assistant at any point with a long press of the home button within Messages.
As for when you'll be able to use the feature, Google says the integration will go live for English users around the globe over the coming months. Google never got any momentum with Allo — which is why the app is going away — but the company has been steadily adding features to Messages to transform it into a viable replacement. Messages picked up a dark theme, and a spam protection feature at the end of 2018, and the Assistant integration should go a long way in turning the service into a robust messaging platform.
Do you use Android Messages regularly? What do you make of the upcoming Assistant integration?
Harish Jonnalagadda is a Senior Editor overseeing Asia at Android Central. He leads the site's coverage of Chinese phone brands, contributing to reviews, features, and buying guides. He also writes about storage servers, audio products, and the semiconductor industry. Contact him on Twitter at @chunkynerd.
Still needs more to win me back. I need more customization within conversations.

As long as RCS isn't supported internationally by more providers, I would prefer to still use Allo instead of Messages. As it stands now, I will have to pay for each international SMS again instead of being able to send a quick and free message using Allo. Of course, most people will simply use WhatsApp but I don't like that so Google is actively discouraging me from using its app and making me pay (which I refuse to do)

I REALLY wish Allo would support SMS and not be killed off. I liked Allo and it could have been our iMessages.

Same, Allo with fallback to SMS (a la iMessage) would have been great for me. I already had the entire family on Allo and had to move to an alternative. :(

For my regular texting, I use Samsung Messages. The one feature that Google keeps ignoring is scheduled messages. I've gotten very used to finding something in the middle of the night, and then sending it by text, scheduled at an appropriate time.

I love that option as well. I work nights and if I want to send my wife a message at the time she wakes up or she can send me a message to pop up while she sleeps.

For me Android messages is the closest thing to iMessage for Android and is my choice of messaging app so I'm fine with them adding features from Allo even though I've never used Allo lol.

Glad to have you back (!)

Excellent news! Used GA in Allo. Works well.

"Google never got any momentum with Allo..."
Somehow, I don't think Google wanted any momentum with Allo. But I sure wanted it.

It's interesting that you completely ignore the world outside USA.
SMS is dead for almost anywhere in the world. There is a thing called "Messaging". WhatsApp, Line, Viper, Kik, Telegram ... you name it. It's all free of charge to send a message. And what wonder you can even do things you can't with SMS.
Audio, video, files, voice recordings, and photos in awesome resolutions. I say SMS on purpose. There are not much carriers that use RCS at all. In my area, carriers even stopped usage of RCS about 2 years ago, because nobody cares.
Google replaces anything with "Android Messages" is a throwback to the digital stone age if you don't have RCS. And even with that: No end to end encryption possible with RCS.
Google need to make a fallback (and for almost anyone outside the USA the standard) chat server that relays multimedia stuff over Google-servers so that you can use it in any case. Using RCS when available, using Google if not.
I can't believe it that in fact in Europe it means Google is taking away modern messaging and trying to replace it with SMS. Well, or Google gave up. Everyone there seems to use WhatsApp, while in Japan 62% using Line Messenger (62% of all people, not market share. I'll guess it's somewhere in the 90% market share).
This is outrageous and shows that Google and messaging don't go together well.
But well it "picked up a dark theme". So everything is good, I'll guess.

SMS is still very important in North America (specifically Canada for me) as data services are still quite pricey here. All those other messaging services depend on Data/WIFI where SMS doesn't. My kids don't have data since I don't feel like paying $90/mth for a 1GB standalone plan. Even a shared plan costs a minimum of around $50/mth for additional devices.

SMS is still a thing and they seem to be working towards an imessage type of solution. Advancing features here doesn't uninstall WhatsApp or any other messaging apps, so I'm not sure what harm is being done to you here.

Can't they just integrate Hangouts with Messages and let it be the platform for any type of chat? 'Hangouts' chat when Google account is present/active, RCS when no G account is present and SMS/Text when RCS is not available either. This way it's a nice iMessage alternative for Android people. Hell, we can have 3 colours of chat backgrounds (instead of the 2 blue/green in iMessage).

Loved Allo. Used Messages for a while and am now reasonably happy with Signal; especially its security. I do miss the rich features of Allo though.

All I want is the ability to schedule sending messages in the future in Messages.

They really do ignore this simple, but useful feature.

I've been using Messages for years (since it was Google Messenger or whatever)...
I can't wait for full RCS compatibility. The two things I wish it did are; Scheduled messages and (and I know this probably isn't theirs to fix) a way to process Apple users liking and loving messages so that it didn't just prepend and duplicate messages.

> Android Messages is "now" getting Allo-style Google Assistant integration Now or in a few months? Looks like your goal to fill the clickbait void that Forbes had decided to leave behind.

Yeah.. But what about RCS? They announced it so long ago 😒

I went to start using Signal finally. Google keep letting me down with their messaging fuckery, allo and hangouts going away. I got tired of trying to recruit friends to each new messaging platform.

I've been using Allo regularly since it came out.
The "whisper SHOUT" feature is NEEDED. I don't know why it's not getting the attention it needs. The ability to resize text with a swipe makes a HUUUUUGE difference in how you text. No matter what you do, Google, PLEASE put whisper-shout into messages.

You can't even custom color your contacts anymore, they removed it. Until they add in some form of customization, I'll stick with Textra, which has got it all over them in that regard.
Android Central Newsletter
Thank you for signing up to Android Central. You will receive a verification email shortly.
There was a problem. Please refresh the page and try again.