Android developers invited to take part in 'BlackBerry 10 Last Chance Port-a-thon' this weekend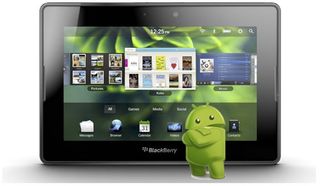 Porting and running Android applications on BlackBerry hardware is nothing new. Since the inclusion of an Android App Player in PlayBook OS 2.0, Android developers have had an additional outlet to which they can distribute their creations with minimal time and effort. Indeed, we first got our Android eye on things a little under a year ago at BlackBerry Devcon Europe.
Things in the BlackBerry camp are starting to kick up through the gears of late -- they're having some kind of launch, if you hadn't heard -- and the final push to have apps on BlackBerry 10 at launch is upon us. Having held 2 previous "port-a-thons," the folks at RIM reached out to us with word of the final app-porting event before the big launch. All kinds of app developers are invited to take part, including of course Android developers.
There's cash up for grabs for those taking part too, with no need to wait until users start buying your BlackBerry 10 apps after launch. Each approved app will net the developer a cool $100, up to a maximum of 20 apps. So, if you've a whole portfolio of Android apps to port across, by our math that's a cool $2000 you could make this weekend. Not bad. Not to mention the repeated promises of success for app vendors on the BlackBerry platform.
Additionally, everyone who submits 5 or more approved apps will be entered into a random draw to stand a chance at receiving one of 250 limited edition BlackBerry 10 devices. One entry is received for the first 5 apps, with an additional entry for each subsequent approved app.
To register for the "BlackBerry 10 Last Chance Port-a-thon" hit up the link below where you'll find everything you need to know. There's a few steps to take ahead of time, such as requesting signing keys and register as a vendor for BlackBerry World.
BlackBerry 10 will launch to the world on Jan. 30. Our sister site, Crackberry, is all over it as only they can -- to the point they have a launch campaign headquarters -- so you're going to want to keep it locked there in the coming weeks.
More: Register for BlackBerry 10 Port-a-thon, Crackberry
Android Central Newsletter
Get instant access to breaking news, the hottest reviews, great deals and helpful tips
Wow Blackberry, this is low down, but I like it.

AndroidCentral, you guys are supposed to be promoting Android...

As an android developer, I appreciate this post of theirs. I imagine that's why they did this. They aren't supposed to be promoting android. They generally post content that interests them and they feel will interest other android fans.

How is this not promoting Android? The PlayBook OS contains an Android app player. Simple as that. Many apps actually run without a true "porting" exercise. Just submit the app .apk file for conversion online to a .bar file and voila it runs on PlayBook. Not all APIs are supported but thousands of apps run without modification. I find PlayBook runs some Android apps better than my daughters Galaxy.

The PlayBook's emulator is Gingerbread based and unless your daughter has the original Galaxy - it's unlikely to be the case it runs better on a PlayBook than anything from GSII up, never mind that apps that were made with Android NDK won't work at all.

Problem is does it make it worth a large Developer like EA spending the time for 100$ per game?
IMO not when they already need to worry about the several iOS SKU's, standard Android as well as its several forked versions (Amazon, Nook & Kobo) all which need their own time.

This isn't just for the PlayBook guys. It can be included on the new BB10 platform too. And that will reach way more people than the PlayBook ever did.
Android Central Newsletter
Get instant access to breaking news, the hottest reviews, great deals and helpful tips
Thank you for signing up to Android Central. You will receive a verification email shortly.
There was a problem. Please refresh the page and try again.