Android App Review: Smartr Contacts Beta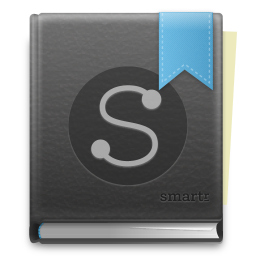 Sometimes your contact list just gets large. It happened to me and I'm still not quite sure how. You get an email here, exchange some business cards, and boom, before you know it, your contact list is overflowing with people. If you're struggling to keep track of all your contacts and are interested in how you stay in touch with them, Xobni's new Smartr Contacts is the app for you.
Upon opening Smartr Contacts, you're asked to either log in or sign up. Once you've done that, you can move to the account linking process. Essentially, Smartr Contacts pulls contact and calendar information from your Google account, sorts everyone, adds a picture to their profile, and tries to make sense of why you've contacted them in the first place.
You can also log in to social media sites like Facebook, Twitter, and LinkedIn to see more detailed information about your contacts. Otherwise, you're limited to three of the four tabs available whenever you choose a contact.
The details tab will show you all of the different contact methods you have with a particular contact. If you only have their email, that's all you see. If you've got their email and a few phone numbers, that's what you'll see. Details is basically the standard contact information.
History is perhaps the most interesting of the four, showing you how many times you contacted this person, when your initial contact was, and what the subject was. Additionally, a list of emails, calls, and text messages details your timeline with this person, starting with most recent.
The common tab shows you what people you've got in common. If you email a colleague often and this colleague works with other people you know, they'll show up here. Otherwise, it'll either be empty or have you (if you keep yourself in your address book).
If you slide the screen once to the right you'll see your Google Calendar events. Smartr Contacts will put a profile picture (of your contact) on any event you're going to that another one of your contacts is going to. It's kind of cool, if you don't mind going into this app to see your calendar.
Smartr Contacts can also show you who your top contacts are, in case you didn't already have some idea. You can see top 10, 40, 100, or 200+ and email, call, or text anyone straight from this menu.
Smartr Contacts Beta is free in the Android Market, so if you're itching to know more about your contacts than you ever wish you had, we've got download links and more pictures after the break.
Android Central Newsletter
Get instant access to breaking news, the hottest reviews, great deals and helpful tips
I wasn't impressed. If it could access my corporate sync contacts then it would be great, as it is now it's useless to me. For corporate Sync you have to pay the "Pro price". I uninstalled this after a day

Joshua, Just checking--You and Jerry cool with your gmail addresses being shown here?

If this actually collected and updated my Google Contacts with proper social-media collected data, then I might be interested. I am running it now and it just isn't clicking with me very well.

I gave this a try. Twice. Both times it drained half of my battery with its constant syncing. Not sure what was going on, or whether it just wasn't compatible with my bionic, but I got rid of it. Just wasn't impressed.

I like it. I use xobni on my outlook and the thing I like about it is now I have every body who I have sent mail to or received mail from email address. I do not put most people in my contacts so they do not get clogged up but this gets me all of the people I need to send mail to like in xobni.

I didn't like it. It would "connect" me with people who were cc'd in a email I received. Those are not contacts of mine, why are they showing as such? Nice UI but there are better contact apps out on the Market.

I tried it too and wasn't blown away. After pondering a few days I think I figured out why. I'm happy with the way my contacts work already. I run CM7 and have everything I need(I'm a normal dude, no corporate contacts or anything) sync'd up through google. It was a cool application though. I imagine if I was unhappy with my current solution it would be excellent, but being already happy with my setup, it just wasn't "awesome".

I downloaded Smartr and everything seemed to be fine. I exited the app, then tried to log back in several minutes later to make some adjustments. An error message appeared and told me to try again later. Wrong thing to tell me! I uninstalled it immediately.
Android Central Newsletter
Get instant access to breaking news, the hottest reviews, great deals and helpful tips
Thank you for signing up to Android Central. You will receive a verification email shortly.
There was a problem. Please refresh the page and try again.