The top Android airline apps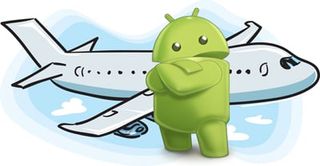 Whether you're always on the go, or are just an occasional traveler, having the correct application on your device can change the whole experience of the travel. Keeping up to date with real time flight information, maps of the airport, and even weather of the city you are traveling to are features that are found in various airline applications in the Android market. Let's hit the jump to check out some of the various airline applications from around the world.
United States airlines | European airlines | Asian airlines
United States carriers
American Airlines
Check in, view flight status, play mobile Sudoko all while having the luxury of an electronic boarding pass. [Market Link]
Delta Air Lines
View Skymiles bonus and status, check in to flights, view schedules, check airport weather and take your electronic boarding pass in your hand. [Market Link]
Southwest Airlines
Review flight schedules, manage rental car reservations, check in, and manage your rapid rewards while on the go. [Market Link]
Continental Airlines
View airport maps, check in, select seat, keep track of your one pass, and push notifications for your flight status [Market Link]
European carriers
Lufthansa Airlines
View departures and arrivals, check flight status and carry all your personal trip information on the go. [Market Link]
British Airways
Easy access to flight information, boarding passes, executive club details and also offers a handy widget for your home screen. [Market Link]
Air France
Purchase tickets, check into flights, view up to the minute status, and manage Flying Blue Miles balances. [Market Link]
Asian carriers
China Airlines
View flight schedules, check latest promotions, electronic check in and more, all in Chinese. [Market Link]
Singapore Airlines
Select seats, check in, view statements, and extend expiring miles right from your device. [Market Link]
Malaysia Airlines
View upcoming flights and trips, edit your profile, and keep electronic boarding pass with you at all times. [Market Link]
Japan Airlines International
Display vacancies on upcoming flights, purchase tickets, and get real time information about flights. [Market Link]
Korean Air
Take a sound tour, view flight status and schedules, check itinerary, and view limo reservations. [Market Link]
We miss your favorite? Sing out in the comments and it shall be added!
Jared started off writing about mobile phones back when BlackBerry ruled the market, and Windows Mobile was kinda cool. Now, with a family, mortgage and other responsibilities he has no choice but to look for the best deals, and he's here to share them with you.
These are great, but flight track is the essential app for any frequent traveler.

I love flight track as well but man when is Jetblue releasing an app. I've been patiently waiting for months and every other major carrier has one. It's kinda weird cause Jetblue is pretty progressive usually as far as airlines go.

I travel weekly and Flight Track is a must-have!

I use Flightview, lets me add my scheduled flight and remind me if I ever forget the times and flight #.

These are great, thank you. Flight Track is also good. I use WorldMate, invaluable for a frequent airline traveler.

Slightly off-topic BUT very closely related... Chiming in as a frequent traveler, I have found TripIt to be incredibly helpful - ALL travel itinerary information in one place with a very simple interface. For air, hotel, and rental, you simply forward your email confirmation and TripIt compiles it into a comprehensive plan (it supports multiple trips). I love landing in the airport, getting in my rental car - telling the attendant "No thanks, I do not need directions" - and simply clicking on the hotel (or other destination) in order to launch Google Navigator for turn-by-turn directions. It has only very rarely failed me (but then I have full access to the internet on my DINC as a backuup). Of course, you guys probably already know this (I learned about TripIt right here on A.C. -- thanks!!!). FWIW: I use the FREE version, which does everything I view as essential for my trips. The paid version has features that I don't envision using (I don't want a third-party having access to all my reward accounts) or features that I can obtain using other programs. That said, as I approach a full six months of using this app and benefiting greatly from it, I will probably buy the full version as a way to support the developers (I have yet to buy an app in the market as I haven't found a indispensable app that wasn't free--this would be a worthy first purchase). In the meantime, I'll simply chime in with this glowing review...come to think of it, I probably should copy and paste this in the Market comments.

Just went to both the Market and AppBrain to paste my reviews. Both insist that I install the application first before leaving a review. Fail somewhere in the market or my use of the market, as I obviously already have it installed. :)

is there anyway to get the APK's for these? i don't want to have all these apps installed to be used a couple times a year.

You could try using Astro. Install the program but don't move it to SD. Then back it up using Astro-menu-tools-backup. This saves the APK to your sd card. You can then un-install the program and re-install from the backup when you want to use it.

I was unaware of that feature of ASTRO. Awesome. thanks! does the phone have to be rooted for that? also, will it back up stuff that has been moved to the SD?

+1 for Tripit. I use tripit pro just for the integration it offers with Flight Track. With both of these working you have superb information on your trips and active flight info.
As petafeiner above states you just forward your confirmations to tripit and it parses out the details of your trip. But it is even easier than that sounds if you give it access to your gmail (yeah yeah I know), then they will automatically forward emails from anything that is a known travel confirmation. So great.
Android Central Newsletter
Thank you for signing up to Android Central. You will receive a verification email shortly.
There was a problem. Please refresh the page and try again.