Android 7.1.2 is now available for Pixel and Nexus devices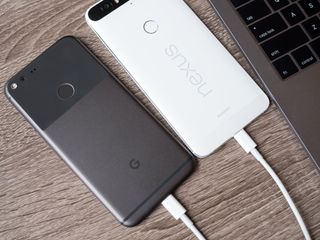 As predicted, and after beginning on tablets, Android 7.1.2 is now available for select Nexus devices, as well as Google's Pixel series. The update has gone through two beta iterations before reaching this point, and the final version brings a number of minor improvements to compatible phones and tablets, including bug fixes and speed optimizations, as well as enhancements for carrier-specific features.
Builds are available for the Pixel and XL, the Pixel C, Nexus 5X, Nexus 6P and Nexus Player; the Nexus 6 and Nexus 9 have reached end-of-life and will stay on Android 7.1.1.
The builds range from versions N2G47E and N2G47J on the Pixels to N2G47D on the Pixel C, N2G47F on the Nexus 5X and N2G47H on the Nexus 6P and Nexus Player.
Android 7.1.2 is available as an over-the-air update for people already running 7.1.1, or as a factory image for people who want to install over an older version or who want to completely start from scratch. In that case, we have the perfect guide for you.
How to install Android 7.1.2 on your Nexus or Pixel right now
The update also brings April's security bulletin for Pixel, Nexus and other devices.
Daniel Bader was a former Android Central Editor-in-Chief and Executive Editor for iMore and Windows Central.
Any feature changes in .2?

Adds powered by Android to the Google Start Splash screen on the Pixel XL.
I had no idea until 7.1.2 that my pixel was powered by android, so thanks Google so clarifying that.

Downloading my 7.1.2 update OTA on my 6P. As for the Nexus 6, wasn't there a recent downgrade to 7.0? Did it get an update back to 7.1.1 since?

Wrong. At least for mine. Downgraded to 7.0 recently and it runs like crap.

My Nexus 6 is on 7.1.1, and it's smooth as butter.
Which Nexus 6 do you have, mine is the Google one, not the carrier one.

Callers hear ringing when I speak with them over the speakerphone. End of life came too soon for this device. Came over because I'd get these updates, so this really bites.

Done, Pixel XL. Like another poster, I'm very glad 😁, to finally know not only who, but what, my phone is powered by.

It has a different splash screen than the most recent Nexus devices?

Got it on my Nexus 5X, don't see a difference.

Same with my 5x and if you're talking about the launcher was told by Google that only the Pixel C will get the Pixel Launcher and the Nexus devices stay with Google Now as the default launcher.

I know that the we are not getting the Pixel launcher. Was just wondering what the 7.1.2 brought that was not already in 7.1.1.

I haven't gotten my update yet, but I think for the 5X and 6P, it brings the finger print gestures like swipe down to bring down the notifications (I believe you have to enable it in settings though)

Yup. I have had it for a day now and I can confirm that the fingerprint notification swipe works on the Nexus 6p after update.

Do you spoze it fixed the Bluetooth car integration issues introduced two releases ago?

Just got it as an OTA update on my 6p. Haven't seen anything new yet but I'm glad to now have the April security update. I also hope that it continues to easily pair with my car via Bluetooth. I worked with Google a few dot releases ago to get that problem resolved. Since then, it pairs quickly and reliably.

Loving the fingerprint swipe down for notifications on my Nexus 6p

Should this feature be available on the 5x and if so what can it do?

Yes the 5x will get the feature with this new update as well. With it you can swipe your finger down on the finger print that's on the back of the device to bring down the notification panel and swipe down again to bring down the quick settings toggle, and then you can swipe up to close it. (I'm not sure if the feature Comes enabled with the new update, you might have to enable it in settings>moves)

It did need to be activated and it does what you said . . . Thanks

It's under settings/moves, it's the first one on the list, it's available with 7.1.2.

Nice. I have it on my 6p.

I hope the battery drainage issue is fix as well.

early days yet but it seems to be better.

NPG47I is eating my 6P battery like crazy (>1%/min).

This Android 7.0 will come Nexus 7 also?

No it won't, I have the Nexus 7/2013, the last update it will get is 6.1.1. Here is the list of Google Nexus and Pixel factory images, you can keep checking for updates.
https://developers.google.com/android/images

Not available for Nexus 9 and you are asking about your 7? What an idiot. You fail at the interwebs 😒

I returned back my PixelXL yesterday for cashback due to battery drain problem

Is there anyway to force the update from VZW. I was on the beta yesterday and rolled back to 7.1.1. No update to 7.1.2 is available yet. Fully stock phone?

No Google Assistant on update in 5x

Google assistant not responding to OK google after update on pixel. Please somebody give me a solution! Also notification gesture not working by moving the finger down. How can it be resolved?

Back up all your stuff and do a factory reset.

Still haven't​ got this Update I got my pix thru Verizon
Android Central Newsletter
Get the best of Android Central in in your inbox, every day!
Thank you for signing up to Android Central. You will receive a verification email shortly.
There was a problem. Please refresh the page and try again.