Android 7.1.2 beta 2 is here, and it brings new features to old phones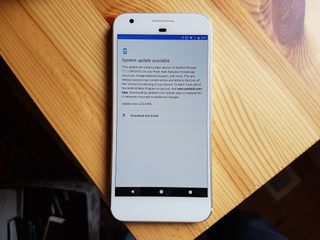 Users of Nexus and Pixel phones running the Android 7.1.2 beta can now download the second beta in the series, which fixes some bugs from the initial version released in January while bringing eligible phones that latest security updates.
The update is already hitting Pixel devices, along with the Nexus 6P, Nexus 5X, Pixel C and Nexus Player, and brings the devices up to build NPG47I. It was announced on Google+ by Google's Orrin Hancock.
According to numerous reports, the Nexus 6P gains the popular "swipe-down-for-notifications" shortcut with the new version, which came to the Nexus 5X in a previous update. Perhaps the biggest update of the group is for the Pixel C, which gains the new Pixel launcher and a refreshed multitasking interface.
How to enroll in the Android 7.1.2 beta
We expect the final public version of Android 7.1.2 to roll out to all eligible devices in early April.
Android Central Newsletter
Get instant access to breaking news, the hottest reviews, great deals and helpful tips
Daniel Bader was a former Android Central Editor-in-Chief and Executive Editor for iMore and Windows Central.
Sure hope this will improve the stability of my 6p! It has been driving like a drunk monkey with the first one!!

After 4 hours I can already see improvement. Battery is back to great.... Down to 83%, but using it like crazy. Texting reading etc. The first beta drained like an unstopped sink😀. The settings menu is working under wireless, and the phone is back to being snappy.

Is it best to wait for the official version launching in April or ok to get the release using the beta program?

Like any beta, it depends on how fussy you are about bugs. I've been on the beta program for the Pixle C since last summer and have been fine. If an occasional app crash bugs you then wait it out. If not go ahead and try it. You can always go back.

Please remind him that if you go back, it wipes your phone. I suspect he may not be aware of that.

That's true. Make sure your contacts and pictures are backed up to Google.

Beta 1 was Rock solid. I can only imagine that the beta 2 will be even better being 2 weeks from becoming official

I had a few issues with Beta 1... The settings for WiFi would crash when trying to access them.... This has been fixed with this new beta.... The other issue was when on a call, it would drop to speaker phone (even though then speaker phone icon wasn't activated), Just a simple press to activate and then another to turn off would place the call back into the proper speaker. Not aware yet if this was corrected.... Not even sure what is new... other than when powering up, the splash screen now says "powered by android"....

Beta 1 was rock solid for me, no wifi, battery or speaker issues at all. I do wipe cache via recovery after every update. Update to 7.1.2 went very smooth, also deleted cache as usual. Swipe down notification is not enable by default (good thing) but it is there!! in 7.1.2, Setting>Moves>Swipe for Notification. Still not happy about the obvious lack of true night mode. 3rd party draw overs just don't cut it.

Oh, this beasty has always run quick, not sure if its me or what but it seems to have a slight speed increase.

Hi, can you guys please recommend the best phone under £250 that has NFC, micro SD, fingerprint sensor, fast charge, can be upgraded to nougat and ideally amoled display. Is there such a phone? Thanks

Honor 6x? No AMOLED but pretty sure the rest of your list is there

I just installed this update on my 6p and I can confirm that the fingerprint sensor "swipe-down-for-notifications" feature is present. You have to enable it in the "Moves" section of the settings.

Thanks for the heads up. I just enabled it.

Just updated my Pixel C and it got the Pixel Launcher.

I did too but I'm on a Nexus 6p!!

This is the factor that will eventually break me and buy a new phone. New features. My note 4 is still more than capable.
Ppl should be more upset that removable batteries are becoming less and less common, imo. That's what android is about; versatility and having options. Sealed in batteries used to be just an apple thing. And nexus I suppose.
But now the android community is filled with Paris hiltons and Kim kardashians and are more concerned about how pretty their phone looks. Wack af

I HATE phones with removable battery. I surely would NOT buy them. they are ugly. I like phones with unified body.

Why exactly do you like a metal body. It makes no real difference in thinness, (any more than a headphone jack does) it's just a excuse to build in planned obsolescence to force you to but a new phone as your battery cycle declines to unacceptable after about a year and a half. Since 99% of us keep our very expensive handheld computers that also make telephone calls in a relatively thick plastic case I fail to see any worthwhile reason to have a unibody metal or glass phone without a removable back plate to easily replace the battery. Not to mention the vast advantages of signal antenna strength and the ability to have wireless charging.

Lots of people are upset at the loss of removable batteries including me...but who listens....We get phones with Glass on both sides phones....(ridiculous) Major phone makers using 32gb storage with No 64gb option. I'm looking at you Google and LG! Samsung bogarting all the new SD835 SOC's. Lots of bad things happening along with some good.
Android Central Newsletter
Get instant access to breaking news, the hottest reviews, great deals and helpful tips
Thank you for signing up to Android Central. You will receive a verification email shortly.
There was a problem. Please refresh the page and try again.