Android 7.0 Nougat tipped for August release as internal testing build leaks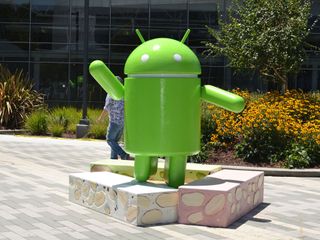 It's looking more and more likely that Android 7.0 will hit stable release status in the coming month, with the usually reliable Evan Blass (a.k.a. @evleaks) claiming that Nougat will land "next month" along with the Aug. 5 Android security patch.
That's not surprising given Google's regular rollout of monthly Nougat developer previews over the past five months. The most recent preview hit on July 18, so mid-to-late August is a decent bet for a stable Nougat release on supported Nexus devices, as well as an open-source code drop to AOSP (the Android Open Source Project.)
A new Android version is usually closely followed by new Nexus phones. There's no word on when the rumored HTC-built Nexuses might land, but given that Nougat is running ahead of Google's previous yearly schedule, it's probably safe to expect them comfortably before the normal October launch window.
As we welcome new Nexus phones to the mix, it could be curtains for the Nexus 5, as Blass also says the three-year-old phone won't be getting an official update to Nougat.
Android 7.0 releases next month, with the 8/5 security patch. Sorry Nexus 5 owners, no Nougat for youAndroid 7.0 releases next month, with the 8/5 security patch. Sorry Nexus 5 owners, no Nougat for you— Evan Blass (@evleaks) July 30, 2016July 30, 2016
That's in line with the official Google update advisory for Nexus devices, which puts the last guaranteed update for the LG-built device at October 2015. (The 2013 Nexus 7, which received Marshmallow despite having a "last update" date of July 2015, is almost certain to remain on Android 6.0.1 as well.)
The Nexus 5 will continue to receive security updates for the time being, in line with Google's promise of monthly patches for three years from availability, or 18 months from when the Google Store last sold the device.
Even though the N5 may be reaching the end of its life, the open nature of Nexus devices — and internal similarities with the officially supported Nexus 6 — should mean there'll be plenty of unofficial Nougat ROMs for the phone.
In other Nougat news, there are further signs of an impending stable release, as one Nexus 6P owner on Reddit appears to have inadvertently received an over-the-air update to an internal Google testing build. Poster Brian Moyano received the 49MB OTA when attempting to revert back to the Marshmallow from the Nougat developer preview; instead of going back to Android 6.0.1, it pushed him to 7.0, build NRD90M.
The "R" in that build number means it's on the "release" branch (as opposed to P for preview), suggesting it's almost ready for prime time. Moyano says the "Android Beta Program" widget no longer displays in the quick settings area, and that the phone shows the Aug. 5 security patch level. Besides that, no major changes have been reported — not surprising since the fifth developer preview was supposed to be "near final" anyway.
Despite the best efforts of commenters, neither the build itself nor the OTA to get there have been pulled from the phone for wider release. So we'll have to wait a little longer to get our hands on updated Nougat bits.
Bottom line: We're getting closer to the final release of Android 7.0, and that means new Nexus phones probably aren't far behind. So strap in — the usually quiet month of August is about to get a whole lot busier.
Alex was with Android Central for over a decade, producing written and video content for the site, and served as global Executive Editor from 2016 to 2022.
Nexus 5 owners, XDA is your friend... Sorry From my basement in Senegal

XDA always is a Nexus owner's friend. Will tinker around with the N5 and ROMs while my 6P and N9 get Nougat love. Posted via my glorious Nexus 6P

Firsstttttt !!!! Posted via the Android Central App

A) Nobody cares, and B) you weren't even first. Posted via the Android Central App

In ur dreams!!! Sucker!!! Posted via the Android Central App

Good news. Hope the improved media security keeps Android out of the news this year.

People were saying Nexus 5 and Nexus 7 best device ever and now they won't get Android 7.0 hahahaha to bad Posted from my Moto X 2nd gen and my Nexus 9 both on Android Marshmallow

Officially. They won't officially get N. Most devices would be out of luck now, but with forums such as XDA and the fact that it's a Nexus, it will see updates for many more years to come. There are still ROMs for the Nexus 4 that came out and brought Marshmallow when it was released. So yep, official support is gone, but it is far from seeing the last update. Posted via the Android Central App

They were best devices for a while but not anymore.
N5 is still a nice device but camera is simply embarrassing by today's standards. I'll be upgrading my wife's n5 to that new 5" Nexus

Battery too. Posted via my glorious Nexus 6P

Sadly, my day one N5 is losing gps, having trouble switching towers, and, of course, losing battery. The phone looks great. It totally beats the N5x display from my point of view. The touch works better on N5 than on our N5x, but that's it. Hoping Marlin meets my needs. If not, we'll have two N6P's in the family.

New nexus devices next month too pretty please?

Well they always drop with a new OS version, so it's possible.. Unless we've been trolled about the final release of 7.0...

My thoughts as well.EVleaks has been wrong before,Remember what he put forth about the htc m9?Don't get me wrong,I'd love to see the new Nexus devices in August or early September. Posted via the Android Central App

Really looking forward to this. Didn't really want to run the preview builds on my daily driver. Also, hoping for new Nexus phones sooner rather than later. Bringing my wife into the Nexus family. Posted via the Android Central App

Latest preview is very stable. Posted from Nexus 6

Yeah, it's pretty good, but it gets slow after a day or 2. Posted via the Android Central App

Haven't experienced that at all... Posted via my Nexus 6P running Android N on AT&T (or any d**n network I choose)

Ran preview 3, 4 and 5 on my 5x and none of them 'got slow'

Good for you! Posted via the Android Central App

So far I'm also finding that the latest preview is very stable. It's more stable on my Nexus 6P than Marshmallow on my S7 Edge. Posted via the Android Central App

Tried n months ago. Got to love Nexus devices. OEM's will see it next summer

Spring maybe. But not summer! Lol

Yup no more OEMs for me. Nexus only :) Posted via Nexus 6

So that means my Samsung Galaxy S7 won't get it until December or next summer. If at all! Posted via the Android Central App

The Galaxy S7 will definitely get the update but I would say early 2017. You will definitely have it before Spring. Posted via Nexus 6

Depending on carrier, I guess he could be right about never getting it. Posted via the Android Central App

OK, cool Posted via the Android Central App

Wish it was sooner. Posted via the Android Central App

At most by summer of next year! Posted via HTC 10

International version us pretty fast in getting the updates compare to carrier version. Posted via the Android Central App

Only by about a month or 2 at most, and when looking at wait periods of 6+ months that's really not a lot /s

Hi, your site is absolute garbage and unusable to the extent that I've now removed you from my RSS feed reader. I can't say enough bad things about you guys. You suck.

OK yeah the site is garbage but why not use the app which is actually pretty good?

Yep,app is the way to go.
I used their website 2 or 3 times max. vzw Moto XPE/N7

Have a great weekend! Posted from Nexus 6

Try paying your phone bill and you wont have any problems... Posted via the Android Central App

Tell them how you really feel. Yet you came here to comment...

From feedly, I used to be redirected to the app when selecting view in browser, but now it takes me to the AMP page in Chrome which doesn't have comments. Is there a way to get around this?

Respect the efforts of contributors and site user. Posted via the Android Central App

I have no problem with the website and the app is great, I also use the RSS feed. Lots of choices here.

That's a racial slur. Stop it! I mean it! Lol

Kick rocks. Posted via the Android Central App

Since Samsung and AT&T were basically last to roll out marshmallow, they should try and be first with Android N

Why? They know you're not leaving until you pay off the phone. Posted via the Android Central App

He won't ever leave. He will just buy another Samsung from ATT and be right back here next year complaining about slow updates. Posted via the Android Central App

No.... Blackberry ironically was last to roll out Marshmallow) Posted via my glorious Nexus 6P

Booo...no official Nexus 5 release :( Posted via the Android Central App

The N5 has the same amount of ram that the N5X has. Among other things. I really want to get a Nexus but they never have a micro SD slot and the DAC is always trash. Posted via the Pokemon Central App

Yeah It'll be pretty pathetic if Nexus 5X gets it and not the regular 5. Greedy on Google of they do that. Posted via the Android Central App

Yeah, the Nexus 5 performs virtually identical to the 5X (Unencrypted anyway, which is how I roll). It would be kind of a bummer for the 5 not to get it when it seems like not much effort would have to go into them updating it.

Yeah but the 5x is still newish. I'm sure next year the 6 will be dropped. Posted via the Android Central App

Could it be August 14th ? Googles promotion on the 6P runs through 08/13 ... Speaking of which , if the N5 guys want some Nougut ..they can jump into a new 5X or 6P on sale ..cheaper than any carrier flagship Kenny

Maybe an earlier than normal nexus release? Would be nice to have them launch the nexus before the next iphone.

So that means my 2015 Moto X Pure won't get N until spring?? Posted via the Android Central App

No one knows. I know Nexus is not for everyone but we go through the same thing every year with a new version. Everyone complains or asking when am I going to get it. If you want timely updates only way is Nexus. Like I said not everyone's cup of tea. Most don't even care. Posted from Nexus 6

Yeah, got to wonder about that. Depending on the prices and actual specs and features, I may pick up a new Nexus this time. My MXPE still says my February Security patch is "up to date." Posted from my XT1575

Hopefully note 7 comes with this Posted via the Android Central App

Impossible since release date is couple days away. I actually hope I'm wrong ,would be great for Samsung buyers and means OEMs are getting serious about updates. Posted from Nexus 6

Rumors in the forums say that shipping date is 19th and so am speculating. Posted via the Android Central App

Woah ... New Nexus, Note 7 !!! My wallet is going to take a beating

If you have a nexus 5 as your daily driver after August you seriously need to just get a 5X. With it running for as cheap as $199 there's no excuse. Posted via the Android Central App

It's not about how much it costs. Some people simply prefer to use it! ~Games, chocolate, and anime. Reasons to live for.

+1 Why do i even comment!

This also makes me super excited for the new nexus hopefully out by September. Guess its almost time to sell my 6P. Posted via the Android Central App

Looking forward to the code making it's way to AOSP... Those custom ROM developers will make the great even greater.

Do you guy's think that the note 4 will get N? Posted via the Android Central App

Prolly not. Since they will update the note 7 and note 5, the 4 will be most likely be left off the list.

Hell,AT&T won't even give the Note4 6.0 M,if I remember correctly,and that is 100% the fault of the carrier.If they have,that changes their status to just being unbelievably late. Posted via the Android Central App

N5 is a little long in the tooth anyway.. Can't wait to upgrade Posted via Techmology

I am guessing Android 7 drops without a new Nexus device which I am ok with. Save my money for a couple more months.

Same Posted via the Android Central App

HTC and Verizon. Hm. Haha. December. Posted via HTC 10

Yep,I'm with you. Posted via the Android Central App

This is where apple wins updating older devices Posted via the Android Central App

Yeah, but sometimes the older ones are a mess and not all the new features work. Posted from Nexus 6

Here's hoping that the replacement for the 6P has OIS Posted via the Android Central App

Yes,w/o OIS I'd have to give it a pass,but I think it will.The HTC10 has OIS on both the front and rear cameras. Posted via the Android Central App

Looks like Nexus 5 owners need to head over to XDA or take advantage of the numerous deals on the 5x Posted via the Android Central App

Sadly, of all of my Android devices and Nexus devices in particular... only ONE is eligible for Nougat - My Nexus 6, barely. Even my ZenWatch won't get an upgrade.

It's Touch wiz 7.0.. S7 edge...Soon to be Note 7 edge

Not to worry, Nexus 5'ers. Custom ROMs like CM13 on my Nexus 4 brought an enhanced Marshmallow build that works almost as well as KitKat in terms of fluidity. Learn how to flash those when the Nougat versions come out. You may still want to upgrade from your Nexus 5, but you won't have to, and at worst you'll have a capable backup phone that is up to date software wise. I actually use my Nexus 4 around the house on WiFi more than my main phone because of the size and smoothness. Posted via the Android Central App

So devices from late 2013 won't get 7.0. This is one of the many reasons why Android is terrible and will never hold any value.

Ok, so what will be the nickname for Android "O"? :)
Android Central Newsletter
Get the best of Android Central in in your inbox, every day!
Thank you for signing up to Android Central. You will receive a verification email shortly.
There was a problem. Please refresh the page and try again.