Android 4.3 leaks for 'Google Play edition' Galaxy S4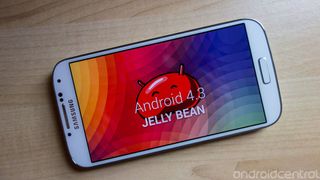 The next version of Jelly Bean has leaked for the 'Google Play edition' GS4 — and there's a port for the European GS4 model already
Android 4.3 Jelly Bean isn't even official yet, but already a leaked build has appeared for the Samsung Galaxy S4 "Google Play edition." The pre-release build was uploaded by Samsung fansite SamMobile in its original form, and in the form of a custom ROM for the European Galaxy S4 — GT-i9505.
The initial batch of screnshots from the ROM (build number JWR66N) doesn't show any major differences from version 4.2.2, however we'll have to reserve judgment until we've played with the software for ourselves. For the moment, however, 4.3 looks to be a relatiely minor bump up from 4.2.
We'll bring you more coverage of this story as it unfolds.
Source: SamMobile (1, 2)
Android Central Newsletter
Get instant access to breaking news, the hottest reviews, great deals and helpful tips
Alex was with Android Central for over a decade, producing written and video content for the site, and served as global Executive Editor from 2016 to 2022.
I wouldn't rule out the possibility that this is a fake. Editing that information to make it look like a new build is easy, with a lack of obvious changes I am dubious. No one has done a diff yet between this and the 4.2.2 rom.

It would funny if the first device to run 4.3 was the Galaxy S4. My poor Nexus4 has to wait. Posted via Android Central App

Finds it hard to believe if the GS4 will get the 4.3 update before the Nexus 4.

This isn't an official release. These ROMs are what the OEMs make out of the source provided by Google. Posted via Android Central App

Ya, it isn't official, but GE devices have their updates controlled by google from what I understand. So this would be hard to believe that google finished 4.3 for the S4 first.

Google announced recently (in the last few days) that updates will be handled by the OEMs for GPE phones. It's plenty likely that Sammy has finished their ROM or at least have a working beta of their ROM, and it simply leaked.

From what I understand, no one actually knows how the updates will be handled. That is according to another reputable site http://www.androidpolice.com/2013/06/27/counter-point-the-google-play-ed...

Wrong. Google confirmed OEMs will handle the OTAs for the GPE devices AND that no factory images or proprietary binaries will be release for them. So much for Nexus-like experience. We'll see how th OEMs do with it. Also, 4.3 was spotted on a N4 in MAY... http://www.androidpolice.com/2013/06/26/google-no-factory-image-or-drive... http://www.androidpolice.com/2013/06/27/editorial-the-revolution-that-wa... http://www.engadget.com/2013/05/24/android-4-3-spotted-nexus-4/

The Verge claimed that updates are handled by the manufacturer in their review of the Google Experience Devices, not Google directly. Posted via Android Central App

Actually, if the phone is Google edition or nexus aren't all updates pushed directly by Google? It's only on other phones that Google allows manufacturers or companies to push their own tweaked versions of the os Via Android Central App from a Galaxy Note 2

That's what everybody thought, but Google has since stated the OEMs are doing it after all.

Not true. These new GE devises are still controlled by OEM's for updates. So there will be no "nexus" like immediate updates on these devices. Google only controls Nexus devices, and those are the ONLY devices who get updates as soon as google releases them. These GE devices will have the same horrid lag time between updates as any normal non-nexus device.

Google wouldn't "finish" it for the S4. They'd write it, send it over, and then Sammy would have to work at it to make it work on their device. Who is to say that 4.3 hasn't been ready for the Nexus 4 for weeks and they're just waiting to release it?

And you probably won't as this update is still not released. They may be gearing up for a simultaneously release though, maybe at the same time as the launch of the devices themselves.

It's the GS4 Google Play edition, i.e. the stock Android one that's only sold in the Play store. That's why it COULD get it before other Nexus devices. We're not talking about the mainstream S4.

I just want an upgrade for my Nexus 7!

I can't wait for the official release now :) Posted via Android Central App

Sammobile has been pretty reliable when it comes to these types of leaks, I have some faith in this rumour

Very true. They were dead on when they leaked the s4. Via Android Central App from a Galaxy Note 2

Let's just call it a hoax and move on.

All I know is that if this is true this would be another example of continuing innovation. Unlike other companies that instead of innovating are busier suing because the other company is doing better and getting better reviews in almost every site and forum including those that are based on that company. I can't wait. I love my note 2 and can't wait for the next big android update. Via Android Central App from a Galaxy Note 2

4.1, 4.2 and 4.3 are jelly bean? :/

You can't eat just one...

The question is has anyone done it yet????

I did, it seems to be working just fine except a few glitches (random crashes, before you enter pin you HAVE to start any program like settings or messaging else the "unlocking"-screen won't disappear)
The only troubling issue is the battery life and CPU usage, as CPU-Z lists the single core running in idle locked at 1890mhz (while the original S4 varies depending on load), and the phone gets real hot and loses its battery extremely fast if you play music through any player. Standby is average, worse than original S4 but not bad in itself.
Everything else is great, the phone is faster than my Nexus 4 and smooth as shaven... faces. The home button is no longer "hold for multitask", you just double tap it instead. Hold the home button for Google Now, and it finally works no matter what app you're running, you don't need to get back to home screen to get there like the normal S4.

I'd just like 4.2.2 on my note 2 first before this comes out! Posted via Android Central App

If this is legitimate I'd take it to mean Google is providing source code to Samsung (and probably HTC) so they can get ROMs ready to go for their Google Edition devices. That bodes well for those purchasing GE devices and wondering how quickly they'll get updates. Correct me if I'm wrong, but previously the only manufacturer that got early access to the next version of Android was the manufacturer building the next Nexus.

I have flashed and everything seems to work great....and also my Phone is now recognised as a GTi9505G i have a google edition phone.... sorted

No, it's not, but you're just proving why there's no point in buying a GPE device UNLESS you are incapable (for whatever reason) of rooting/flashing. At least now that we know OEMs will handle the OTAs. Will be interested to see which OEM does it better though, regardless.

Yes it is so wind your neck in you arrogant so and so. check Alex's video walk through but then he is lying as well is he ? I can and have rooted my numerous phones regularly. But wanted stock Android on a top quality phone. So unless you have anything sensible to say go play with the Poisoned fruit brigade.

To those who think this is a fake.. Sammobile have never leaked a fake firmware...Also the api level for this rom is 18 which is what comes with the 4.3....people just don't want tto believe that a non nexuss phone might have access to a newer version.. Finally the reason why there doesn't seem to be many changes is as sammobile said this isn't complete yet

just have to wait and see what differences there is or if its just a fake Posted via Android Central App

Some how i feel disappointed that a non-Nexus device had the 4.3 update first.

Is this the start of fragmentation on Google experience /Nexus devices? not what I bought an N4+N7 for. Posted via Android Central App

Installed this leaked 4.3 ROM on S4 as the Touchwiz bloat was bugging me and I miss the 'nexus' simplicity, but the battery drains real fast and it does get very hot doing very little. 5 mins web browsing and the thing could cook an egg. Unusable for me. Battery dead after moderate use in around 8 hours - around half what id get from S3 with stock ROM. Need to roll back to another ROM. There's very little to get excited about compared to 4.2.2. As an end user I would recommend to avoid this for now.
Android Central Newsletter
Get instant access to breaking news, the hottest reviews, great deals and helpful tips
Thank you for signing up to Android Central. You will receive a verification email shortly.
There was a problem. Please refresh the page and try again.