Android 4.0.3 Ice Cream Sandwich for the HTC Thunderbolt leaks out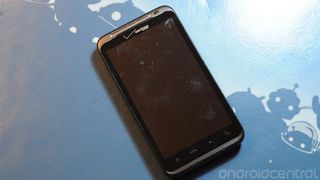 Although Woz and some others might not think highly of the HTC Thunderbolt, there is still a lot of folks out there making use of the device today. Verizon and HTC are preparing an Android 4.0 Ice Cream Sandwich update to appease the masses but if you simply cannot wait you now have another option available. Team BAMF has gotten ahold of the official Ice Cream Sandwich ROM for the HTC Thunderbolt if you're feeling adventurous.
The ROM is marked as build number 7.00.605.2 and includes Sense 3.6 as well as some new styling changes and the inclusion of the 'Quick Settings' tab. One thing to keep in mind is the that if you're rooted currently and want to stay that way, you'll want to avoid this for now but if you care nothing about all of that, you can jump right in and give it a go.
Just remember, 'official' in this case isn't really official from Verizon sent via OTA so there may be some unknown dragons ahead. Also, the team BAMF site seems a little under pressure at the moment so you might want to wait for some mirrors of the file.
Source: Team BAMF
Android Central Newsletter
Get instant access to breaking news, the hottest reviews, great deals and helpful tips
I can't even reach their site right now. Don't want to break root though so I guess I'll wait anyway.

Yess Finally! BAMF will cook it into some nice ROMs! Waiting patiently!

Yeaaaaaa, decided to upgrade the Mrs to S3 from the bolt. Oh well.

How do version's get picked? If they are working on it shouldn't it be 4.04 as it's been out a while now. I've always kinda wondered this.

They probably started working on it when 4.0.3 code was released, and it takes additional work with the Sense interface that most HTC phones have. If they changed their mind and started working on 4.0.4 when it was released we would probably still be waiting a while longer.

Well, Google did say that 4.0.3 should be considered the base version of ICS. Maybe HTC and Verizon are taking that a little too literally.

OMG. My faith may pay off just yet!

Where does it say you lose root? The post mentions that the ROM includes root.

Can we get a mirror? This is the slowest thing EVER! 27 hours to go, been downloading an hour...

From Android Police (http://www.androidpolice.com/2012/08/21/leak-htc-thunderbolt-gets-ice-cr...): "According to Administrator's post at TeamBAMF's forums, the ROM, based on a leaked RUU (and carrying build number 7.00.605.2), is said to be fully functional and fully stock, but it's worth noting that the ROM is deodexed and rooted, meaning those wishing to retain root are in luck, but if you – for one reason or another – want a strictly stock, non-rooted experience, you'll have to wait."

That's what I thought. Pretty sure you don't lose root, might want to update the article.

Looks like the servers are getting slammed pretty hard. I suppose many of us will have to wait for a mirror of some sort...

I find it HILARIOUS how the one device that has stirred up so much anger and disgust over the past 18 months, gets a front page picture featuring a totally beat up and scratched device with the screen off, instead of the usual brand new looking device with the display on :P Just a little something I noticed. Don't worry, I hate my phone too. On a positive note, at least HTC didn't lie to us about the update. Here's hoping the RIL is transferable and we can get some delicious Jelly Bean using it.

Probably because that's the only Thunderbolt anyone at Android Central has.

Then why not at least clean the screen or use a stock photo of the phone like the two articles do below this one? In contrast, notice how pristine any Galaxy Nexus looks in any article! Hmmmm.... :::adjusting tin foil hat:::

i like it. it looks JUST like mine and probably most of the others who still have one ;) it's a year and a half old and hasn't been sold for at least the past 6 months so there's no point in pretending that any brand new looking ones exist.

Awesome! Can't wait try it.

RootWiki has it up as well. http://rootzwiki.com/topic/32765-romics-leak-for-htc-mecha-7006052-403-0... Edit: But, the file bounces back to TeamBAMF's site.

The mirror is here (this is what it redirects to off the BAMF web site):
http://www.androidfilehost.com/main/Thunderbolt_Developers/Team_BAMF_Rom... MD5sum: 68c7c69553c6097ffd5cf36bd016938b From BAMF: http://www.teambamf.net/topic/4331-romics-leak-for-htc-mecha-7006052-403... "This is an actual leak of a 4.0.3 (ICS) ROM for the Thunderbolt from HTC and Verizon. Everything in this ROM functions including 3g/4g, phone calls, sms/mms and more. HTC has been nice enough to include Sense 3.6 which is quite the upgrade from Sense 2.1. This ROM is basically stock (it is deodexed). The only modifications include root (ChainsDD Superuser and an unsecured ramdisk) and all of the HTC spyware has been removed."

Not sure what's up but seems I keep getting this error message. "Unfortunatly, the process android.process.acore has stopped." Any idea what's up with that?

I'm sure this has been ready to go for awhile and Verizon has dragged their feet as long as possible in hopes you would buy a new phone...

Yes it has been ready for awhile. Do you really think Verizon wanted to update a phone that's over a year and a half old???

Looks like this leak is from April and a test release. From XDA: http://forum.xda-developers.com/showpost.php?p=30530797&postcount=101 "ro.build.id=IML74K
ro.build.display.id=htc_mecha-userdebug 4.0.3 IML74K eng..20120425.150931 test-keys
ro.aa.project=MECHA_ICS_35_S
ro.aa.romver=7.00.605.2
ro.build.description=7.00.605.2 CL370649 test-keys
ro.build.fingerprint=verizon_wwe/htc_mecha/mecha:4.0.3/IML74K/370649.2:userdebug/test-keys
ro.product.version=7.00.605.2 710RD
ro.build.date=三 4月 25 15:10:26 CST 2012 interestingly its from april and its android 4.0.3 (inc2 is from july and 4.0.4) (both are sense 3.6 obviously) so im assuming verizon either a) has something a lot newer in testing or b) tabled bolt ics like some carriers did for dhd ics (id bet a personally)" As it states, interesting that a leak for the Incredible 2 has ICS 4.0.4 and is newer from July, but also has test keys. See: http://forum.xda-developers.com/showthread.php?t=1846304

Well I figured out what was wrong. Just needed a more thorough scrub of everything and a factory reset.

how do I launch this Rom on my phone?

I used the mirror found here: http://www.teambamf.net/files/go/096431bfefec84e583a60f14bf07734c/romics... and the ICS ROM crashed within 6 hours. Anyone else have this issue? I went back to my 2.3.4 ROM and it is working. Thanks

I've been running it for four days with no problems. While I admit that I have far fewer apps installed, it seems to be kinder to the battery (5 hours of occasional playing with it left it at 46% charge) and to boot faster (again, might be some particular apps I had, but instead of booting in more than 6 minutes, it boots up in 40 seconds). I also have (a backport of) Google Now installed, and that appears to mostly work, with a few eccentricities. Ah, by the way: yes, I've retained root (courtesy of the Thunderbolt Tool), and you have to modify the ro.da1.* settings in build.prop (repeated in the file, so near the top and near the bottom) in order to disable the App Association changes pushed out by HTC in May 2012 and repeated here in the ICS leak.

I downloaded and installed ICS today, and I am having a issue with my HOTSPOT...Has anyone else experienced this issue?

Beware, the BAMF ROM "leak" is probably not to be trusted. I have found the following: D:\Software\Android\Thunderbolt\BAMF_MECHA_ICS_08212012.zip
[DETECTION] Contains recognition pattern of the ANDROID/Cosha.A.4 virus
[NOTE] A backup was created as '5e72455e.qua' ( QUARANTINE )
[NOTE] The file was deleted. Please confirm and spread the word. Btw, that ROM does run just fine on mine, but just dont turn on the bluetooth or encrypt your SD card because it seems like these functions are not well implemented and the phone becomes unusable until flashed.
Android Central Newsletter
Get instant access to breaking news, the hottest reviews, great deals and helpful tips
Thank you for signing up to Android Central. You will receive a verification email shortly.
There was a problem. Please refresh the page and try again.