Andrew's favorite Android Wear watches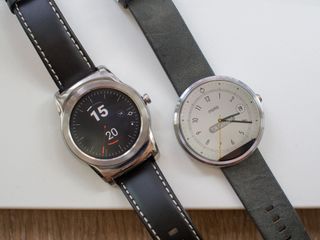 I've been wearing an Android Wear watch since they have been available, replacing the Pebble that was previously on my wrist. Over the past several months I've come to enjoy the ability to clear and act on my notifications from my wrist, cutting down on the amount of stuff I have to deal with when I finally pull my phone out of my pocket.
While every Android Wear watch may be roughly the same in terms of functionality, they certainly aren't all on the same level when it comes to looks, feel and components. I'm wearing both the LG Watch Urbane and Moto 360 (though not at the same time) — let me explain why.
LG Watch Urbane
Looking down at a silver LG Watch Urbane on my wrist, I realize the Android Wear market has come a long way since the original G Watch went on sale. The round P-OLED display is absolutely gorgeous and with some watch faces crosses into the uncanny valley between digital and analog. The internals do their job keeping the watch ticking along with very few slowdowns — I really love the Watch Urbane for its performance. There's not much arguing that from a technical perspective it's one of the best.
What you can argue, however, is whether or not the LG Watch Urbane is actually a nice-looking watch that's acceptable to wear on a daily basis. The sleek silver case and smooth black leather band with tan stitching really look nice in photos, and most importantly for many people make it look like a traditional analog watch. What the store page renderings and photos don't show you is how the Watch Urbane really isn't designed in a way that it can be worn daily. The shiny exterior, dressy band and large size don't lend themselves to fitting in with a casual t-shirt and jeans — but is trying to position itself to be on your wrist every day.
And even if you're a fan of the looks (or perhaps you wear a suit every day), your wrist just may not be compatible with the sheer size of this watch. I have a rather big wrist and regularly wear large watches, but the 52mm height and 11mm thickness together make the Watch Urbane a rather imposing piece of technology on your body. The size of the bezels and thickness of the case are acceptable when you consider how much technology is inside, but the large lugs holding on the strap really make the Watch Urbane cumbersome, and it just makes it a bit too much to wear sometimes. I really wish this thing was 10 or 15 percent smaller, and the flair was toned back about the same amount.
Moto 360
Because of the LG Watch Urbane's design blunders, I still keep my Moto 360 turned on, on its charger and paired with my phone for when I want it. I greatly prefer the 360's design (I have the silver model, this goes for the black one as well) to that of any other Android Wear watch out there today, with its simple circular face and hidden band attachments being the main features that catch my eye. And I just can't say enough about how nice the standard leather bands from Motorola are — they're simple, soft and just get more comfortable over time.
I'm not the biggest fan of the flat spot on the display, nor do I like what the beveled glass edge does to text and colors when viewed from an angle, but those things aren't deal breakers in the way some of the Watch Urbane's flaws can be. The biggest issue with the Moto 360 is performance — that dated processor just can't handle things the way other Android Wear devices can, and it's a really frustrating experience sometimes. The slowdowns usually aren't an issue when I'm just clearing notifications or checking the weather, but as soon as there's visual sluggishness in the card stack or the watch misses a word in my dictated message reply, I just can't handle it.
If I could simply have a Moto 360 with a fully round display and better performance with the exact same external styling and bands, I'd be a happy camper with my LG Watch Urbane stepping down to a secondary device. I have a feeling Motorola has far more than those small changes in store for its next wearable, but I hope that when it makes changes it doesn't leave behind all of the great design bits that make the original 360 so wonderful.
Andrew was an Executive Editor, U.S. at Android Central between 2012 and 2020.
Love the look of these round watches, and have though about grabbing a 360 just for going out purposes. But I still like my Sony SWR50 though. But in typical Sony fashion, they're starting their feet with getting the adapter and the metal band separately to market. I may get those two and dress up my SWR50 that way...but if Sony takes forever, I'll grab a 360. Approved by the Z3 Tablet Compact!

What are the chances of the 360 losing the 'flat' tire look? Isn't it necessary for the sensor without changing the watches design? Posted via the Android Central App

Russle mentioned in one of the podcasts that the Apple watch teardown shows it has the sensors embedded into the display. So it's probably a matter of cost.

iFixIt says the ambient light sensor is indeed integrated in the display (or behind it). Apparently they used something more akin to a solar cell than a traditional sensor. Quite clever.

What do you think of Motorola waiting longer then LG and to some extent Samsung to release a new device? I wish Motorola either got rid of the heart rate monitor or put something in that is as capable as the Apple watch. It seems more like a waste of space and an unnecessary battery drain while producing 0 results.

Well I'm hoping they're doing something important with that time. i don't really care if it takes longer to get a new model out, so long as it's done well when it finally hits. I haven't found the heart rate sensor to be all that inaccurate... but more that it's not that useful to have for anything more than "look, that's neat!" I'd say the Apple Watch falls into the same category.

I hope so as well. What I mean about the heart rate sensor is that throughout the day, it will start blinking as if its trying to read my heart rate but it never shows me where its collecting that data. It doesn't seem to add the information to the fit app. It would be nice to have something as powerful as you the fitbit surge has but I think otherwise it seems a little pointless.

It's stored in the Motorola Connect app and, if you subscribe to the weekly emails, is summarized in the emails you receive. Would be nice to have a place to view the detailed data anytime you want, though (like by adding into Google Fit). Posted via the Android Central App

How come nobody mentions the fact that the luggless design is actually a flaw. Both aesthetic and durability of the watch are affected. Most moto 360 will develop a crack in the plastic cover with the strap putting pressure on them. Smartwatch nerds should not try to reinvent the looks of a watch that has taken centuries to attain its current form. Trim the size to 44mm, let's have lugs!!!!! And get rid of the bloody flat tyre!

Aesthetic is subjective. And my Moto 360 body doesn't have cracks.

Most? How did you arrive at that conclusion? Mine has no cracks and I think it looks the best of the bunch. Posted via the Android Central App

I am standing by my 'most' declaration. Even before mine cracked I knew it would, Study how you strap interacts with the back cover.... a quick Google search will also enlighten you. I've reached out to Motorola and they are aware the watch back plate is prone to cracking and they would replace your watch under warranty. I haven't sent mine as I know it will happen to the replacement as well. There was even a kickstarter lug mud that was successfully funded for this reason.
I collect watches and don't baby any of my watch, but the design flaws of the Moto 360 is obvious to people that are into watches. I like the idea of a smart watch but don't think the de facto watch design has to change. You don't see Tesla trying to change the car design do U?

Well, I was going to chime-in with a vote for "not cracked" when I noticed that mine is cracked. Guess I should see about getting it replaced. I wonder if it's the metal band that's the problem.

I like the Urbane. I wonder how long the strap is? On the two watches I own I use NATO bands because most watch straps are too small for me. Well, they aren't too small but they have to be on like the last hole which I hate. I thought I was over smart watches after having owned two but the closer they get to looking like regular watches the more likely I would get another one. If I get sick of the notification stuff I could still use it as a normal watch. Does the Urbane use normal watch lugs? I could throw a NATO band on it if it doesn't use some proprietary setup.

With a rough measurement, the last hole is about 3.5" from the lug. On the other end, the buckle is 2.9" from the lug.

I believe the Urbane uses standard 22mm lugs, like most of the other AW watches.

That is correct. It uses the standard 22. Posted via the Android Central App

LG G watch only $50 on ATT store. Get em while you can!

I love my moto 360...it's the best wear out there. ..I had the black one and now just sold it and got the gold one. It looks awesome in gold and very classy...many ppl are loving my gold moto 360 and friends want me to get for them as well. ..I really dint like the design of the apple watch I think it looks very kiddy...as I wear watches like tag and omega..
I love wearing moto 360 as well with some cool watch face... Posted via the Android Central App

The 360 is my favorite looking one right now. What is holding me back from snagging one is is the performance. I believe they could get away with a pair of small "holes" in the face instead of the bar at the bottom, depending on how many sensors need to see out. A dot at 12, 3, 6, and 9 o'clock could be used, and blended into the face design. Or, they could just make the bottom bar familiar and print "HTC" on it...

Urbane looks great with a 22mm Hadley-Roma stainless band and will charge with the GWatch R's base if jiggled slightly, so great if you have both (black steel band/bracelet on the R). Just got last night and already replaced stock band. Posted via the Android Central App

Which hadley one are you referencing? This one? http://m.ebay.com/itm/like/331531273445?lpid=82&chn=ps&ul_ref=http... Posted via the Android Central App

I'm surprised most of the AC writers have picked the 360 as their favorite. It's the worst performing with the worst battery life. The lack of an "always on" option alone is a non-starter for me.

Agreed always on face is a must for me also... after have the gear s I also really want speakerphone on the watch. I know everyone jokes about dick tracy.... blah blah blah. With me being a av installer, having my hands free while on a call with tech support, or driving, or on a ladder... it's hard to beat the convenience. I CAN stand wearing my watch 100% of the time, I CAN'T stand wearing a Bluetooth earpiece however. Apple got it, shocker that android tries to innovate, then apple get its mostly right.... frustrating.

Nice to see the LG Urbane here. People are at full speed in the internet hate bandwagon with it right now.

I started with the LG G Watch which was offered at half price by AT&T to see if I would even like a smart watch. I discovered I loved it. I then decided to sell it and get either the G Watch R or Moto 360. I chose the R based on it looking a bit more like a regular watch, it's processor speed and screen brightness. In between selling the R and ordering the Urbane I tried out the 360. It's a very futuristic looking watch, but very difficult to switch back to after having the far faster and brighter G Watch R. It's battery life also never got me through an entire day while both the R and now the Urbane still have 40% left at the end of the day despite having always on turned on. Maybe the 2nd Gen Moto 360 will beat the Urbane, but for me it's not a contest given the huge difference in performance, brightness and battery life. I happen to also prefer the look of the Urbane, but that is completely subjective. The rest is objective based on my obviously limited experience. Posted via the Android Central App

I decided to make my very first YouTube video... Recently purchased the Moto 360 smartwatch... And I'm blown away by it.. So I made my own YouTube video about the amazing stuff that it can do.. 50+ Android Wear voice commands! Awesome!: https://youtu.be/lcUA58nG9Pk

What watch face is that? I realize this is an old article but that watch face looks great and I'd like to put it on my watch, I will be eternally thankful for anyone who could point me in the right direction.
Android Central Newsletter
Thank you for signing up to Android Central. You will receive a verification email shortly.
There was a problem. Please refresh the page and try again.