Amazon Fire HD 10 vs. iPad Air 2: Which is the better big tablet?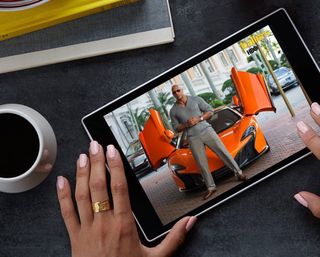 (Image credit: Amazon)
Both Amazon's and Apple's tablets have their own content ecosystems to go along with their hardware, so in some ways are very similar. The biggest difference, of course, is Amazon's Fire HD 10 uses Android, while Apple remains the default choice for the casual consumer considering a tablet, since iOS has the App Store.
The question is, if you're looking for a big tablet, is the Amazon Fire HD 10 a good buy, or does it fall short compared to the stalwart iPad Air 2?
Hardware
The Fire HD 10 starts at $229 in 16GB configuration with special offers and is available in white or black plastic or a silver aluminum finish. Other options include 32GB or 64GB of storage, and for an extra $15 you can take away the money-saving lock screen ads.
The iPad Air 2 starts at $399 in its base 32GB WiFi configuration, with all metal finishes and available in silver, gold or Space Gray. Not only does Apple offer a higher base storage but there's a 128GB model available for $499. Both sizes of the iPad also offer an optional cellular version for an additional $120.
Storage is a more important consideration when buying an iPad versus buying a Fire tablet. While Apple's tablet is sealed off and you get what you get, Amazon throws a microSD card slot on the Fire for expandable storage. So you can get away with buying a cheaper model and purchasing a low-cost memory card for your apps, games and media content if you wish.
Amazon has the edge there, but when it comes to all-round specs, there's no denying Apple's more expensive iPad Air 2has the Fire HD 10 on the proverbial ropes.
The iPad Air 2 has a gorgeous 2048 x 1536 9.7-inch Retina Display, which is also great to use in portrait thanks to its 4:3 aspect ratio. By comparison, the Fire HD 10 has a rather lowly sounding 1280 x 800 resolution 10.1-inch display in a more common (for Android at least) 16:9 widescreen aspect ratio. This makes it perhaps better for watching videos, but more awkward to use in portrait mode. It's disappointing, too, that it's not even a Full HD display in a tablet that costs over $200.
It doesn't stop at the display, either. Down to the processor, RAM, even the cameras, the iPad Air 2 is a higher-end, more sophisticated tablet. But while Apple wins on the hardware, there's always more to it than that — otherwise, everyone would always buy an iPad.
Software
At this point in time it's not worth debating Android vs iOS. If you have a strong preference towards either you've probably already made up your mind. The key thing to point out here is that while the Fire HD 10 runs Android, it's not the same build you'd find on your phone or Samsung tablet. There's no Google here, only Amazon and its customized Fire OS.
Fire OS is better now than it has ever been, but it's still a big storefront for Amazon's products and services. If you use Amazon stuff, that's probably why you'd even consider a Fire tablet and you'll probably be OK with it. Fire OS is easy to navigate and isn't a huge departure from the principles of 'regular' Android. But because there's no Google, there's no Play Store, which means using the Amazon Appstore for your apps and games.
That's not as bad a thing as it used to be, but there are shortcomings in the availability of some apps and how often they're updated over their Play Store compatriots. By contrast, the iOS App Store has pretty much everything you could want, including Google and Amazon services.
Image 1 of 2
The Amazon Prime Video and Kindle experience on the Fire HD 10 is still best, though, even if you can get it on the iPad. With being able to save offline video from Prime to a microSD card on the Fire HD 10, you've got a big advantage over the limited storage on the iPad, unless you stump for the 128GB option.
What's also better on the Fire HD 10 is the specialized mode for your kids. With Freetime (or Kids Unlimited depending where you are) for a small fee you can create a locked, curated area of the Fire HD 10 for your little ones. It gives them targeted content to enjoy without you worrying about your credit card being used to buy a laptop on Amazon.
Voice Assistants
Finally, we have the voice assistants: Amazon's Alexa and Apple's Siri. The latter has been around much longer but the former is arguably more refined and more useful. Alexa isn't just confined to the Fire tablets. You'll also find it on the Amazon Echo, the Fire TV and even third-party products now such as the Huawei Mate 9 and the Android-based CoWatch. It's an AI assistant that can play you music, tell you the weather, control your smartphone, hail you an Uber and so much more.
Siri has long felt underwhelming and been the butt of many a joke over the years. Apple hasn't done nearly as much with Siri as Amazon has with Alexa in a much shorter time, and there's no surprises which one would get our vote.
The conclusion here is something of an odd one. The iPad Air 2 is a better tablet if you treat it on face value. It's nicer, more powerful hardware with all the apps you'll ever want, a gorgeous screen and access to all the Amazon content, too. But that doesn't necessarily mean you should buy one.
For starters, it's $170 more expensive than the cheapest Fire HD 10, and that's a lot of money. It's almost a second Fire HD 10. It's a significant saving, with compromises which aren't enough to recommend folks stay away from it. The display is disappointing, but not horrible, you've got the space for tons of storage and if you're a heavy media consumer or Amazon user, it's a no-brainer.
The iPad Air 2 excels in areas that you might not even be bothered about using a tablet for. It'll be better for playing high-end graphically intense games and many folks use them for light work. But is that enough to make you spend that $170 more? For once, the technically better tablet isn't really the one to buy.
Get the Android Central Newsletter
Instant access to breaking news, the hottest reviews, great deals and helpful tips.