All LG Watch Style colors are down to $180 at Best Buy again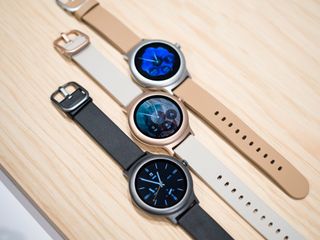 The LG Watch Style has seen its first major price cut, not even two months into its retail life. The watch isn't even available in Canada yet, and already Best buy is cutting the price down to $179.99 for all three colors (opens in new tab).
The LG Watch Style isn't the most future-proofed Android 2.0 watch on the market, but it's small, comfortable, and runs Wear 2.0 smoothly for your entire day. There's regrettably no NFC, heart-rate monitoring, or GPS, but the Style is sleek and easily blends into both business casual and everyday outfits easily.
In short, it's not ugly as sin and will get the job done for most of us who don't have wrists the size of coffee mugs. And with its first sale, it's finally down to a price that I'm willing to pay for one. $180 (opens in new tab) isn't cheap by any stretch of the imagination, but for a watch without all the bells and whistles that still practically brand-new, it's quite reasonable.
See at Best Buy (opens in new tab)
Ara Wagoner was a staff writer at Android Central. She themes phones and pokes YouTube Music with a stick. When she's not writing about cases, Chromebooks, or customization, she's wandering around Walt Disney World. If you see her without headphones, RUN. You can follow her on Twitter at @arawagco.
Wow. That was quick. Two weeks ago you couldn't even get the silver one in the store at full price...

People realized it's just not that great a product. Terrible battery life. I'm betting retailers had droves of returns...

I don't know about the style, but I am very very happy with the Sport.

The Sport looked great. The Style just didn't fit anyone's needs.

except that it's as chunky as a hockey puck... stylish! ... or maybe not.

This should be the price point for all smart watches, I have had the OG G Watch, OG Moto 360, and the best AW watch I think the OG Huawei now I have moved to an iPhone and got a apple watch which is priced to high too. But that price point and a release of a new watch every two years would be cool I think. Well that's my 2 cents

Still not worth it for this Happy Meal hardware.

I want a minimal watch the sport is to bulky for what I want if this had at least NFC for payments I would have grabbed it already

NFC and a larger battery and this could have been the perfect watch.

Too ugly, too small. Sorry, not for me.

Another nail in the coffin for Android wear.

Just like it's a nail in the coffin for android because of one phone with bad specs.... Oh wait.....

Name one good AW 2.0 watch? I'll wait.

Zenwatch 2, moto 360 2nd gen, huawei watch for starters. They may not have it yet but it's incoming. My zenwatch 2 lasts a day and a half with always on screen. It does everything I need it to do and more. Wish it had nfc but it's still great. If you don't like any android wear watch out now that's ok. No need to buy one, you're free to buy anything else your heart desires.

Define 'good AW 2.0 watch' because otherwise, this is basically 'guess and lose'.

Very true. It is a guessing game. But with reading reviews and being able to try different watches helps. So far the zen watch 2 is a great affordable watch. Wish it had nfc.

My Fossil Q Marshal is rather nice. Just got my AW 2.0 update. Looking forward to exploring it further.

I'll gladly buy this from bestbuy, if they'll give me a $200.00 bestbuy gift card to go with it.
😂

"There's regrettably no NFC, heart-rate monitoring, or GPS" It's a style-oriented watch not a sports/fitness one. So no heart rate or GPS is actually ok. Most people don't actually use those features. But the lack of NFC is really bizarre now that tap and pay is finally gaining traction even in the US (which is like 10 years behind the rest of the world in this area).

Just... PLAIN-looking. I'll take one at $75.

I think they're gorgeous compared to this black band from Samsung I've got on that makes me look like I'm on house arrest! Lol. But it keeps me motivated and i do use the heart monitoring (i have high bp) all the time so i have to stick with the more "sporty" aka boring & unattractive watches. Whomp, whomp... :(

I've been curious about the Style from the start; now that it's on sale I ordered one to try it out (thanks for the heads-up AC!). I'm definitely not interested in the monstrosity that is the Sport. I think the Style may be a little /too/ basic, but I like the look of it and the size, and I haven't tried out an Android Wear product since the original Moto 360 was a hot item, so I figure it's time to give it another whirl. Two weeks ought to be enough to decide whether it's something I want to hold onto.

Can't believe people are complaining about NFC, lol. I've been gone from the states for 6 years now, but I can't believe that the tap to pay thing is really all that abundant to make people cry that it's not on a watch.
Android Central Newsletter
Get the best of Android Central in in your inbox, every day!
Thank you for signing up to Android Central. You will receive a verification email shortly.
There was a problem. Please refresh the page and try again.