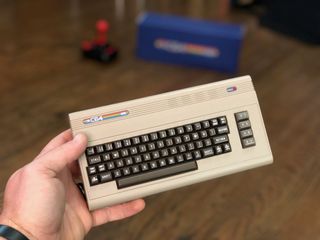 The C64 Mini is a killer little retro console that does a fine job of bringing the magic of the Commodore 64 into the modern age. All you have to do is plug it into your TV and you are whisked away to the 80's when pixels were king and just about any idea could be made into a game.
If you read our review of the C64 Mini but you are still sitting on the fence, perhaps a list of all the awesome and sometimes bizarre games you can play on it will help you decide whether or not the console is for you.
Here are all the games that you get with the price of admission on your C64 Mini.
AlleyKat
Anarchy
Armalyte: Competition Edition
Avenger
Battle Valley
Boulder Dash
Bounder
California Games
Chip's Challenge
Confuzion
Creatures
Cyberdyne Warrior
Cybernoid: The Fighting Machine
Cybernoid II: The Revenge
Deflektor, Everyone's A Wally
Firelord
Gribbly's Day Out
Hawkeye
Heartland
Herobotix
Highway Encounter
Hunter's Moon
Hysteria
Impossible Mission
Impossible Mission II
IO
Jumpman
Mega Apocalypse
Mission A.D
Monty Mole
Monty on the Run
Nebulus
Netherworld
Nobby the Aardvark
Nodes Of Yesod
Paradroid
Pitstop II
Rana Rama
Robin Of The Wood
Rubicon
Skate Crazy
Skool Daze
Snare
Speedball
Speedball II: Brutal Deluxe
Spindizzy
Star Paws
Steel
Street Sports Baseball
Summer Games II
Super Cycle
Temple of Apshai Trilogy
The Arc Of Yesod
Thing on a Spring
Thing Bounces Back
Trailblazer
Cosmic Causeway: Trailblazer II
Uchi Mata
Uridium
Who Dares Wins II
Winter Games
World Games
Zynaps.
That is a whole boatload of games to get you started on your retro Commodore journey. However, the great news that if you see some of your favorite titles missing from this list, the developers of the C64 built in a method for you to load your own ROMs. For only $80 you can start your journey back in time to the days of the Commodore 64!
What games do you think are missing from this list?
Let us know some of your favorites below!
Be an expert in 5 minutes
Get the latest news from Android Central, your trusted companion in the world of Android