Action Launcher, from the developer of Tweet Lanes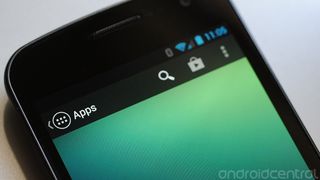 Android launchers -- comprising the basic makeup of homescreens and the app drawer -- hardly are scarce. And they tend to share features, emulating the stock Android launcher while tweaking things and adding features.
Action Launcher is from developer Chris Lacy, the driving force behind the Tweet Lanes Twitter client, and it goes in a different direction, though still with some familiar features.
We've gotten a good look at a preview version of the launcher. Hit the break for our take.
Action launcher is devilishly simple. It looks and feels like it's a part of stock Android. The visual cues are all there, from the fonts to the app icon itself, but It takes the app drawer and moves it from the dock at the bottom to the upper left corner. The Google Search bar is removed as well, transformed to a simple magnifying glass at the top of the screen, next to a shortcut to the Google Play Store. (And that means I can take the Play Store out of my homescreen apps folder.) To the right of that shortcut is a menu button, which expands to options that allow you to customize the homescreen (including adding app icons and widgets), manage your existing applications, duck straight into the system settings, and to tell your friends about Action Launcher (via the usual sharing intents).
That customizations menu is "a notable design decision," Lacy tells us. "The standard launcher's app drawer is a bit of a jumble, in that it serves multiple purposes (customization and launching apps)." That widgets are in stock Android's app drawer but wallpapers remain elsewhere was another cause for concern for Lacy, and so they're in the customization pane as well.
Where things get really interesting is with the app drawer. For starters, it's now in list form, with little thumbnail icons. Scrolling on the list is excellent, though we'd still prefer to be able to pare down that list some. Lacy agreed. "Finding an app in the sliding drawer does take a bit of time," he said, adding that options to customize that list are in the works. "For now, using the scroll bar on the right allows you to jump to the bottom of the list." Lacy also reminds us that this list scrolls far quicker than the stock launcher's horizontal pages.
But even though it's a pretty radical departure from how we traditionally use the app drawer in grid form, we grew pretty comfortable with it.
The other fun -- yes, fun -- feature of the new app drawer is the way you access it. There's the button in the top-left, of course, which you can hit at your leisure. Or, you can press the phone's home button again from the homescreen.
But our preferred way to get to the apps list is to to the extreme left homescreen, then keep panning that direction. A simple swipe opens the app list. (It's a paradigm not unfamiliar to anyone who's dabbled in Winodws Phone, actually.) A swipe back toward the left (moving your thumb to the right, since motions are all backward) closes the list and returns you to the home screen.
And you know what? This all works. Maybe it's because we're happy to see something new, and because it works well out of the box. Action Launcher also just works. Will it work for you? Maybe, maybe not. And we're happy to see that it'll be marketed with a free version and a premium upgrade, which will unlock more options. So you can give it a whirl before shelling out some cash.
Lacy says options that will be unlocked in the premium version include gestures, unread counts and other configuration options. He's also got "a really, really cool feature planed" that he's keeping under wraps for now.
Price has yet to be determined, but Lacy says it should be competitive with other third-party launchers.
Android Central Newsletter
Get instant access to breaking news, the hottest reviews, great deals and helpful tips
I have no doubts about Lacy's great knowledge about design and programming on Android.
What I'm wondering about if this is going to be just another project he will update for a couple of months or so and then abandon it, just like he did with Tweet Lanes.
I hope that will not be the case with this launcher.

He hasn't abandoned Tweet Lanes at all. You've not had an update in a month, that's all.

I hate to think I've got a reputation for 'abandoning' my apps. That's not the case at all. Tweet Lanes development slowed only because I have been working on Action Launcher. It's an idea I have had for a while, and it became an itch I had to scratch. I'll give a full update on Tweet Lanes soon.

Kind of glad you stared working on Action Launcher, very original.

I understand your desire to exploit your knowledge with new ideas. I really do.
And right now I'm just exposing my opinion. Notifications for Tweet Lanes was a major feature that many users were expecting. But you decided to focus on this new project, which is great, but I think it would be better to complete one to start another one.
And by "complete" I mean implement major features, put a price for it on Google Play and then start a new one.
I would gladly purchase any of your apps, just try to finish one.

I'll start off with, was Tweet Lanes free or paid? It was free. Therefore I see no reason that you should be complaining about features. Its a fantastic app. Second, if you followed Chris on twitter, he did mention at one point that Tweet Lanes development was becoming more work than just a hobby and wasn't fun anymore if remember correctly. I dont blame him for taking a small break to work on something else. Thanks for being selfish Rhor.

C'mon man, tell me how you really feel.

he has a point you know. if you dont like it... get off your ass and make your own app.

Instead of waiting for notifications, you could try Twitter's own SMS notifications. They're free and they won't drain your battery since it's an SMS that's sent to your phone whenever you get a mention, DM or both.

when is action launcher coming out!!!! fairly soon isnt good enough (unless its tonight lol). app looks pretty cool, will definitely give it a try on my gs3

Hey @chrislacy, have you by any chance released this few days ago? I saw a picture of the action bar on a tech site few days ago and people were arguing whether it's the new look for android 4.2 or just a custom rom but now I'm going through my whole history and it's hard to find the website again. I was just wondering!

Hello Sir, When can we expect to try this amazing launcher ? Will there be a beta version to test ? Thank you.

Y'know, in your defense, I'd totally get it if you just dropped Lanes altogether after the changes that Twitter made to their policies.

Hands down best Twitter client! It's the only Twitter app I use now. If you'd add a QuickTweet widget I'd be so thrilled! Can't wait to see Action Launcher! No doubt it'll be great!

Now this looks interesting!!!

FAIRLY SOONISH? WANT. NAO.

I have to agree with the first comment completely.
That is something I need to know, too, before shelling out cash.

SHUT UP AND TAKE MY MONEY!!!

Give me that Launcher NOW!!! LOL. Looks very comfortable, well designed, and thought out.

I like TweetLanes, though I haven't completely weaned myself off of TweakDeck (Sorry, Chris!). I'll probably give the free version of Action Launcher a test run when it launches. Couldn't help but chuckle as I saw CARBON fly by a few times as Phil played with the A/L App panel. I guess we won't be seeing that stink bomb ever making it to our phones in the near future.

So am I blind? Does it say anywhere when this will be available?

Did you watch the video @rarodrig6? I believe Phil said "no word on pricing or launch as of yet".

Big fan of Chris's work. For your next project do a keyboard. I'd love to see what ideas you come up with. Can't wait for Action launcher to drop.

When can I get this? I like TweetLanes, although it's missing a few features, but this looks awesome. Release this bad boy soon and you have my money.

Wow, really does look easy and I would love to ditch the app drawer! Support for live wallpapers?

The homescreen looks amazing and teh design is awesome, however i really am a fan of ics style app drawer, i wonder if there will be a way to combine the best of both worlds? if so then shut up and take my money already :P

I don't understand why anyone would choose this launcher over what's currently available. Because of lists instead of grids? And there's 2 extra clicks just to add apps to the homescreen. People are excited for this launcher why?

Don't forget all the fun you can have squishing your apps at the far left home screen :) I didn't see anything that special, the list view seems like a bit old school to me - maybe what's old is what's new. Meh...

I don't know what you mean by 'squishing your apps at the far left home screen'? FYI the app drawer is opened multiple ways:
1). Swiping to the right from any point on the left-most page of the launcher
2). Swiping from the right edge of the screen on any page of the launcher
3). Pressing the Apps button in the top left corner
4). Pressing the home button.

See the video at 2:30. Used wrong word, he reviewer is just having so much fun scrunching the app list on the left screen. That's fun!

There are exactly zero extra clicks to add an app to the home screen. A long-press on the home screen will bring up the customization view, at which point you touch & hold the app to place on the home screen like normal.

What calendar/agenda widget is that? I personally don't like launchers where I can't organize the app drawer. It gets way too cluttered with all the apps. I'll wait until there's more features in the drawer before I try it.

Cool beans. Love what I've seen so far with Tweet Lanes so I'll be quite interested to check out. As long as it's light and fast this could be a real winner. Wonder if there will be an option to still be able to cycle through home screens to the left i.e. only activate drawer with the icon touch?

Not currently, but I'll probably go Settings crazy with this app.

Looking forward to using the launcher, what's the calendar, agenda app on the home page

Phil (and Jerry) LOVES himself some Pure Calendar widget (agenda). I know this because he is asked about it every 3 reviews ;). I like the look as well, but have found similar/comparable look/functionality from good ol' "Agenda Widget for Android"

Looking forward to using the launcher, what's the calendar, agenda app on the home page

that is the first video i have seen of a jb nexus with someone just using it. that phone is so good. soooo so good. as far as the launcher... what i dont like is the apps button, something i use quite often, being opposite side and up top from my thumb. can i mirror it? sliding over is probably good enough for me but a mirror option would be great. nice app. my buck ninety-nine is ready and waiting. it would be a nice change from nova prime. i would love to beta this.

I worried about that, too. But the sliding works really well.

what was the agenda app on the home screen

It looks like Pure Calendar Widget.
https://www.androidcentral.com/e?link=https2F2F...

I would definitely try this out!

As someone who is stuck on GB until I get my upgrade I have to ask, is this a 4.0+ only app like Tweet Lanes?

Looking at the apps in the app drawer there looks to be a new Android Central app and Widget in there as well as Carbon

2:03 That's Carbon for Android?
Android Central Newsletter
Get instant access to breaking news, the hottest reviews, great deals and helpful tips
Thank you for signing up to Android Central. You will receive a verification email shortly.
There was a problem. Please refresh the page and try again.