The Edifier QD35 has plenty of potential if you need a Bluetooth party speaker, and its unique LED lighting effects combined with the see-through design makes it rather distinctive. There's also 35W charging via dual USB charging ports on the side, and you can connect it via USB and 3.5mm alongside Bluetooth 5.3. But the sound quality isn't quite up to scratch, and the QD35 needs to be plugged in at all times. These otherwise limit its potential, but if you want a speaker with a lot of visual flair, you'll find a lot to like in the QD35.
Pros
+

Unique design with highly customizable lighting effects

+

Charges your devices at up to 35W

+

Connects via Bluetooth, USB, and aux

+

Easy to tweak the EQ
Cons
-

Doesn't sound anywhere as good as most Bluetooth speakers

-

Has to be plugged in

-

Design may not be to everyone's tastes
Why you can trust Android Central Our expert reviewers spend hours testing and comparing products and services so you can choose the best for you. Find out more about how we test.
Edifier is best known for its powered bookshelf speakers — the R1280DBs continues to be a terrific option if you want a home speaker — and the Chinese manufacturer has turned its attention to the true wireless segment in recent months, rolling out a slew of products that deliver a good value.
The QD35 is a unique offering in that it is a Bluetooth speaker, but it is aimed at home use — it always needs to be plugged in, limiting its portability. While that makes it not as versatile as some of the other choices you get in this category, the upside is that you get dynamic lighting effects, a unique see-through design, and 35W charging.
Retailing at $199, the QD35 goes up against the likes of the Tribit StormBox Blast, so let's take a look at what you're getting here and whether it's a good option for your home.
Edifier QD35: Pricing and availability
Edifier launched the QD35 back in February, and it's now available in all global markets where the manufacturer has an official presence. You can get it for $199 on Amazon U.S., and it costs a similar amount in other regions.
Edifier QD35: What I like
Obviously, we need to start with the design. Edifier isn't really known for its bold design aesthetic; its speakers usually have a safe design that allows them to merge into the background, but the QD35 is all about getting attention. The white color scheme along with the LED lighting effects make it immediately stand out, and I daresay this is the best-looking speaker I've used so far. Of course, I like RGB lighting and see-through designs, so if that's not the style you're looking for, this isn't the product for you.
The dual drivers are located at the center, and they're encased in a clear housing that makes the lighting effects that much more dynamic. There's a shroud behind the drivers, and this is a sensible move by Edifier as it gives the QD35 a cleaner look — a real see-though enclosure wouldn't look as good as there'd be wires everywhere.
Edifier also made the best of the design and integrated a tiny screen at the bottom left corner. This shows the time, connection mode, and serves as a visual indicator when Bluetooth pairing is active. The right of the QD35 houses the dials: a multifunction power button that lets you change between Bluetooth, USB, and 3.5mm audio modes, volume knob, and a button to cycle through the lighting effects.
The top features a massive Edifier logo, and the slotted design adds to the boldness of the speaker — the QD35 is all about being flashy. The left side is interesting as it has a USB-A port alongside a USB-C port. You can charge your phone or other accessories via the QD35 while blasting music, and this is a pretty nifty use case — one that I leveraged quite a bit in the three months I used the speaker. Round the back, you get the power toggle, 3.5mm and USB ports.
There's no doubt that the styling is a big draw here, but the decision to use exposed drivers is a bit shortsighted as it's easy enough to push the tweeter inward. That said, the move gives the QD35 a presence unlike most other speakers, and to Edifier's credit, you can easily change lighting effects and customize the patterns.
Overall, I like the design quite a bit here; sure, it may not be to everyone's tastes, but if you prefer RGB lighting and want a Bluetooth speaker that stands out, this is the one to get. On that note, I'll add that the clear plastic that's used at the front is prone to dust and smudges, so you'll need to clean it with a modicum of regularity if you want it looking pristine.
Image 1 of 5
There's also a lot to like on the connectivity side of things; the QD35 has Bluetooth 5.3, USB-A, and a 3.5mm in. I used it with Bluetooth most of the time, but you can easily connect it to a Windows machine, and with Hi-Res branding, you can stream high-res tunes — provided you have a phone that uses the LDAC codec.
While I didn't need the feature as much, a unique ability on the QD35 is charging ports — you get a USB-C and USB-A ports here, and the USB-C goes up to 35W. I plugged in the Vivo V29 and Pixel 8 Pro to the QD35, and the charging port did a decent enough job with either device. If you're eyeing this as a solution for your desk, then I guess the inclusion of two charging ports makes a lot of sense.
Edifier QD35: What needs work
The QD35 has a 3-inch woofer that puts out 25W and a 15W 1-inch silk dome tweeter, and although the unit looks rather large, it only delivers 40W of sound. That's a bit of a letdown, as the sound that you get out of this thing isn't particularly impressive. It is decent enough, but turn up the volume and it starts to get a bit too bright. There's no significant bass presence here, and that ultimately makes the QD35 not as enjoyable.
Tribit's StormBox Blast is only marginally larger, and it manages to house two 30W woofers, making it sound that much more lively. Edifier should have done more with the low-end, as the weedy bass combined with an overzealous mid-range makes the QD35 sound nowhere as good as other Bluetooth speakers in this category.
That doesn't mean that it sounds bad; to its credit, Edifier did a decent job with the tuning, but the design of the drivers combined with the size restrictions mean it doesn't sound anywhere as good as it should. By contrast, the $150 R1280DBS sounds much more vibrant across the board.
The other quibble I have with the QD35 is that there's no built-in battery, so it needs to be plugged in to work. This is a shortsighted move in my opinion, as the lighting effects combined with the unique design give the QD35 plenty of potential as a party speaker. That isn't being utilized because of its requirement to be plugged in, and Edifier really needs to consider making a portable version of this thing.
Edifier QD35: The competition
Right now, the StormBox Blast is my recommendation if you want the best Bluetooth speaker in the $200 category. It also has LED lighting — although nowhere as distinct as the QD35 — and it houses a massive battery, produces outstanding sound, and has an XBass mode that accentuates low-end frequencies.
Edifier QD35: Should you buy it?
You should buy this if:
You need a Bluetooth speaker with a unique design
You want a speaker with integrated charging ports
You need Bluetooth as well as USB and 3.5mm connectivity
You want a highly customizable sound
You shouldn't buy this if:
You need a portable speaker
You want really good sound quality
Ultimately, it's the sound quality that lets the QD35 down. Edifier did a magnificent job with the design, and I want to see the manufacturer continue to build out the aesthetic with subsequent launches. But it's clear that there's a lot of work that needs to be done on the audio front — both in terms of the drivers and their positioning.
There also needs to be a portable version of the QD35; it's all well and good that you get charging ports and customizable lighting effects, but a big use case with a Bluetooth speaker is portability, and you miss out on that here. A smaller model with a built-in battery and better sound makes a lot of sense, and I'd be interested in trying that out — if it ever comes to fruition. If you like the design and don't mind the limited sound potential, the QD35 is still a good option. But if you want room-filling sound and a portable design, there's no shortage of options.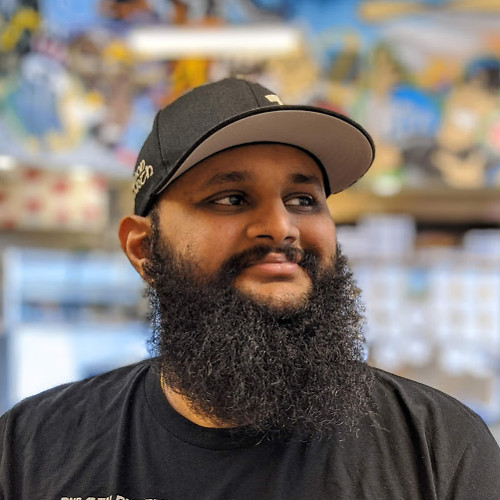 Harish Jonnalagadda is a Senior Editor overseeing Asia at Android Central. He leads the site's coverage of Chinese phone brands, contributing to reviews, features, and buying guides. He also writes about storage servers, audio products, and the semiconductor industry. Contact him on Twitter at @chunkynerd.