AC readers are overwhelmingly against the idea of Facebook smart glasses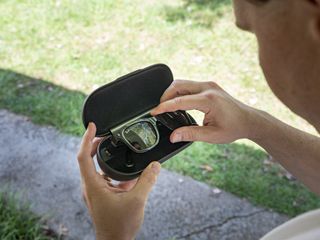 (Image credit: Nick Sutrich / Android Central)
What you need to know
This weekend, we asked our readers if they would consider purchasing Facebook's new Ray-Ban smart glasses.
An overwhelming 85% answered, "not in this lifetime."
Less than 6% said they would indeed purchase the smart glasses.
Last week, Facebook announced that it had partnered with sunglass maker Ray-Ban to create its own AR smart glasses, called Ray-Ban Stories. Designed to look like the iconic sunglasses, Ray-Ban Stories adds smart photo and video capture, open-ear audio, and the ability to customize with prescription lenses. As a physical product, Ray-Ban stories certainly look impressive, but we wanted to know how our readers felt about the company behind these new wearables.
We weren't all that surprised that a large percentage of our readership was opposed to the idea of a Facebook wearable, but it was interesting to see just how decisive that opposition was. Nearly 85% answered that they wouldn't buy the smart glasses in this lifetime, while only a little over 5% said they'd definitely buy them. In addition, approximately 10% said that they weren't quite sure if they'd get a pair or not.
As you might imagine, the idea of such an in-your-face Facebook device stirred up some colorful commentary. Here's a little taste of what our readers had to say.
Several readers commented that they might be persuaded if the product came from a different tech company, perhaps like Razer or even Amazon, but not Facebook. Reader Starfleet Captain spoke for many when they said, "If it were Google, Microsoft, or maybe even Apple, then perhaps. But definitely not buying a product like this from Facebook — with the low amount of trust I have in them lately."
wtf would anyone with a brain buy anything facebook branded?wtf would anyone with a brain buy anything facebook branded?— OneOfOne (@Robert_Freeman_) September 11, 2021September 11, 2021
If you want to see all of the colorful commentary, be sure to check out the original poll and our social channels.
Our poll is now closed, but we'd still love to hear from you. Would you consider buying the new Facebook/Ray-Ban Stories smartglasses?
Jeramy is proud to help *Keep Austin Weird* and loves hiking in the hill country of central Texas with a breakfast taco in each hand. When he's not writing about smart home gadgets and wearables, he's defending his relationship with his smart voice assistants to his family. You can follow him on Twitter at @jeramyutgw.
TIL that 5% of Android Central readers are Facebook employees.

Technomom bringing the FIRE

That's sort of fascinating. Should run that poll again and ask if the respondent is an Oculus owner. As it is, it appears the function is that you take pictures/videos, and there is an app on your phone that pulls those from the glasses. That app is not Facebook. Ostensibly, there is no direct connection to that app by Facebook, though I'm sure they make it easy to share with your Facebook account. Hasn't been any indication that you even need a Facebook account to use these (see Oculus). I get the distaste, and have no real interest in spy glasses, but that's a fascinating indictment on a company's social standing.

Well, reading AC top to bottom, say the poll before the review. Guess you do need a Facebook account to use the app. May be a shame they called it Facebook View, rather than RayBan View.

I want absolutely no internet-enabled hardware from Facebook or Amazon. I would love a reliable pair of what amounts to earbuds-built-into-my-glasses (no camera, no more display than maybe a dim LED in the corner) that works with Google Assistant, but preferably not from any of the giants, and absolutely not from Facebook or Amazon. Made by Google is getting a little sketchy too. I'd go for something by Aukey, Anker, Mobvoi, maybe Xiaomi, something on that tier. I'd also be thrilled if somebody other than Facebook came out with a set-top box for video calling like the Portal TV. I could begrudgingly accept an Oculus since they seem to be the best at in-home VR and that's a device that actually turns off when you're not using it.
Android Central Newsletter
Thank you for signing up to Android Central. You will receive a verification email shortly.
There was a problem. Please refresh the page and try again.