About the Android Auto compatibility check website ...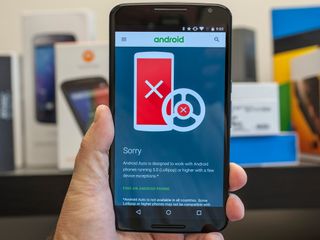 Android Auto works with Android 5.x devices. But if you're really not sure whether your phone is compatible, there's a tool at android.com/auto/check that'll tell you if you're good to go.
Unfortunately, it's broken. It's reporting back that the Nexus 6, Moto X 2014, HTC One M9 and HTC One M8 are not compatible with Android Auto. But we've used every single one of those phones with Android Auto. (And we're testing more as time permits.) So for now, don't rely on that check page. We'll update when it's fixed.
More: If you've got questions, check out our Android Auto forums!
Get the Android Central Newsletter
Instant access to breaking news, the hottest reviews, great deals and helpful tips.
Do we know of any specific 5.0+ devices that don't work with AA so far?

Getting sporadic reports of occasional wonk. Still testing new devices when I can. (And the Pioneer units just got a firmware update that should help with that.)

I haven't used it for any long trips yet but just on my commute to work and back (15min) it has been locking up and goes to a black screen telling me android auto has stopped and to check my phone when its safe to do so. The phone gets me nowhere seeing as the phone I am using is a moto x pure 2014 on 5.1 I used the feedback option in the app to report it.

It doesn't work with my Galaxy S5 yet. I was told that someone dogs get their galaxy to work but they had Verizon as a carrier and i have Sprint. Not sure if that really makes a difference.

Sounds like a screw up to me! I'm guessing an update will be required for auto...

Or, um, they just fix the website? Every phone I've tested works.

I suppose yeah... it may have been bogus checking in the first place lol!

did u read the article?? The website seem to be broken.
Nexus 4 also fails the compatibility check but i am sure it will work with Auto

It doesn't work for Android Wear check either on my Nexus 6 (5.1)

I just checked my Nexus 5 running Android 5.1... and the web site reports that I've failed the check because I don't have Android 5.0 or higher.
Of course, I've already got the Android Auto app installed and working.

Google isn't good with this stuff.. I got the same error Nexus 5 (AT&T)

Spring lg g3 not working Posted via the Android Central App

Try Summer Posted via My G2

Says my Nexus 5 isn't compatible, which is hilarious. It's used in every demo I've seen. Posted via the Android Central App

me I have a 404 error not found :/

Figures. Posted via the Android Central App

Sucks! I purchased the AVH-X5500BHS PIONEER indash about a year ago for my truck and of course Android auto is out now. Damn! From my M8 OR NEXUS 5

Just bought a NEX 4100 today stoked to use android auto then to my frustration figured out it won't work with my s6 active. It does work amazingly well with my work phone which is an iPhone. Posted via the Android Central App

It's kind of crazy that this web site still doesn't work, 7 months after it was called out in this article. Either take it down or fix it...leaving it in this state is very annoying and makes Android Auto look even more half-baked than it is.

I have a 2014 Moto X running Android 5.1. This site says Android Auto works on my device. I can install Android Auto on my phone, but it will not connect to my car... I've tried many USB cables. No joy.