5G Revisited: 5 reasons to be excited about it in mid-2020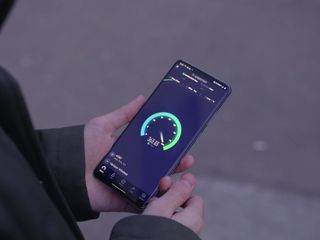 (Image credit: Android Central)
The rollout and expansion of 5G have been interesting to watch over the last year or so. The first time I got to experience 5G for myself was in April of last year, when Verizon loaned me a Moto Z3 for the day, equipped with the 5G Moto Mod, to test out its millimeter wave 5G network in Chicago. Speeds, where I was able to find a signal, were incredibly impressive, but the availability of that signal was hilariously spotty.
Of course, things eventually began to improve. About five weeks later, I came back to Chicago to try Verizon's network again and had a much better experience, and I later returned once more to try sub-6 5G for the first time over Sprint's network. This was by far the best experience of three, with far more consistent and reliable coverage, albeit at the cost of slower (though still impressive) speeds.
Fast forward to today, and every major carrier has a decently well-established 5G network — at least, in most major cities. I use Google Fi, which has access to T-Mobile's sub-6 network, provided I use a compatible device (right now, that's the OnePlus 8). 5G still isn't perfect; despite fairly promising coverage maps provided by carriers, network availability is still sparse in many of the areas I've tried using it. But even in its early stages, there's a lot to be excited about.
Faster speeds
Obviously, one of the main advantages of 5G is its faster potential speeds. We've all seen the headline-worthy speed tests where 5G-powered phones reach upwards of 2Gb/s — I've even done a few of them myself. That's faster than my gigabit home internet connection, and it has the potential to completely change the way we use our phones and other always-connected devices.
With those kinds of speeds, you can download an entire movie in a matter seconds, or even livestream 8K content in real-time at a high bitrate to preserve image quality. The possibilities are endless, though it's important to note that those kinds of speeds are only achievable using millimeter wave 5G, which is nowhere near as far-reaching as sub-6. This is where I ran into problems with Verizon's network in Chicago, as well as more recently in Brooklyn while testing the Galaxy S20 Ultra.
The good news is that even on sub-6 networks, you can expect faster speeds than you'd get over LTE. Here in Indianapolis, I'm able to maintain a pretty consistent connection to T-Mobile's sub-6 5G, at least when I go downtown, and average at around 150Mbps in most areas of the city.
It's becoming more ubiquitous
Perhaps the best indication that a new technology has "made it" is when you no longer have to worry about whether or not it'll be in your next phone. At least in the high end, it's pretty much a given that the next phone you buy will have some sort of 5G support, and that's especially good news if you only upgrade once every couple of years. Even if your area or carrier doesn't currently have an established 5G network, buying a 5G phone now means you're all set for future development. It's also great to have in case you travel to a city that does have it already!
Part of the reason 5G has so quickly become the norm on flagships is because, frankly, it hasn't been entirely optional. The Snapdragon 865, Qualcomm's chipset that powers the vast majority of 2020 premium handsets in the U.S., doesn't have a built-in modem. Instead, manufacturers need to include a 5G-compatible modem like the X55 separately.
On the other hand, even more affordable phones like the Galaxy A71 and, if the rumors are true, even the upcoming Pixel 4a, have 5G support these days, making the budding network more accessible to virtually anyone.
It won't always cost extra
Just like when 4G first launched, 5G comes at a bit of a premium on most U.S. carriers. Verizon charges an extra $10 per line (based on a 4-line plan) for 5G access, starting with its Play More Unlimited plan — though with it, you also get other perks like unlimited mobile hotspot and 720p video streaming. AT&T similarly charges an extra $5 per line, with 50GB of "Premium Data" on its Unlimited Extra plan.
Currently, T-Mobile is the only major carrier that offers 5G at every tier of its data plans, without any additional surcharges for access to the new network. It's worth noting that you can also find a deal from 5G-supported MVNOs and prepaid carriers; I don't need to pay any extra for 5G access on my Google Fi plan, which operates over T-Mobile's sub-6 5G network.
The good news is that these price hikes aren't forever. When's the last time you've seen a surcharge on your phone bill for 4G access? Ever since it became a standard feature in virtually any phone, carriers no longer saw the need to charge extra for LTE access, and 5G will eventually follow suit. It may take another year or two before 5G is truly a commodity, but in the meantime, you can continue to just use and pay for 4G, even with a 5G-capable phone.
5G phones tend to be faster all around
Remember how I said most 5G phones in the States feature the Snapdragon 865 processor? That just so happens to be the fastest processor on the market (at least until the 865+ comes out), meaning your phone won't just be faster to download and stream content; everything you do on the phone should be buttery smooth and responsive. I've tested the Galaxy S20+, S20 Ultra, LG V60, OnePlus 8 ... you name it. Every Snapdragon 865-powered phone I've used is blazingly fast in every regard.
Even if you're on one of the more affordable phones with 5G support, you can rest assured that you're on a new, modern processor, rather than an aging chipset from three generations ago that was included to keep costs down. You shouldn't expect exactly the same experience from every phone, of course; along with faster processing, the Snapdragon 865 packs a top-of-the-line ISP for image processing that lower-end chipsets won't be able to match. But at the very least, you can expect speedy performance from just about any 5G-capable phone.
Coverage is getting better by the day
When I first tested Verizon's mmWave 5G network just over a year ago, it took all day to run enough speed tests for an initial report. Coverage was insanely spotty, and even standing within direct line of sight with a 5G node didn't guarantee I'd get a signal — it was nowhere near ready for consumer use. These days, things have gotten drastically better, with expanded coverage across the board.
Since getting a few 5G-capable phones for testing, I've been able to watch T-Mobile's 5G coverage grow throughout central Indianapolis at a rapid pace. That's a great sign; Indy isn't the smallest city out there, but it's certainly no New York or San Francisco, so I've been impressed to see 5G coverage at all here — in fact, Verizon is the only major carrier without an established 5G network here. Elsewhere, I've seen coverage expand through New York City on Verizon, AT&T, and T-Mobile, even just since my last visit there in February. If your city doesn't have 5G just yet, don't get too down. It's bound to happen sooner than you might think.
Fast in every regard
The most versatile 5G phone around
The Galaxy S20+ is one of the most powerful, high-end phones on the market, with an excellent display, incredible cameras, long battery life, and support for both sub-6 and mmWave 5G technologies. It's an excellent phone for virtually any kind of user.
Be an expert in 5 minutes
Get the latest news from Android Central, your trusted companion in the world of Android
Hayato was a product reviewer and video editor for Android Central.