5 essential apps to take Android theming beyond the launcher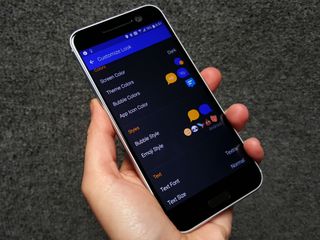 Most of the theming we talk about here on Android Central takes place on the home screen, so theming the launcher is important. It is not, however, the only area of your phone you can theme. Even without system-wide themes on TouchWiz, Sense UI and the like, it's possible — nay, easy — to theme many parts of your phone.
So, let's get our theme on!
Texting — Textra
While Google's Messenger app (opens in new tab) brings color to its conversations, the colors are random, and what's more, Messenger is ridiculously bright. Textra (opens in new tab) is one of the best SMS apps on Android, and one of its many touted features is its theme customization.
Want a dark theme? Dark or AMOLED black, Textra's got you. Want to make your text bubbles circle, square, or somewhere in between? Textra's up for them all. Want to replace the manufacturer emoji you see with Google's emoji? Or iOS emoji? Textra's got some add-ons for just that.
Textra's theming is about as close as you'll get to iMessage's look on Android, without the hassle of seeing green for non-Apple contacts. Textra's colors and shapes are quite customizable and allow you to match Textra to your theme, which is great because it means that when you use the Textra pop-up to reply to a text, it'll match the home screen it's being overlaid on.
Download Textra (Free, $2.99) (opens in new tab)
Twitter — Talon
Talon (opens in new tab) is one of many great Twitter clients with a customizable layout and theme. Talon allows you to choose both a primary and accent color to your theme in addition to setting the light, dark or AMOLED black base theme. Another benefit here is the inclusion of a night mode, allowing you to use a brighter base theme during the day and a darker base theme during a user-set 'night' period.
The themes, as well as the ability to customize your feed layouts and swipeable home pages, allows Talon to fit quite nicely into any theme and use case you could have for Twitter, from saved searches for your weekly live Tweets to checking on the latest tweets from your favorite AC nerds.
Download Talon ($1.49) (opens in new tab)
Dialer — Simpler Dialer
Simpler Dialer's (opens in new tab) ease of use and simple layout are what drew me to the app, but what drove me to buy Simpler Pro and use it over HTC's dialer were its recent caller ID feature and its themes.
Simpler's themes are a bit more basic than Textra or Talon, but you can still take a dark theme and pick one of 40 theme colors. If you don't want your contacts without pictures being random colors, you can also set them to be a plain gray or your theme color.
Download Caller ID and Dialer by Simpler (Free) (opens in new tab)
File manager — Solid Explorer
Solid Explorer (opens in new tab) been my file manager for years thanks to its magnificent feature set, including the ability to stream my movies from Google Drive to MX Player.
Solid Explorer's themes allow you to pick a primary color for the bars and icons, as well as an accent color for action buttons, subheaders, and progress bars. You can also customize the look of your icons.
Download Solid Explorer (Free, $1.99) (opens in new tab)
Weather — 1Weather
1Weather (opens in new tab) been a constant in my theming articles for its widgets, which are easy to theme, but the app itself is themeable, too. 1Weather allows you to choose a backdrop for the app, as well as an accent color and either white or black icons. These would be even better if you could choose a dark theme akin to what 1Weather had before their Material Design update last year.
Now, even if you choose dark icons and a dark background, you still have white cards to contend with in the app for any detailed information. Don't get me wrong, you can still get a weather app that fits your weather, your theme, and your life, but it may be a bit brighter than you wanted.
Download 1Weather (Free, $1.99) (opens in new tab)
Ara Wagoner was a staff writer at Android Central. She themes phones and pokes YouTube Music with a stick. When she's not writing about cases, Chromebooks, or customization, she's wandering around Walt Disney World. If you see her without headphones, RUN. You can follow her on Twitter at @arawagco.
Thanks for the heads up about simpler dialer. Had been looking for something good since TrueDialer was butchered and people were forced to move to the piece of crap that is TrueCaller. As for Twitter, Twittnuker is my go to app for a proper black theme. Main advantage over Talon is it's free ;)

I'm a fan of True Phone Dialer/Contacts myself.

Ditto, use Talon and Textra, just paid for Simpler, looks good.

I've been using 1Weather for a while now but it seems to be having some issues with Doze. I've been in touch with the dev's for a while now and they have been trying to figure it out. Not sure if anyone else here is using 1Weather on a 6P running 100% stock 7.1.1. If so, double check to see if you're having the issue as well. Basically what's happening is the app no longer updates in the background for the notification info. If it makes an attempt to update the weather while doze is kicked in, it's like it makes the attempt, and then completely gives up trying to make any further attempts to update the weather info. I even went on a 4 hour drive (after 1Weather failed to update while doze was on) with music, and Waze running with the screen on, and it never updated. Slightly annoying. Hoping they can figure it out.

Never noticed anything like that on 4 Marshmallow/Nougat devices. Interesting... It updates once you open the app, though, right?

Yup, it definitely auto updates once you open the actual app itself. I believe I didn't have any problems in MM. But once I switched to Nougat it was a different story. Granted I will go for quite some time without even touching my phone. Sometimes hours so that could be why as well.

I can confirm that 1Weather has yet to demonstrate the capability to update automatically on Nougat handsets. I have run it on two test handsets and it failed to update on either --- and this is after weeks of testing. I cannot comment on its utility on Marshmallow and before versions as I haven't run it on these platforms, preferring other weather apps. On the other hand, Solid Explorer is absolutely the best file manager I've ever used on Android. Highly recommended.

I had previously had this problem on my Pixel, but when I contacted 1Weather a few weeks ago, they indicated they were aware of the issue and working to get it corrected. Sure enough, within a week, an update solved the problem. You might want to make sure you're currently running on the latest version, and maybe an update will solve your problems too.

The version I have is actually more recent than what is currently on the play store. They sent me a few copies via email to test out.

Textra looks good but I've always used Chomp.

Textra is the premier SMS app on Android...Better than the rest IMHO

I disagree with Textra being the best, it may be good but it's got nothing on Verizon messenger+ and don't let the name fool you, Messenger+ works on every device and carrier I've used. It is fully customizable, I mean fully way beyond premium Textra. It has geo tags, voice messages, backups, contact sharing, audio sharing, geo sharing, message reports, emoji, and my favorite is image/video and link tabs for each conversion. I never have to scroll through my conversations looking for links and images/videos. Oh and no annoying ads or premium version. It's truly a thing of beauty! Thank you reddit for the find.

Even does that cool relaying of messages to Verizon too...

All valid points... But Verizon....

I had to switch from Messenger+ to Textra on my LG G4 because it would not turn on my notification light when I got a message. Don't know if it was a conflict with Light Flow but I don't think it was because I uninstalled Light Flow just to check it and it still didn't turn on the notification light. Reinstalled Light Flow, switched to Textra and I've not had any problems since.

ES File Explorer has better customization than Solid Explorer IMO. The one critical is the background image can be customized to a saved image on your phone. pretty sweet.

It also has view and sort settings per folder. For example you can set one folder to sort by date and another by name or to view a folder in detail or large icons.

These all seem pretty cool thanks for the info. But I cannot use Textra again not after they went into my contacts and sent pictures by itself lol terrible! As for the Dialer if we are solely talking about Theme than Samsung already does a great job by applying black all over it, I cannot stand all the white stock Android throws all over the entire UI. So thumps up to Samsung. Dark Theme/AMOLED FTW!

I wish I could use alternative texting apps but I'm kind of either stuck with Allo or Hangouts since I use my GV as my primary number. See my comment(s) above regarding 1Weather I haven't tried Talon but have rather enjoyed Fenix so far, which also has dark and black themes. I've recently started using Solid Explorer. Love it so far. I use the stock dialer. I like it.

I actually just use Twitter since it's got a dark theme now but I'm not a heavy Twitter user so I never saw the huge advantage of Talon.

Business Calendar 2 is another one - the customization available is pretty wild, including for widgets.

for caller i use Truecaller and for sms EvolveSMS
Android Central Newsletter
Get the best of Android Central in in your inbox, every day!
Thank you for signing up to Android Central. You will receive a verification email shortly.
There was a problem. Please refresh the page and try again.