2 billion people use Facebook every month, despite its consistently subpar Android app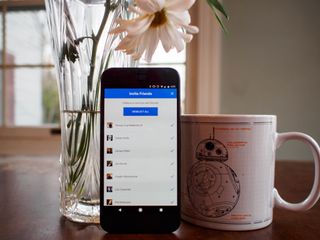 2 billion people now use Facebook every month, which is an incredible feat for a single platform to reach. On average, 800 million people "like" something on Facebook every single day. Surprisingly, over 1 billion people are using Facebook Groups every month. Those are just absolutely bonkers numbers to think about.
From the perspective of those who use Facebook on Android to be part of that 2 billion group, it's extra impressive because the Facebook Android app continues to be a pain. Between its huge size, regular battery draining updates, constant changing of settings and updates outside of Google Play there are plenty of frustrations that have pushed people to uninstall the Facebook app.
But despite that, Facebook's growth continues — and it's not unfathomable that we could be seeing it reach 2.5 billion or even 3 billion monthly users in the future. That's growth that any company would love to have in its sights.
Andrew was an Executive Editor, U.S. at Android Central between 2012 and 2020.
Any third party apps that will work? Official sucks. I use it to sell locally, that's it. I have to keep closing it with greenify. Otherwise it drains my battery.

I used to use Swipe Pro, then the developer quit and it's now really unstable with frequent crashes. I use Metal now.

This app looks great. Just tried it..lookslike Facebook blocks the market unless you use their official app. I will most likely stop using it. That's only reason I need it.

Really, Facebook seems to care more about reactions and redundant features than actually making a solid app. Kinda like how Google removed the "Sync only when connected to power" feature in Google Photos without warning

Simple for Facebook is the best wrapper.

This has been a huge bummer. Swipe Pro was great. Can't even open it now.

I loved Swipe Pro. Now it's just horifically unstable

I use MetalPro. Love it. Battery life is now near infinite.

I may consider upgrading to Pro

Don't think I've used any of the pro features, which shows how full featured the standard version is. Still, worth it to support a good Dev.

Facebook Lite. Official and very useful

I can third metal. Came for the dark theme, stayed for... Well, the dark theme. But the battery savings are nice too!

I use Simply. It works more like Facebook on a mobile web page, but at least when I close it, it's actually closed.

Try Simple Pro or Friendly for Facebook. Using Simple pro for a year now.

I love how they put the download link at the top of the article..."hey, this app sucks your battery dry in minutes...here's where you can get it!"

And this is why I use wrappers

When I use it on my phone, I either use Facebook Lite or the web browser. More often than not, it's only the web browser. The Android app sucks, and they don't care enough to fix it.

Facebook for Android also as of a few updates ago no longer stays in memory so it is constantly refreshing content further impacting battery life. You can look at a post hit the home button and open it right back up within seconds and you'll see different content being displayed. Terrible app.

And because of that you can't switch apps and go back to the FB app to continue reading a post you were reading... because it refreshes the content. Huge issue.

I too recently removed Facebook. I had notifications turned off on my phone's side and facebook's side. i would still get about 10 notifications a day...

You know what annoys me about the Facebook app? How it insists on resending you notifications you've already read somewhere else if you enable internet access after a period of time offline.

I keep the app around just for the convenience of having Facebook listed on the share list.

It's a good reason, but you can do the same with metal. Only difference is a different icon.

I kicked Facebook to the curb over 3-years ago and haven't missed it at all. Like most social media, it's a time waster with little to no value.

People who constantly feel the need to express this opinion are the worst, not being on Facebook doesn't make you better than anybody else and Facebook's value is different to everyone. Note this is coming from someone who hasn't been on Facebook in a long time. Difference between me and you is I don't feel the need to ride in on my high horse telling everyone about how much time they're wasting.

Wait. You know me? Oh, right, you don't. Seems to me you rode right in behind me on your own high horse. A man walks into a casino and goes to his favorite slot machine. Taped to it is a sign that reads, "A fool and his money are soon parted". Angry, the man rips the sign off and underneath is another sign that reads, "Truth hurts, doesn't it?" Sure, FB has a different value to different people but don't try and convince the world that it's not a time waster.

It's not to me. I don't consider keeping up with my worldwide network a "waste of time". With the things that I do, relationships are a valuable asset. I can maintain and deepen those relationship at any time of the day or night. Most opportunities I get have some thanks to social media.

Yes, but you apparently feel the need to tell the poster, thereby expressing YOUR opinion about them expressing theirs...

Ditto. Dropped it 3 years ago. Got sick of how it turned family and friends into monsters over politics, nutrition, parenting, etc.

Is that Facebooks fault or a....nvm

Stupid questions are stupid...

I use Simple for Facebook wrapper. It is the best Facebook wrapper.

I'm not on Facebook. Do I win a prize?

Pointless gloating rights and a mild distrust from people you know. Enjoy!

A majority of people in the world still do not use Facebook. So no, not quite yet.

Metal is the only way to go. So much lighter on resources and a fantastic pitch black theme. Works flawlessly on my s8

i dont have Facebook on my phone and my battery last longer

It was stunning just how much better my phone ran in general when I deleted Facebook. Using the web version wasn't as convenient but it was a small price to pay for having a phone that was snappier and had better battery life.

This. FB was CRIPPLING my gf's Nexus 5x at the time. Uninstalled it and suddenly all the issues like lag, jank, and battery issues went away.

Well.. (just pick the Forest Gump saying about this, and it has nothing to do with a box of chocolates " Mac

I have Facebook on my S8 and I don't notice the battery drain people are talking about. Recently switched back to Android from iOS so maybe I'm just not noticing yet.

Depends on the update for some phones and you have to remember every phone handles killing off background processes differently.

I don't even use the app, I use chrome for facebook and messenger lite (13mb--official app) for facebook messaging.. the lite versions aren't available in america, so you gotta get it from 3rd party sites

I've been going through the browser for Twitter and Facebook for a while now. Thanks for all the tips on Metal, I just downloaded. It's really small I like that and nice interface

Facebook mobile website master race

I stopped using the open sewer that is facebook 3 or 4 years ago and have no interest in returning. Right now the primary demographic of facebook users is parents & seniors who want to creep on their kids.

Really not that much different. I use Facebook book on my iPad and it does the same thing. Only difference is I hate not having a back button in iOS!

Every time I want to quit Facebook it cripples my social life because everyone makes events and invites people on there, everyone uses it to chat and keep in touch. I always come back to it. Windows 10 app is worse right now, touch keyboard appears in front of your post so you can't see what you're typing. Website is that only functional thing.

I cancelled my entire Facebook account. Feels great and I will never go back

Feels good NOT to be part of 2 billion programmed bots.

I must be in the minority. I've tried the alternatives, but they don't have the same functionality. The official app doesn't kill my battery as bad as this article claims it does.

I use Facebook app just for the sake to login to my radio app. Just that. It's boring.

I use the official app because I can't take it off my phone. That's why they have so many people using it.

It comes pre installed on my Sprint phone. Both FB and messenger. I can't uninstall them.

That's absolutely ridiculous. I'm sorry, that sucks.

Yeah there's like 4 Amazon apps to I can't remove. It's how it goes with a US carrier phone. I'm actually leaving in a couple weeks and going unlocked finally after years of wanting to.

Well if TMO coverage is decent where you are I'd consider them. Takes unlocked phones like a champ and neither my tmo branded G6 nor the S7 I had briefly had those kinds of baked in apps.

That's actually who I'm switching to for that reason. I want to be able to buy unlocked bloat free phones. G6 is at the top of my list ATM.

Nice! Using both TMO and a G6 right now, highly recommended.

I ditched the Facebook app years ago. Why would anyone use it when you can just pin its webpage to your phone's desktop?

Quote: "I cancelled my entire Facebook account. Feels great and I will never go back" This. Lol @ these people talking about how their social lives come to a halt. They probably would have committed suicide in the 90s, while we still managed to get the same things accomplished just as easily as those using Facebook.

If I had a real job, where I am busy, I wouldn't be on FB nearly as much!!!

I use fb for my groups. And to keep up with ppl I don't see everyday. And I like to have it as another form as a means to contact me. Alot of posts are cringy but eh lol. Using metal. I honestly don't notice the difference in the battery

my chrome browser does it better, and am not part of the 2bn ppl

Interesting... I don't have any problems with the FB app, and i use it constantly. (S8+)
Android Central Newsletter
Get the best of Android Central in in your inbox, every day!
Thank you for signing up to Android Central. You will receive a verification email shortly.
There was a problem. Please refresh the page and try again.