10 things to know about the Samsung Galaxy Note 4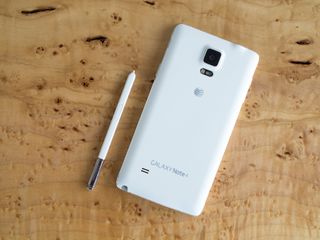 There's a lot to take in with the Note 4, but here are the first things to start with
The Galaxy Note 4 is one of Samsung's boldest and most beautiful device yet, and it's put a ton of work behind making this device a great piece of technology. There's a brand new aluminum frame that looks and feels fantastic, as well as a new QHD screen that you can't stop staring at. And that's all backed up by a new processor, more memory and of course Samsung's software offerings that give you everything but the kitchen sink.
To help get you started on understanding it all, we've compiled a list of the top 10 things you need to know about the Galaxy Note 4. Whether you're on the fence about picking one up, already have one on the way or are just curious about the phone. Read long for the full list.
1. Yes, it really is made out of metal
It sort of feels like the twilight zone, but yes the Galaxy Note 4 has a metal frame. It's made out of aluminum and magnesium, actually, and wraps around the entire outside of the device. It gives the Note 4 improved rigidity, but most importantly for many of us improved feel that just can't be rivaled by plastic phones of previous years. The chamfered edges are definitely more prone to scratching than the hard plastic ones of previous versions, but we honestly don't care — they look beautiful.
The back plate is still removable, and you can add an SDcard
Even though a big portion of the Note 4 is metal, the back plate is still plastic and can be removed just like you know and love from previous Samsung phones. That gives you access to the Micro SIM, MicroSD card and removable battery, naturally. That SD card slot will accept a card up to 128GB in size, if for some reason the 32GB internal storage isn't enough.
Optical Image Stabilization helps your shaky hands when taking photos
The Note 4 fixes one of the biggest pain points of the Galaxy S5's camera by including Optical Image Stabilization (OIS). This great little feature helps stabilize the camera inside the phone, reducing motion blur in low light photos and videos.
The OIS is immediately noticeable in low light photos, helping the Note 4 properly expose scenes without getting a bunch of grain and blur from your shaky hands involved. OIS isn't a one-stop fix, though, and Samsung still has some work to do on the sensor and software to improve it further.
OIS is still a very welcomed feature for video recording, helping smooth out video shots when you're panning or walking with the Note 4 handheld rather than in a tripod. And when you're shooting UHD video with no software stabilization available, having the hardware stabilization makes all the difference.
4. Software features can help you deal with the huge size
The Note 4 is still a really big phone, despite actually being a touch narrower than the Note 3. With a 5.7-inch display there are few people in the world who have hands big enough to reach across the screen, but Samsung has included a few software features to help you out.
Under the "One-handed operation" area of the settings, you can turn on features that let you reduce the size of the entire screen for one-handed use, as well as options to slide the keyboard and lock screen over to one side or the other. You can also turn on a "Side key panel" that gives you access to the Home, Back and Recents buttons in soft keys on the side of the device.
It doesn't make the Note 4 any smaller, but it does help bridge the gap and let you use your phone a bit when you only have one hand free.
Adaptive Fast Charging gives the battery a quick boost in 30 minutes
The Note 4 supports both Samsung's own Adaptive Fast Charging and Qualcomm's Quick Charge technology so it can be powered up quickly from a compatible wall charger. Samsung claims that the Note 4 can receive up to a 50 percent charge in just 30 minutes with the right charger, and we found that to be roughly the case depending on how much you use the phone while it's charging.
You'll notice an "Adaptive Quick Charging" logo on the charger in the box, and its special output at 9V / 1.67A will give you those crazy fast charging times. If you opt to go with a standard high-output charger — such as a 5V / 2A one from a tablet — you'll see improved, but a bit slower charge times.
Samsung's Adaptive Fast Charging is great if you need a quick boost to fill up that 3220mAh battery before you head out for a long day (or night), and more than enough reason to keep Samsung's own charger handy
The S Pen is still powerful, if you're the type of person who needs to write
Samsung may not have changed the S Pen dramatically coming from the Note 3, but we'd argue it didn't have a whole lot to improve. The S Pen is now ribbed to make it easier to grip, and has a single button still, but it's the software that has seen the biggest improvements.
Air Command is much the same, but all of the apps it launches into — including Action Memo and S Note — have received design refreshes and small usability improvements. Action Memo notes can be saved to your home screen as a widget, and S Note is cleaner and easier to navigate.
7. You can take "panorama selfies" for a wide-angle shot
At this point we're sad to say that selfies are actually a "thing" for many people. If you're the selfie type, you can rest assured the Note 4 has you covered with features that help you indulge. The 3.7MP front-facing camera actually takes really good photos, but the big new feature is a "panorama selfie" mode that lets you take a super wide-angle shot.
Switch to the front-facing camera and turn on the panorama selfie mode. You'll then press the shutter key once and sweep back and forth — the software will stitch together the pictures and give you a single, wide-angle shot to fit in extra amounts of background or a big group of people. Selfies can be awkward, but with this mode at least they'll be composed nicely.
Multi Window is a little hidden, but it's even easier to activate once you know where to look
Multi Window is a huge draw for those who pick up the Note 4 with its 5.7-inch display, and it's easier to launch into now. When you open up the Recents (multitasking) menu you'll now see an icon on every compatible Multi Window app's card that lets you launch right into Multi Window with that app in the top.
You can also now long press the back button to pull up a familiar sidebar and drag in two apps to run side-by-side. In either case it's a step quicker than the old method of having a little tab on the side of your screen, and now you don't have to have it getting in your way when you're not using it.
Playback times can get out of hand when recording slow motion video
With 1/2, 1/4 and 1/8 speed slow motion video and OIS the Note 4 can take some great video at super low speeds, but when you shoot this way you need to be mindful of the recording times. If you take a 20 second video of flowers blowing in the wind at 1/8 speed, that's a 2.6 minute video — and nobody really wants to watch over two minutes of flowers blowing in the wind.
When shooting in slow motion, be sure to mind the recording times and keep them short, lest you bore all of your friends with your slow motion shots.
10. This is the same Heart Rate Monitor and Finger Sensor as the Galaxy S5
Samsung really hasn't made the biggest deal out of the inclusion of a finger sensor and heart rate monitor on the Note 4. They're the same parts in the same places — heart rate monitor on the back under the camera, finger sensor in the home button — backed up with the same software as the Galaxy S5, and that's probably why.
If you're looking for regular (at least daily) heart rate monitoring to keep track of your health in the S Health app that sensor will likely be somewhat useful, but as far as the finger sensor in the home button goes you probably won't find a ton of need. Considering the large size of the Note 4 it's quite difficult to swipe on the home button properly to unlock, and aside from PayPal authentication there's not much else you can do with it. Sure, they're there, but there's not much to write home about.
Get the Android Central Newsletter
Instant access to breaking news, the hottest reviews, great deals and helpful tips.
Andrew was an Executive Editor, U.S. at Android Central between 2012 and 2020.
And is It true there is no 64GB model unlike the iPhone6, Oneplus One and Nexus 6. What sort of flagship comes without a large memory option? A microsd-slot is not as fast or as flexible as internal memory as many apps/databases can't be stored on a card.

Ones that have Sd card slots that support up to 128gb micro SDXC cards. :)

You beat me to it Posted via the Android Central App

+1 Posted via the Android Central App

Exactly Posted via Android Central App

Seems like some people would rather pay an extra $200 for built-in memory than get double the space for under $50. Oh well...

Internal Storage is much faster and much more secure than External Storage.

Only for file transfer, but not noticeable when listening to music, watching video, playing games moved to SD, etc... "more secure" isn't an issue if you encrypt your SD card.

Ones that have expandable storage up to 128GB?.. l0l Posted via the Android Central App

One that comes with an SD card slot idiot.

There is no point in making a 64GB option. it has expandable memory . Even thought it is not fast or as flexible
you could probably buy a 128GB card for the price it would be for a 64GB option if it was available

Storage not memory.
Memory = RAM Posted via Android Central App

That always drives me crazy Posted via Nexus 7 2013 or verizon Galaxy S5 or maybe one day through my moto 360

Yeah, no expandable memory till Ara. ;) Posted via Android Central App

True, this is the normal way to say it, and it's less confusing this way.
However, it is a kind of memory : it's a memory that stays even after you shut down the device.
That's why "flash cards" are also called "Memory cards":
http://en.wikipedia.org/wiki/Memory_card
The one that we usually call "Memory" is "(volatile) RAM".
Someday, I believe both of them will get merged, and you won't need to call them in different names. You'll enjoy the huge capacity and a very good speed. nothing will be gone when turning off the device.

you got that wrong... RAM...ROM...both are memories...

You're dead wrong on that one. Apps don't install to SD and my 32gb note 2 is almost full from apps only

Someone who knows what they are talking about at last! I had to by my Note 3 from Germany just to get a 32GB model as a paltry 16GB was the only variant available in the UK. Unfortunately, it seems I can't find a 64GB variant of the Note 4 anywhere that would be compatible with the UK/European GS/4G/LTE frequencies. After a Note 1, Note 2 and Note 3, it seems Samsung don't want m,e as a customer any more!

My note3 from UK last October at carphone warehouse was the 32 GB so was my friends ? Posted via the Android Central App

I wanted a 32GB sim free unlocked Note3 without a contract which was hard to find when it first came out Posted via the Android Central App

They don't but you can move them to SD at least on my gs5 Posted via Nexus 7 2013 or verizon Galaxy S5 or maybe one day through my moto 360

Root + FolderMount + 64gb SD card = WIN!

You can move the bulk of them to your SD card once you've installed them though. Samsung makes that easy to do through the Application manager.

+1
I have 44 apps on my SD card on my Note 3 Posted via Android Central App and My Note 3

I just put in a 32gb sd and not all apps can be installed but most can.

Why the heck do you have almost 32 gb of apps installed on your phone?

When the biggest space eaters, i.e. music, pics, music, backups, etc, can be moved to the SD card, that opens up a lot of real estate for internal memory for apps. Such a thing is not possible on those 64GB phones with no microSD.

for those struggling with math........ 160 > 64

I will take a few milliseconds of lag for the convenience of transferring almost all my data by just swapping an SD card.

I would rather pay the extra for faster additional on-board memory and still have the card option. The internal 32GB on my Note 3 is already pretty full even after moving as much as I can to a 128GB card. It's not worth upgrading from a 32GB Note 3 to a 32GB Note 4.... Now if a 64GB Note 4 or Edge was available, I would upgtrade. Samsung are mad not to have the option for those that want it - or perhaps other manufacturers are misguided offering 64GB and 128GB variants?

32gb of just apps? Wow delete some of the ones you don't use lol...

I just wanted to add that it's one that comes with support for expandable storage of up to 128GB.

Don't all flagships ? Posted via Android Central App

This was a reply fail to the top post... :)
The ones he referred to does not have an SD slot.

I hope the S5 gets a update that allows us to use the heart rate sensor to snap the picture Posted via the Android Central App

Change the picture settings to use the volume keys to take a picture. It's much easier that way.

By the way.. In a fairly recent (May) CNET roundup of fitness devices (including fitbit, carbon steel, withings and garmin, the S5 sensor was the ONLY one that came close to the reference EKG machine (and it was VERY close).

Does the Note 4 have the same waterproofing as the S5? Posted via Android Central App

One of only two flaws in the note 4. That and another speaker that is not anything to write home about Posted by my soon to be retired Note 3

Am looking to upgrade from a Nexus4. Note 4 looks really good but waterproofing was high on my list.
Great write-ups on the Note 4 Andrew! Posted via Android Central App

Gotta go for the Z3 really it's only flaw now is probably the camera, yet I'm sure that with the right tripod and correct settings and editing, this should not be that big deal.

Blame the periodic table Posted via Nexus 7 2013 or verizon Galaxy S5 or maybe one day through my moto 360

I have no scientific proof, but I'd imagine the Note is not water resistant because of the slot needed to house the s-pen? Posted via Android Central App

+1 about the speaker. Why did they move it back to the back of the phone!? I hated that about my Note 2 and really like that my Note 3 has it on the bottom. Bad decision Samsung. Still...I'm picking mine up today :)

You said that nicely. I myself can't believe how god awful the little tiny back facing speaker is. I don't get how Samsung kills it in specs in every other department and then overlooks this. My daughter's Nokia 521, a $50 phone has a louder,clearer speaker than the Note 4. Im not kidding

I believe the speaker is louder than the Note 3 but I do like the front speakers on the HTC and the new Nexis 6.

Never used the fingerprint scanner on the S5, but it's very reliable on the Note 4! Coming from a Note 3, the Note 4's implementation of the multitasking feature is taking some getting used to, but I'll definitely master it!

That is an amazing phone. Congrats to those who will be buying it. You'll have an awesome, quality product. However, it's not waterproof/dustproof, so I won't be buying it. I'll be grabbing the Xperia Z3v next week.

I find it funny that when the LG G3 came out, all the sites said the screen is nice but it drains battery bla bla bla... Now Samsung does it.. It's an amazing screen you can't stop looking at. It's the same as the G3, you won't notice it on day to day use.. Posted via the Android Central App

That half inch larger size is noticeable. The resolution keels stuff as sharp as it is on smaller screens with 1080p Posted via the Android Central App

It's less than a quarter inch difference...and the same resolution. So, the g3 has slightly higher pixel density.

It is not the same screen IPS isn't Super Amoled Plus you can play hours upon hours of Riptide2 on the Note4 and it won't get hot. Lg ran like bitches to be first to 1440p their 15mins of fame for a failling product but forgot along the way about supreme battery life. It's one thing to copy Samsung at every turn but at least if your going copy copy 110% Lg fell far short. The Galaxy Note products are the GOLD standard of technology period that's Worldwide globally Lg is bootleg at best with no substance. The Galaxy Note products are the legitimate proven product with the Worldwide proven track record four years worth the creator of the phablet. It's more accurate to roll with the industry leader than the pretenders you won't go to far. At the end of the day it's pretty much plain and simple for me since August 2011. Nothing beats Samsung or the Galaxy Note products they are Android nothing else matters. From my Galaxy Note 3 on T-Mobile via Android Central App

If you're going to talk about the LG G3, at least know what you're talking about. The only time the G3 overheats and drains the battery is when I'm running the GPS on it.

The Nexus6 will have a superior battery life compared to the Note4 with all the touch wiz bloat ware constantly draining the battery. Lol the Nexus6 is clearly going to be the best Nexus so far. I will be ordering my TMobile version of the Nexus6 as soon they become available for purchase. Lol.!!! Posted via Android Central App

Maybe, but battery life of previous Nexi was nothing to write home about, so don't get to cocky. Posted via the Android Central App

Because of the size. Posted via Android Central App

Don't be so sure about that... Posted via the Android Central App

Well the Nexus 4 and 5 had horrendous battery life when anti Samsung people claimed the same statements that tw killed battery. My Note 3 has amazing battery life but my n4 and n5 were usually looking for a charger by mid afternoon. Don't jump to conclusions until you have proof.

Google Play Services might say otherwise but at least it's a nice size battery and they have a new power saving feature built into Lollipop to fight that battery leech.

So far, that is not the case with my Note 4. You've been able to disable any bloat within app manager since the Galaxy S4, TW has been steadily improving, to where I am not in a rush to jump to Nova or Apex like I have in the past. Battery life has been unbelievable in the Note4 so far. Even leaving WiFi/GPS on all day, something my S4 would have given me fits over. Very impressed with the real world use of the Note4 thus far.

Is August 2011 when you got hired by Sammy? BURN!

As much as Richard gets on my nerves he is correct here... Samsung used a different screen tech that not only looks better, but is more power efficient. Not only that, but Samsung used software tricks to adjust the color warmth of the screen depending on the content you're looking at to save battery. Engadget delved into this in their review and concluded that the results are phenomenal. Power efficient + fantastic screen. Posted via Android Central App

It's not the same, the screen of the G3 is lcd, the Note one is Amoled, the high resolution it's more appreciable because of the larger size. And in the Note case the high resolution it's not a problem because of the better processor.

December 1 I can upgrade. Almost there.

Reading all these comments on my note 4. Received early thanks to T-Mobile. Not one t-mobile brand on the back or front. The camera with OIS is the business!! This in itself was worth the upgrade from the Note 3 seeing how I like taking pics of my children, wife, and myself. Let alone other things when going on trips with the family. It's so smooth not one hiccup. I wonder what will the touch-wiz haters complain about now? Posted via the Android Central App

They couldn't legitimately complain about tw on the gs5 or note 3. Only the prior products. Posted via the Android Central App

lol. you are kidding right? the $179 moto g beats the gs5 and the 2013 motox kills it when doing every day tasks such as making calls, setting alarms, texts, fb, etc. there is a lot to legitimately complain about tw. tw just puts a damper on the entire phone.

Lol! While I admit that the Moto G is
quite the little engine that could - my girlfriend has one ... It's absolutely NO match for the Note 3. I do find it impressive for a mod range phone, but it simply cannot compete with the big boys... Your comment was funny though. Posted via Android Central App

Moto does open basic apps faster as well as multitasking apps. I have all 3 of them.

I completely disagree. TW isn't a world beater, but it has been improved dramatically over the course of the Galaxy series. The S4 and S5 are excellent devices with TW, and the Note 4 is a tremendous improvement over that. Motorola has not been a big boy player in the phone market for a long, long time.

Congrats! I won't get mine until Tuesday.
Unfortunately, Touchwiz will always have a bad rep. Especially among those who only know what they read.

I am so, SO on the fence over getting the Note 4 or the Nexus 6. S-Pen and SD card support.... hmm.

I was on the fence about returning the Note 4 for the Nexus 6, but I've already used the pen too much in the few days I've had it for me to consider the nexus. Now I'm worried about the next Samsung tablet over the Nexus 9. We'll see...

I've been meaning to inquire about the business card Holder. Anyone? Posted from the amazing whatever device I can afford because I'm a broke college kid.

Talked to a samsung rep last week. They are trying to coin the phrase with the panoramic selfie as "groupie." I think it's pretty clever.

Picked up my white Note 4 today at the local AT&T store a day early. Said they got a message from HQ to start selling them today. Couldn't be happier. Everything I've been reading is true. Vivid screen, fast charging, faster in every aspect than my year old LG Optimus G Pro and feels like half the weight. So many settings its almost ridiculous. Was holding out for the Note Edge but glad I changed my mind after hearing only a million will be made worldwide meaning almost inpossible to get one.

Gettin tired of Samsung. They're getting complacent. I am Aquaman!

I would like to respectfully disagree with the writer here. I am not a fan of the fingerprint scanner, at all. I feel it's an unecessary gimmick in general. but since the Note 4 took away all of the functionality from the lock screen that the Note 3 had. i.e. being able to swipe shortcuts from the lock screen to go directly to that app, or text message. and have made it overall a little cumbersome process to go to a text from your lockscreen. i found myself using the fingerprint scanner religiously to unlock my phone. registered 3 prints, one of my thumb swiping it as i held the phone with either hand, and one while i'm swiping with my pointer finger with either hand. and now, not only is my phone secure, but i can get into the phone without having to swipe across the screen. i just swipe my finger......to me, that is worth while.

Which finger is your 'pointer' finger? do you mean your 'index' finger?

unless you point with your middle finger... oops sorry, the "digitus secondus"... yes, I'm sure that's what was meant.

Love this phone! Just received it this morning and I can't put it down! Posted via the Android Central App

Yes, I found the name. It's called "goStrap". I use it on both my e-reader and my phone. It definitely has stopped the dropping problem but probably just as importantly, it has given me back the use of my hand!!! They have a website but you can also get them at The Container Store. Hope this helps and best of luck!

i went into best buy tonight and played around with a couple of these things. they still feel very cheap. nothing substantial about the feel at all.

not even sure what that means. i've played around with Notes and Galaxy's and Iphones and HTC and Moto X and etc. etc. etc. and they all feel cheap to me. some are made of plastic, some are made of the same stuff soda cans are made out of. neither are really "substantial" in any regard. I don't think any of them feel cheap, the metal ones feel a little more solid i guess (as does the Note 4). but cheap? I don't get that at all. you realize some of the most expensive equipment on the planet is made out of plastic right? you understand they use that for space travel right? cheap? ....hardly

What he means is, he is lying and never touched a note 4.

I think it's the white back cover material that ruins it the most. It's the same as on note 3. Black one feels much better.

I woah people understood this. Non-white Samsung's are in a while class above white Samsungs

o_O apparently yes. Damn you SwiftKey! Yes, what that was supposed to say is; I wish more people understood this. Non-white Samsungs are in a whole class above white Samsungs.

11. It can be laggy and is definitely not a fluid experience. I've had my note 4 since Monday. Coming from the m8, it's very noticeable and can be very annoying. Hopefully their will be a good rom available soon that can fix my gripes. Posted via the Android Central App

Nice trolling lie Posted via Android Central App

Why do you thing he is lying. I had 2 friends returning their S5 because of the "lag" and what they have in common, was that they were both coming from M8. It doesn't mean that the phone is slow, it means it's not as fast as one compared with. M8 was the first android to beat iPhone in speed (app loading and switching tasks).

The Note 4 is not compatible with the Starbuck's App!!!!

Go yell on the app's review Posted via Android Central App

And Starbucks is not compatible with coffee drinkers! Posted via the Android Central App

Haha Posted via the Android Central App

Haha Posted via the Android Central App

Just saw in youtube for Japanese demo units of the note edge and it looks amazing too bad it will be hard to buy one oh well note 4 it is

I love that first background Andrew Well . . . I like it :-)

There is an 11th Thing you need to know about the NOTE 4.......
I think it is a figment of their imagination...... it really doesn't exist!
I mean...they introduced it months ago to beat out Apple to the draw...... promised us they were going to move up the ship date after Apple sold 10 million of theirs and after Samsung's stock & earnings tanked (and they should have tanked....who is directing their strategies anyhow?) and NOWWWWWWWWW........ their on back order from ATT and aren't shipping. How much longer does a guy have to wait? When is the NOTE 5 coming out...because it looks like it may just beat the 4, kinda like microsoft just introduced the 10 because the 9 took to long.....LOL

Impatient much? Geez... Calm down. Posted via Android Central App

When did you order it? I preordered mine a couple weeks ago in an AT&T store and it's in transit with UPS... I should get it tomorrow or Monday.

Obviously everyone has there own opinion as to what they feel is the best. Personally, I love my note 3 and I wasn't going to upgrade until I absolutely had to. Seeing the features the note 4 has, I must say I am impressed. I will be getting my note 4 asap! Posted via the Android Central App

Me too! Posted via Android Central App

Me too, I'd only had the Note 3 for about 4 months..I swore blind that I was going to stick with it for at least a year, maybe a year and a half. But as soon as I saw the Note 4, I really did have to have it. (A bit like falling in love with a really expensive pair of shoes when you've just bought a couple of pairs). In this case though, my boyfriend got my Note 3 & he's thrilled with that, he really needed to upgrade, so it all worked out well :).

Re : Samsung's software offerings that give you everything but the kitchen sink. Exactly why I won't purchase another Samsung, so much junk preinstalled that can't be deleted. Posted via the Android Central App

How about mentioning that the AT&T version has a locked bootloader. That may be a "need to know" for some.

Definitely a MUST for anyone who needs a Laptop replacement.

Waiting for the International version Posted via Android Central App

Iphone 4 -> Htx Win8-> Nexus 4 (Ipad3)-> Note 3 -> Galaxy S5 (nexus 7) -> Note 4. Just got note 4, display is incredible as they say. runs smooth.
Fingerprint got improved, i guess.
more to find out. i actually miss taking call sending text in the shower though.

" One Handed Operation" Kind of defeats the purpose of the big screen. When in this mode it looks like it lost alot of screen. Pity, added a feature that is useless. Way to go Samsung.

Not even in the slightest.
You use the big screen if you have both hands available, and the shrunken screen if you have to use one hand only (like while eating a sandwich and driving at the same time using your knee to turn for example)

I just love how so many people see a feature that they themselves think they will never use and can't possibly manage to think of a time when someone else might need or want it! I'm left handed. I hold the phone in my right and use it with my left. Well I happen to have MS which has caused numerous episodes, lasting from one day to one week, of such weakness in my left hand and arm where I couldn't use that hand at all. I had a Galaxy S3 at the time and had a lot of trouble using that 4.8" screen with only my non-dominant hand, so I can see that feature possibly being very useful for me on my Note 4 and I guarantee I'm not the only one! What if you broke one of your hands?! You'd be happy to have that feature!

This is not useless by any means. I am sure there will be people who will use this option. Having a large screen is great but if someone has issues with mobility this will help them a great deal. You need to be more open minded. I m sure there are options you don't use.......

Actually the fingerprint scanner is NOT the same as the Galaxy S5. It's a bit more reliable and you can scan sideways with your thumb (which you couldn't do before)

@Andrew Martonic, Dude, #6 you missed the boat.
Smart Select is what it is all about... well, the improvement to functionality is MASSIVE!
If you missed it, the gist is you can multiple select dozens of clips, photos, text, anything on your screen anywhere, and you can share ALL of those at ONCE with someone via Gmail, SMS, Evernote, Google Drive, ES File explorer etc etc... and that makes research & collecting info on a subject VERY easy and effective.
Also
The feature automatically does an OCR (optical character recognition) of any photo that you grabbed that has text, so you can edit that text at a later stage.
EXTREMELY powerful feature you missed!!!

PASS, keeping the Note 3.

I have 310 apps install on my Note 3 totaling 8.7 gig, 24 gig MP3 and backup files on my 64 SDXC card with about 14 gig left on it. I will move to a 128 Gig SDXC soon. 32 gig memory on a phone and expansion is the way to go IMO.

How good is the stylus that comes with it? I have an amPen stylus (amzn.to/1sn8P7k) that I use with my galaxy tab, and I was wondering if you guys think that the pen that comes with the phone would be better?

Hi Natasha. I know that it's months down the line from when you asked your question. I'll try to answer it :). The stylus that comes with the Note 4 is so deeply integrated into the operating system of the phone, you can do so much with it. Actually the "S pen" acts in a pretty similar way to a mouse on a laptop or desktop computer. You can write a phone number onto a pad which pops up and tap an option which will let you save the number to your contacts or you can simply choose to tap the option to ring the number straight from the pad. This is just one of a miriad of amazing things that the "S pen" can do. It will be unlike anything you've used with your Tab. Also the "S pen from the Note 4 will not work on your Tab...unfortunately! But, yes the stylus /S pen on the Note series of phones is pretty cool! I hope that helps you. You've probably found out for yourself by now, but I thought I'd just answer just in case :).

I am excited to get the phone. I love my Note 3 but the extras on the Note 4 make it a no brainer for me. I will keep it longer too. I just wish Verizon offered all the colors to choose from. It will be white.

i have 2 note 4 1 charging problem and 2 wifi problem

Am moving from Nokia 822 to Note 4 in the AM. God help me.

Why does navigating this website feel like being in the dentist chair?

anyone tried wireless charging?...the new FAC charges very quick...not sure if I should change

Why does the note4 gets heated up just using it for sometime????

Where can i find your wallpaper?

Hi, I love my Note4. Lolipop has been ok except for two things….. I seem to be having a rough time with lagging. … and how the heck do I change that horrible orange banner at the top of Messenger.
… is there anybody out there who can help?!