YouTube's Super Chat API can trigger actions in the real world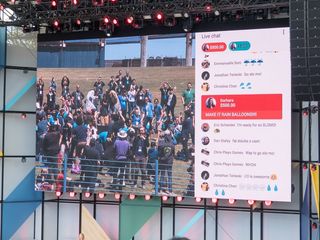 Speaking on stage at Google I/O 2017, YouTube Product Manager Barbara MacDonald took the wraps off of the company's latest plans for YouTube Live. In particular, Super Chat, a new monetization feature launched for creators earlier this year, will be getting its own API for triggering actions in the real world.
Essentially, the Super Chat API will let creators set up real-world actions that can be triggered by viewers in the chat. Examples given on stage include turning off the lights, flying a drone, and much more. The obvious goal here is to give creators another way to monetize their live broadcasts. It's likely we'll see certain actions packed behind a paywall of some sort. That's already part of Super Chats, which give viewers a way to make their messages stick out to the streamer by paying a fee.
It's a pretty cool way to attract more viewer interaction, and another way for creators to monetize their streams is never a bad thing. It'll definitely be interesting to see what sorts of actions we see streamers come up with.
For more from Google I/O, keep following along with our liveblog.
Next time they're going to bring YouTube to I/O, they should make sure they rehearse a little more. That was easily the roughest presentation of the day.

AC, really love the content you bring.... but please can we do something to make these ads a little better? I actually had to turn back on an ad blocker to make this page responsive enough to scroll through. I have no problems turning it off for sites that I wish to support but there comes a limit.

I used "SuperChat" a few times lately on some of my favorite YouTuber's live streams.. pretty cool.. and good way to support people if that's what you want.
Android Central Newsletter
Thank you for signing up to Android Central. You will receive a verification email shortly.
There was a problem. Please refresh the page and try again.