YouTube TV's price is increasing to $65 a month, effective immediately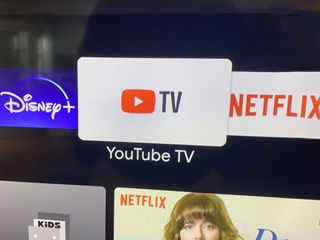 (Image credit: Android Central)
What you need to know
YouTube TV's monthly price is jumping by $15 to $65 per month.
New pricing lines up among the higher tier of TV streaming services.
The price goes into effect immediately for new subscribers, but current subscribers have until July 30.
You knew it was going to happen — it was just a matter of when. YouTube TV's price is going up $15 a month to $64.99.
The change is effective immediately for those signing up to YouTube TV for the first time, and it'll hit current customers on their next billing cycle.
The increase certainly wasn't unexpected, given that YouTube TV is adding 14 new ViacomCBS channels this summer — and a smattering of them are available starting today.
From the YouTube Blog:
Here's how the new YouTube TV price compares to the other major live TV streaming services:
Swipe to scroll horizontally
| Service | Monthly price |
| --- | --- |
| YouTube TV | $65 |
| Hulu With Live TV | $55 |
| AT&T TV Now (Plus) | $55 |
| AT&T TV Now (Max) | $80 |
| AT&T TV Now (Entertainment) | $93 |
| Sling TV (Orange + Blue) | $45 |
| FuboTV (Base) | $55 |
none of those added channels I care about.. great.. this online tv is turning into cable I used to have..

Well Youtube TV it was fun while it lasted. This "cord cutting" is becoming worse than cable with their price increases. Wish they had options to mix and match, because the channels added I don't watch and not worth the extra $15/month.

Isn't that what Sling does? I saw that price and was thinking isn't this just a repackaged cable service?

Sounds like Cable to me 🧐

Well sounds like I'll need to go back to cable. This price increasing with channels I don't watch isn't for me. Oh well.

Not a fan of this at all. I was a little upset when they did the first increase but thought ok I might watch those channels sometime...nope...haven't watch any of them....with this new price increase I know I won't be watching any of those channels either. I only watch like 5 channels which is part of the reason I went with YTTV b/c at the time it was a great price for what I got. But now.....I might as well switch back to regular cable. It would lower my monthly for Internet and even out to be what I am paying for YTTV and Comcast Internet

I was deciding on wether i was going to return back after pausing my membership after 6 months I'm cancelling it instead

uh wow. that's not great.

Rocked with YTTV for a while now but I'll be switching to Hulu Live now especially with baseball coming back and YTTV not carrying my local teams channel and the new price hike.

I guess that is what I will be switching to as well. Still cheaper than YTTV, wonder how long it will remain that way? lol

Crazy part is, that with how things currently are, and no sports being on TV, it's easy to drop this. I enjoyed Youtube Tv while it lasted, but a $15 increase for channels I don't want/won't watch isn't worth it for me. Maybe will finally get the Disney+ bundle and call it a day.

Yikes. This is way more expensive now than cable for the few channels I watch. I find it hard to believe many yttv subscribers were asking for this.

Hello Dish, goodbye YouTube TV. It was fun whilst it lasted.

Direct TV NOW, which became ATT TV Now, did this as well even after telling us early subscribers got to keep their pricing for life.
Well we kept a bit of a discount and for nearly full lineup I think we are at 45+tax. Out package I think is price at 79.99. really glad I didn't drop it for YouTube tv.
What a joke.
Android Central Newsletter
Thank you for signing up to Android Central. You will receive a verification email shortly.
There was a problem. Please refresh the page and try again.