YouTube signs deal with two music labels ahead of new streaming service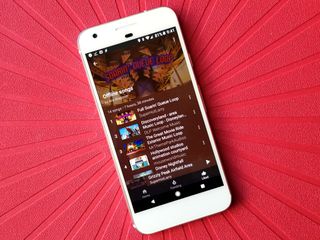 (Image credit: Android Central)
Following Google Play Music and YouTube Music, Google is expected to launch its third streaming service at some point in 2018. Referred to as "YouTube Remix," YouTube just signed two deals with major labels in the industry to help give the service as much of a fighting chance as possible.
According to Bloomberg, YouTube has signed deals with Universal Music Group and Sony Music Entertainment. Part of the deal has to do with allowing YouTube to continue to host uploaded videos featuring songs by the labels, but there's also a clear intent of adding more content to the new streaming service.
For years now, YouTube's been at arms with music labels about whether or not it's paying enough money to copyright holders for users that listen to songs for free on the website. With the launch of YouTube Remix (or whatever it ends up being called), YouTube will likely make a strong push to convert regular YouTube users to paid Remix subscribers to help strengthen its relationship with these labels.
In addition to Universal and Sony, YouTube has also signed a deal with Warner Music Group.
We're anticipating YouTube Remix to launch at some point next year, but it's still unclear how much it'll cost or where it'll fit in with Google's other music services.
Google reported to launch its third music streaming service in 2018
Joe Maring was a Senior Editor for Android Central between 2017 and 2021. You can reach him on Twitter at @JoeMaring1.
How is this service supposed to be any different than what Google already offers?

That's what I'm wondering.

Youtube music is a scattered mess right now. Searching some artists leaves you with hundreds of results that often are not relevant. Other searches leave you with no results at all because of ownership issues.

YouTube is too late to this market. Spotify and Apple have this cornered. Not to mention YouTube users are more fickle and less likely to pay than the average music listener.

Instead of bringing us ONE service with all the bells and whistles, ONE to rule them all, Google is, once again, splitting its might into 3 half baked apps of whose none can really compete with Spotify or Apple Music. It's a shame really. And who does Google think is coughing up money for yet another music streaming service? Google, you were once an innovator!

That's exactly what I'm hoping for. I'm signed up for Google Play because Microsoft Groove is no more & I can still listen & sometimes buy music at a discount via Google Rewards. Also, the Youtube Red included is pretty sweet. Why not just combine it all! But my biggest gripe is the UI. The lack of album sorting sucks. I just basically want to be able to see the last albums I added instead of in alphabetical order. Mainly because it allows me to "save" albums to listen for later. There's so much music coming out, it's hard to keep up.

You can't use the recently added auto-playlist? That's how I keep track of all my newly added albums and songs.

I was about to say the same thing. Typical Google. Instead of fixing/improving one existing app, they introduce a bunch of new mediocre apps. Next step is to tell us all this new app everyone hates is the most popular, and the old app with all the features we love will be split apart or phased out because "surveyed" users thought it was confusing and complicated to use.

WTF??, I got 3 damn apps already from google for music.

WTF??, I got 3 damn apps already from google for music.

Google's got to stop fragmenting their services by adding things they've already got in place; Google Music,/Youtube remix, hangouts, messenger and duo, then Android & Chrome OS... damn, choose an app, stick with it and make it grow. while I like that they aren't afraid to try new things, This is probably the single biggest problem with Google.

Don't forget the current YouTube music app, as well. And I agree, I like that they try new things... But it should be more like a beta program. Features that work should be incorporated into the current app, not split off into another new app that does the same thing.

They should have an app that just plays ads. Oh wait, they already do, it's called YouTube.

Not if you subscribe to GPMAA/Youtube Red. No ads.

Ryan Hansen Solves Crimes On Television is Hilarious for those of you with YouTube Red. Hilarious.
Android Central Newsletter
Get the best of Android Central in in your inbox, every day!
Thank you for signing up to Android Central. You will receive a verification email shortly.
There was a problem. Please refresh the page and try again.