YouTube Music is a bad product in desperate need of improvement before anyone will care to use it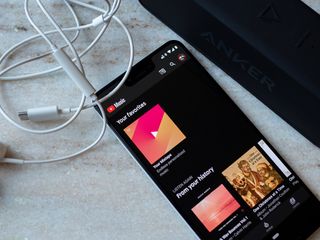 (Image credit: Andrew Martonik / Android Central)
YouTube Music as a service has been around for about three years now, though it really only existed in earnest once the revamped version of the YouTube Music app and dedicated website, as we know it today, launched in May. Whether you look at it as three years or just six months old, one thing is clear: YouTube Music isn't finished yet, is filled with issues and is incredibly frustrating to use on a daily basis considering it costs the industry-standard $10 per month.
YouTube Music is so unfinished and lacking features that I question whether Google has any intentions of following through with its vision of replacing Google Play Music entirely. Put simply, I can't believe Google thinks anyone will pay $10 per month for it when all signs point to Google itself not caring about YouTube Music's success.
YouTube Music effectively doesn't work with Google Home. Yes you can select "YouTube Music" as your music provider in the Google Home app, but that only gives you access to a music catalogue when you ask for specific songs or artists. You can ask any way you want, but a Google Home won't play your YouTube Music "Mixtape" or any custom playlists. It'll try its best to play some music from YouTube on your Chromecast instead, but that's not helpful. And most times when you think you do get a Google Home to play YouTube Music, it isn't actually playing YouTube Music — it's playing Google Play Music, of course, so there's a good chance it'll start pulling your old GPM playlists and sending listening history there instead. Great.
YouTube Music also still doesn't work with Android Auto, which is just as inexcusable as not working with Google Home. Android Auto and YouTube Music apps have both been updated at least half a dozen times since the music service re-launched with this new direction, and I still can't use it to play music in the car. You can start up YouTube Music and then open Android Auto to at least get a player for play/pause/seek, but it won't show up as a media choice in the app.
Then there's the Music app and website, which are just rudimentary. Building playlists is clunky and feels tacked-on. Search is an odd mix of actual songs, tracks from compilation albums, and a weird sprinkling of YouTube videos. I want music, not music videos or weird tracks uploaded at low fidelity to YouTube then transposed over to the Music side. Nor do I want my YouTube history and home page filled up with "YouTube Mixes" suggestions. I want YouTube to be where I go for video content, and YouTube Music for just music. Stop trying to make this cross-pollination happen, because it just adds a bunch of cruft and hurts both services.
The YouTube Music Android app is updated regularly, and actually has a good rating on Google Play. And that's somewhat justified — it works well enough for the basics, is stable, and has a good amount of customization in the settings. Unfortunately, it's not getting appreciably better or fixing any of these major compatibility gaps.
This whole situation is complicated (and actually alleviated) by the fact that Google Play Music still exists. Play Music will be around for some time yet — likely until 2020 — as YouTube Music takes its sweet time integrating into all of Google's other products. Play Music is still the music service backbone for Google, even though YouTube Music is the brand it's pushing externally. GPM has more features, better device compatibility and fewer "gotcha" shortcomings — and most importantly, it has lots of customers that have their own music library uploaded, have been paying $10/mo for years, or both.
Play Music's existence is also the reason why many of these complaints with YouTube Music are in vain. So long as you don't have problems with device de-auth limits (which I do, but recognize it's not a big deal for most people), Google Play Music is still available and a better overall product than YouTube Music.
YouTube Music is really good at one thing: automatically generating a never-ending playlist of songs based on your listening history, and letting you "like" or "dislike" songs as they come up to tailor the suggestions. Sound familiar? It's precisely the experience YouTube has honed over the years, so it's no surprise that YouTube Music is exceptional at this one thing and very little else.
Outside of this, YouTube Music basically has two things going for it. The first is cost: YouTube Premium, which removes ads from YouTube and gives you background listening and downloads, is $12 per month and includes YouTube Music. You can easily justify YouTube Premium at $12 per month on its own, making YouTube Music effectively "free," and making Spotify or Apple Music a tougher sell. The only other benefit is that YouTube Music isn't saddled with the same de-authorization limits of Google Play Music — there are limits on how many devices on your account can download content, but not how many can stream.
At this point, I'm paying $12 per month purely for an ad-free YouTube experience, which I feel is absolutely worth the money, and getting YouTube Music as a side benefit. And as it stands, I'm going to keep using Google Play Music instead, because the YouTube Music experience is so bad there's no way I'd pay for it independently. YouTube Music does a couple things well. It's not a complete failure. But the fact that I can't use it either at home or in the car, despite using Google's own hardware and services in both, is baffling. The app and website aren't yet ready for prime time, and the half-baked integration with YouTube just gets in the way of both services.
Look, I understand why Google's transitioning its music efforts to YouTube. An incredible number of people already use YouTube for music, and it's clearly a stronger brand than "Google Play" — particularly outside of the Android world. Moving to YouTube Music is an attempt to leverage that strong brand to start making consistent subscription money off of everyone who's currently listening to music videos in a browser tab. But that brand isn't worth anything if the YouTube Music experience is severely lacking as a standalone product. As soon as Google shows me that it cares about YouTube Music, I'll start caring about it too.
Sign up for Black Friday email alerts!
Get the hottest deals available in your inbox plus news, reviews, opinion, analysis and more from the Android Central team.
Andrew was an Executive Editor, U.S. at Android Central between 2012 and 2020.