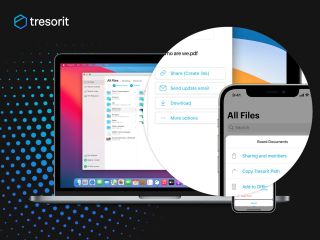 (Image credit: Tresorit)
Working from home has become more and more common, and recent global circumstances have forced everyone who can make the switch into a home working environment in the last couple of years. In some ways, this policy shift has been beneficial — research shows that working remotely can lead to higher efficiency, for example — but one of the major downsides of working from home is that home Wi-Fi networks aren't as secure as those used in a business setting. As a result, important company files and databases being compromised has become a serious concern.
The solution to this problem lies with encryption services, and of these, one of the best and most secure options is Tresorit. Tresorit's end-to-end encryption service allows employees to share files and collaborate together from anywhere, without worrying about security breaches. It's essentially a beefed up and more protective version of Dropbox that has all of the same collaboration tools, while also offering significantly better security (business plans even include a control panel that allows administrators to manage company file sharing, too). Tresorit's services have been evaluated by EY Cybersecurity, with the third-party security company finding that Tresorit's encryption is just as effective as it's claimed to be. Tresorit also uses a "zero-knowledge system" that ensures your passwords and encryption keys aren't stored in or transmitted through its servers, guaranteeing that even the company itself won't be able to access your data Tresorit is also fully compliant with ISO27001, HIPAA, FINRA, and GDPR.
A premium feature called Content Shield is also available as part of Tresorit's Enterprise plan. Content Shield allows enables features such as advanced link tracking that allows admins to view how many times a file has been viewed, downloaded, or saved, an Outlook plugin policy that lets admins make Tresorit integration with Outlook mandatory, dynamic watermarking that prevents unauthorized resharing by displaying viewer information as a watermark, and a link activity report that allows admins to look over all shared links in an organization's workflow — even access logs.
What about file storage? Tresorit offers plenty of it, with up to 2TB of storage per user and up to a 20GB file size limit available in business plans. There are also plans for individuals that include max storage sizes of up to 2.5TB and max file sizes of up to 10GB as well. Tresorit also features a local file manager that can be installed on any Windows or macOS device, allowing users to safely and securely send files to company cloud storage. It's important to note that people won't always be at their computers when they need to send or receive documents, and this is where Tresorit's mobile app comes in. Available on both the Apple App Store and Google Play Store, this app brings the functionality and efficiency of Tresorit to your iPhone. This is incredibly convenient and will ensure your team's workflow won't be slowed down just because someone isn't at their computer.
Finally, the service is also very affordable at both the individual and business level, which will no doubt be a big help to individuals and businesses looking for encryption that's both effective and budget-friendly. Prices for individual plans start at $10.42/month, while business plans start at $14.50/month.
Ultimately, between its superb encryption services, its convenient and plentiful file storage, and its customer-friendly pricing that offers plenty of bang for the buck, you can't go wrong with Tresorit.
Tresorit
Tresorit is the ultra-secure place in the cloud to store, sync, and share files within your organization and with external partners.
Be an expert in 5 minutes
Get the latest news from Android Central, your trusted companion in the world of Android