Your bank doesn't support the Pixel 4's face unlock? This app has the solution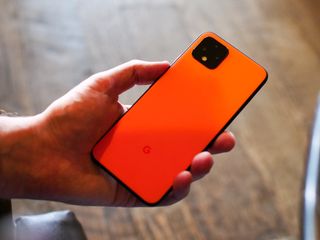 (Image credit: Android Central)
What you need to know
The Pixel 4 comes with a futuristic facial recognition module, but no fingerprint scanner.
Many apps on Android only support fingerprint scanning as a login option, leaving Pixel 4 owners in the lurch.
FingerFace is an app that aims to address this particular pain point.
With its top-of-the-line camera, Motion Sense gestures, and a facial recognition feature, the Pixel 4 is quite the futuristic device — if you can forgive its so-so battery. However, in its quest to set an example for the future of Android smartphones, Google may have moved just a little too fast, before the rest of the Android world could catch up.
Case in point: the lack of a fingerprint scanner on the Pixel 4. In our review of the phone, we called Google's implementation of facial biometrics "seamless". However, many apps in the Android ecosystem do not yet support face unlock, instead opting for the far more prevalent fingerprint authentication, making for a potent problem for owners of the Pixel 4. Lacking a more convenient login option, you may find themselves having to physically insert your password every time you want to log into your banking app.
Well, no longer. FingerFace by SemonCat is an app that aims to correct this rather glaring omission by Google. It does so by tricking apps and making them initiate the face unlock procedure on top of the fingerprint authentication, and uses the new biometrics API as a proxy for the fingerprint API. The end result? You can now use face unlock on apps without having to wait for the developer to add support.
The only catch — and it is a big one — is that it requires the Xposed module to function. This requires you to root your device, which as you might already know, will likely void your phone's warranty. So, it is a solution, but it's not really for your average Joe. If you're already living on the bleeding edge, though, and hearing about rooting, custom MODs, Magisk, and TWRP doesn't really precipitate the headache that they're giving poor Joe, take a look at the app in the Play Store (opens in new tab). And if you're really looking to flex your modding muscles, head over to the app's GitHub and compile it for yourself.
Battery problems
(opens in new tab)
Swing and a miss
The Pixel 4 is another strong entry in the company's smartphone lineup, with an excellent camera, flawless performance, and an incredible display. But the experience is undermined by the phone's inexcusably lousy battery life.
If you root your phone most banking apps in the UK will fail to work anyway. Not a solution after all.

Yeah, i always found it annoying that NatWest wouldn't let me use fingerprint unlock on a rooted phone, but insists on sending activation codes via SMS. Which of us is the real security risk? Regardless, I'd bet American banks are no different and this isn't actually useful there either. Then again, they still use magnetic stripes and signatures for card transactions, so security is obviously not a consideration.

The app to really solve it is swappa I don't know if there is a swappa app.

Most banking apps allow a PIN so it's not THAT bad. All app updates have to support Face Unlock starting today so the bigger banks will start getting updated soon, with the mid to smaller banks probably not for months as they seem to be very reluctant to update their app more than every few months.
Android Central Newsletter
Thank you for signing up to Android Central. You will receive a verification email shortly.
There was a problem. Please refresh the page and try again.